Trinnov Audio will demonstrate its acoustic processing technology, based on years of research, at ISE 2023 (Stand 2D150). In partnership with Krix, Sony and Officina Acustica, this new digital sound field control system makes its debut in an active 13.16.6 channel home cinema system.
For the first time, Trinnov will demonstrate its new technology to the public. This innovation takes the fundamental research of Trinnov in acoustics and signal processing to the next level and is said to effectively eliminate room modes.
"In 2023, we officially celebrate our 20th anniversary as a company. It has been an incredible journey so far and we are proud to celebrate this with style, by unveiling yet another ground-breaking technology. This is a major milestone in our development, and it will further reinforce our singularity and leadership for years to come," says Arnaud Laborie, Trinnov co-founder and CEO.
For more than 15 years, Trinnov's Optimizer has been recognised as one of the leading loudspeaker/room optimisation technologies by the most demanding experts across multiple markets, from studios to commercial cinemas and home theatres. The Optimizer's purpose is to improve the sound reproduction of any loudspeaker in any given acoustic environment. With this new evolution and addition to the Optimizer, the company is leaning even more dramatically on the very fundamental aspects of acoustics and physics.
In its first iteration, this new algorithm uses subwoofer arrays and sophisticated processing to control the acoustics of the room. 20 years after Trinnov's original breakthrough research work, the French innovators return to their deepest roots and mission of innovating in acoustic field processing. With this break-through, the company says one can truly start talking about Active Acoustics.
Arnaud explains, "We started research on this very ambitious technology more than six years ago. At ISE, we will be demonstrating the technology in an uncompromised environment, delivering the highest possible performance generally expected from Trinnov.
"Although the technology is fully functional, we will first roll it out selectively, based on specific projects, before offering the finalised software as a complimentary upgrade to Altitude16 and Altitude32 owners. We have reached a point where we believe this new technology has the potential to redefine home theatre design. It may well set a new standard, and replace today's best practices."
Provided that the minimum required conditions are met, Trinnov claims this innovation can 'make the room disappear'.
Arnaud argues, "Traditionally, low frequency reproduction is handled through a modal analysis where resonances are identified in the frequency domain. Through our extensive research and unique expertise in 3D acoustic fields, we propose something different. Our disruptive approach seeks to fully understand and control the behaviour of the room in all its dimensions (time, frequency and the three dimensions of space) so that resonances are removed almost entirely and without artefacts."
Trinnov explains that in order to achieve such results and aim for optimal performance, one must embrace a holistic approach where every aspect of the system design is understood and carefully considered.
Arnaud says, "As our acoustician friends will all agree, you need decent room acoustics to extract the maximum benefit of a technology such as the Optimizer. Similarly, our 3D Loudspeaker Remapping technology requires sensible speaker placement to perform at its best. With this new technology, things are no different. While it will deliver remarkable improvements in most cases, the result will be truly unprecedented with a proper subwoofer implementation in the first place."
Engineering focused demonstration
To deliver the highest possible performance, Trinnov will demonstrate this innovation in an uncompromised environment. Trinnov is teaming up with a few key partners, starting with long-time and trusted partner Officina Acustica.
Maurizio Conti and Peter Aylett engineered an impressive room that includes 18 seats distributed across three rows. The excellent acoustics and exquisite design Officina Acustica are known for will not disappoint, allowing maximum performance on every level and, combined with Trinnov's new technology, across every seat.
All loudspeakers and subwoofers are provided by the Australian manufacturer Krix. The screen channels are comprised of Krix's MX-40 LCR modules. These three-way, bi-amped speakers feature Krix's patented horn design, providing a uniform, constant directivity pattern, improved frequency response and extremely low distortion.
Krix's most versatile surround speaker, the Hyperphonix 45, will be used in 16 surround and overhead positions around the room to place viewers in the middle of the action.
The Double Bass Array consists of sixteen Cyclonix 18in subwoofers – eight at the front of the room and eight at the back. The immense output available, paired with Trinnov's latest technology, is sure to provide a unique and visceral experience.
The whole system is driven by four Amplitude16 power amplifiers, showing its full power, capability, and versatility. Surround and overhead speakers are all powered with single-ended channels, whilst screen channels and subwoofers are all bridged.
On the video front, the system uses Sony's flagship GTZ-380 10,000 lumen laser projector to illuminate a 5.8m wide screen. Designed and produced by Sony, equipped with native SXRD 4K panels, this projector can reproduce the full DCI-P3 colour space without brightness loss. The 10,000l delivered by 'Raptor' are obtained through a dual laser light source combining blue and red lasers.
Trinnov also thanks Kordz, MadVR, Screen Research, Surgex and Zappit for completing the list of equipment used in this unique demonstration.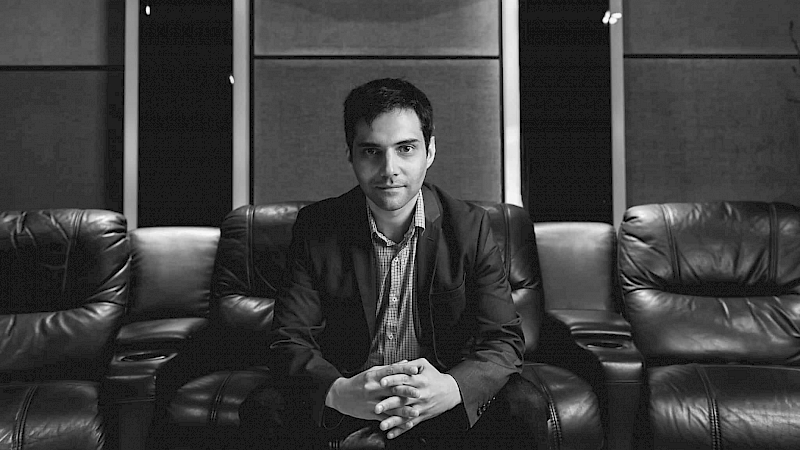 Arnaud will join a panel dedicated to low frequency reproduction
Trinnov says it will also continue its education effort to help integrators make the right design decisions for maximum performance. This implies a sharp understanding of the contribution and limits of each component and their optimal combination. For low frequencies, the optimal design includes individual subwoofer performance, loudspeaker layout, passive acoustics and digital acoustic optimisation.
Trinnov will contribute to a CEDIA course series dedicated to low frequency reproduction. Arnaud Laborie, Trinnov CEO, will present 'The Double Bass Array – Next Generation Bass' at ISE on 1 February at 12:30 in room CC1.4. This series also includes 'Subwoofer Room Gain' by Erik Weiderholtz, Perlisten Audio CTO and 'Infra Bass in Private Entertainment Spaces' by Geoffrey Heinzel, Partner at Ascendo Immersive Audio GmbH. Arnaud will also join the panel session Room Acoustics for Better Bass on 2 February at 12:30, chaired by Peter Aylett, Partner at Officina Acustica, that will discuss the best design practices to deliver bass across multiple seats.