New 1000 Pro Series subwoofers by SVS upgrade their predecessors with breathtaking low frequency output and proprietary features from the flagship models.
Karma-AV has introduced the SVS sealed cabinet SB-1000 Pro and ported cabinet PB-1000 Pro models to the UK. Promising to set dramatically raised benchmarks for quality, performance and value, their features include all-new 12in high-excursion drivers, potent Sledge STA-325D amplifiers, Analog Devices DSP, redesigned cabinets and the innovative SVS smartphone app for advanced tuning and control.
Amplifiers
Powering the 1000 Pro Series is a sophisticated Sledge STA-325D amplifier, which combines the high current output of discrete MOSFETs with Class D efficiency. Boasting 325W RMS and 820+W peak power and low distortion, the design unleashes enormous on-demand power to the driver, while maintaining precise driver control, says the distributor. Karma AV argues this means that the 1000 Pro Series subwoofers play effortlessly and still achieve an accurate frequency response. 
DSP signal management
Harnessing the power of the Sledge amplifier is a 50 MHz Analog Devices Audio DSP with 56-bit filtering, billed as the most sophisticated DSP engine available in a home subwoofer. Its abundant processing power maintains pristine sound quality faithful to the source material through advanced in-room tuning, optimised frequency response curves and DSP management capability impressive for the price.
Drivers
Drivers in the SVS 1000 Pro subwoofers are completely new designs built for high output, finesse and accuracy. The proprietary SVS design features a dual-ferrite magnet motor assembly with long-throw parabolic surround for extreme excursion and room-pressurising SPLs. The lightweight and rigid aluminium vented cone moves large volumes of air to deliver clean, accurate bass, even at the highest listening levels.
SVS control app
Launched originally with the flagship 16-Ultra subwoofers, the SVS smartphone app for Apple, Android and Amazon devices offers control over parameters including volume, crossover frequencies, access to multiple DSP functions, custom preset programming and selection, a three-band parametric EQ, polarity, room gain, subwoofer naming and factory reset. Bluetooth connectivity allows full control, even when the subwoofer is out of sight and bi-directional feedback shows adjustments in real time on both the app and rear panel subwoofer interface.
Cabinets
The 1000 Pro Series designs are built with an extra thick MDF front baffle and rigid internal bracing to support the drive unit and to ensure an acoustically inert environment, eliminating any chance of colouration or resonance from the cabinet when even the deepest low frequencies are played at high volume.
Commenting, SVS President and Managing Partner Gary Yacoubian, says, "We shocked people with the upgrade in performance delivered by the 2000 Pro Series, which replaced our most popular subwoofers of all-time. "With the 1000 Pro Series, the performance bar has been set even higher and I have no doubt audio fans will be blown away by what these subwoofers deliver. Our engineers deployed the most advanced amplifier technology from our flagship subwoofers, while upgrading the drivers, the cabinets, and the user experience with our SVS smartphone app. Compared to their predecessors and the competition, 1000 Pro Series are a quantum leap forward."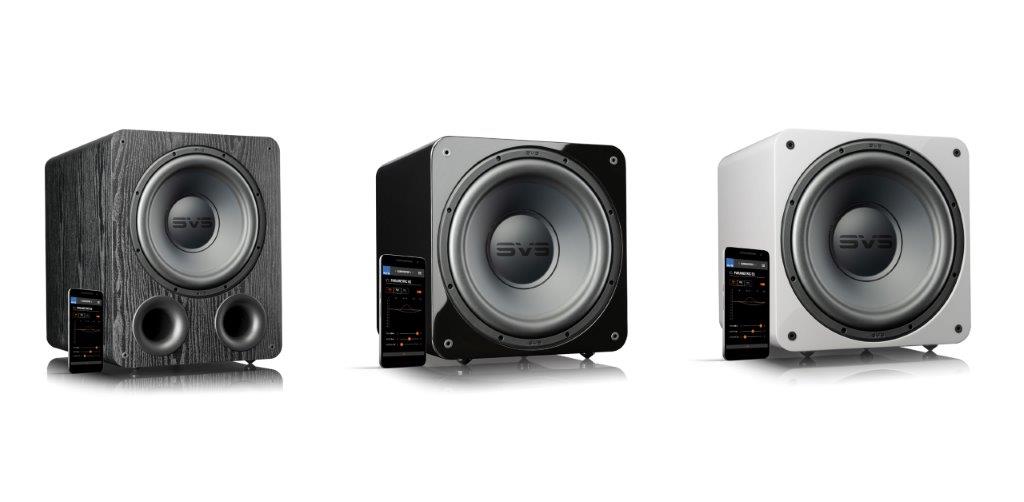 SB-1000 Pro: Sealed Cabinet Subwoofer
Deep bass extension down to 20Hz and large output with impressive musicality that will delight both audiophiles and home theatre fans. Frequency Response: 20Hz to 270Hz +/-3 dB
PB-1000 Pro: Ported Cabinet Subwoofer
All new dual port design maximizes airflow and driver motion for greater output, while eliminating potential for port turbulence. Delivers room-shaking output and subterranean low frequency extension well below the threshold of human hearing. Frequency Response: 17Hz to 260Hz +/-3dB (standard mode); 19Hz to 260Hz +/-3dB (sealed mode)
Typical UK pricing £ inc VAT
SB-1000 Pro Black Ash: 549.00; SB-1000 Pro Black/White Gloss: 639.00; PB-1000 Pro Black Ash: 639.00