Sony has announced the price and release date of its flagship TV – the XG95 – but don't expect to enjoy all of its promise from day one. That's because many of the key features, including support for AirPlay 2 and Apple HomeKit, Dolby Atmos, and IMAX Enhanced are set to arrive after its launch via a software update – although the exact date of these updates is yet to be announced.
Those who are willing to wait for the firmware updates will thankfully find a flagship-worthy TV in the XG95, with Sony packing it with the latest display technologies to ensure it can compete with the likes of Samsung's QLED range and LG's OLEDs. That includes technologies such as X-tended Dynamic Range PRO, which Sony says can independently dim or brighten individual zones of LEDs for greatly enhanced contrast and brightness. Given this is still an LCD TV, this technology will be key in Sony's quest to compete on visuals with LG's OLED line-up, which is able to switch off individual LEDs for perfect blacks; although many OLED TVs lack the brightness offered by traditional LCD models. Samsung's QLED line-up has been highly regarded thanks to its ability to almost replicate the black levels of OLED TVs, and the model that the XG95 replaces, the X900F, was also successful in that area. We're hopeful that Sony has gone even further, however.
One area in which the XG95 is likely to trump its predecessor, and again bring LCD into competition with OLED, is in the viewing angle department. While it's unlikely that anything can get as close to the perfect viewing angles offered by OLEDs, Sony has implemented a technology called X-Wide Angle on the XG95's 75in and 85in models. The company says that this works through its original optical design, which controls light from the backlight; this ensures colours stay true no matter the viewer's position, with reduced shifts when viewing the screen off-axis. It's unfortunate that it's only available on the 75in and 85in models, especially as off-angle viewing wasn't as good on the X900F when compared to some similarly-priced LCD TVs.
Improved Audio
One of the key differences between the X900F and the XG95 is its improved audio capabilities, and Sony's approach to this is two-pronged. The first method for improving the audio is by implementing its acoustic surface technology; although this is a slightly tweaked iteration to what is available on the company's OLED models. In this iteration two sound positioning tweeters in the rear of the TV can combine with the existing audio system to recreate sound coming from the centre of the screen. That should enable a new level of immersion whether users are using a high-end sound system or not – as it was previously impossible to place speakers directly behind the TV screen; the centre channel is typically located underneath or above the TV instead.
In its second approach to improving audio quality, Sony has implemented a technology that many have been asking for on several of its models – Dolby Atmos passthrough. Despite the technology's popularity, it's still not commonplace to see TVs support Dolby Atmos natively, but thankfully that list is beginning to grow. It began with LG's OLED line-up and is now making its way to the XG95 – although, as mentioned earlier, it'll be available as a software update. When that update arrives is anyone's guess, but it's definitely a feature worth waiting for.
Improved Picture Quality
On top of everything mentioned earlier, Sony's latest flagship has a bunch of other technologies hidden under the hood to improve this TV's picture quality. That includes support for Dolby Vision, Netflix Calibrated Mode, and IMAX Enhanced – which will all ensure that content that supports those formats are viewed as the creator intended.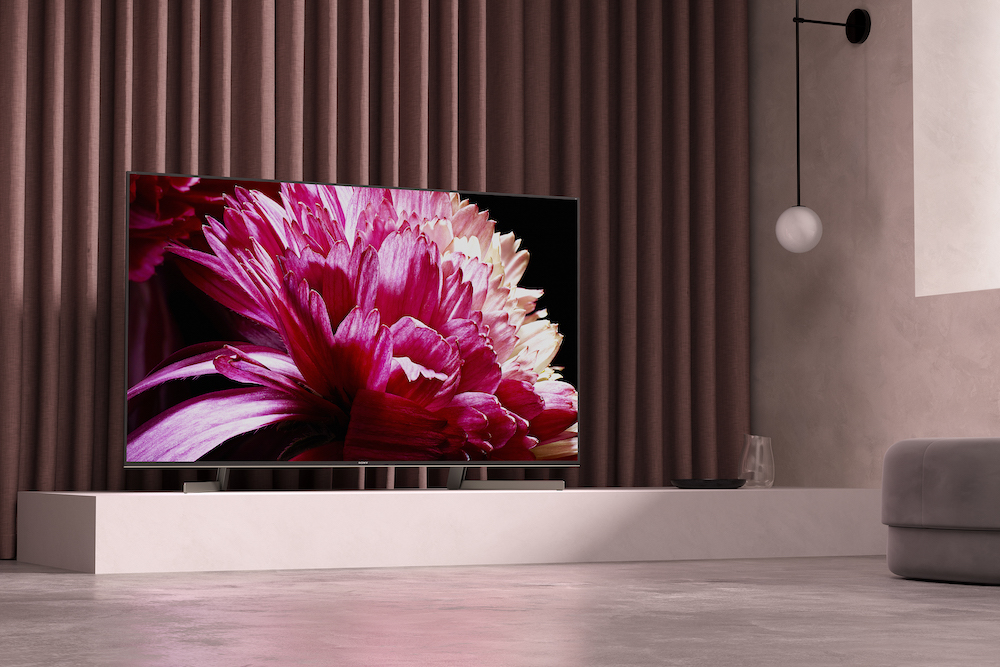 Of course, there's more to a TV than its picture modes, and that's why Sony is shipping the XG95 with its flagship image processor, the X1 Ultimate. This processor initially shipped on last year's models and it's two times as powerful as its predecessor, the X1 Extreme. While the processor is capable of handling 8K content, Sony has decided to stick to 4K HDR with the XG95. That's not a bad thing as it leaves processing power spare for ensuring the best image possible. Sony says that this processor can intelligently detect and analyse each object in the picture through its object-based Super Resolution for exceptional accuracy and detail. Also, the object-based HDR remaster allows each object to be remastered individually for better depth, accurate texture and all-in-all more realistic picture. Together with X-Motion Clarity, which minimises motion blur without sacrificing screen brightness during sports and fast action scenes, Sony says that the XG95 provides improved picture quality beyond the normal capabilities of an LCD TV.
Centre Of The Smart Home
As is common with modern-day TVs, the XG95 is one of the smartest pieces of hardware in the home. That's because it supports technologies such as the Google Assistant and Apple's HomeKit. In terms of Google Assistant support, users will be able to directly speak to the AI through the TV and have it control everything from lighting, the volume on the TV, which channel the TV is on, or even the temperature of the room. This is pretty standard stuff, as Google Assistant can be found on countless TVs in the marketplace.
What is new is support for Apple HomeKit, a feature that will be available through a firmware update later on in the year. While this doesn't mean there will be an Apple Home app available on the TV's smart UI, or that Siri will be available instead of the Google Assistant; what it does mean is that users with an iPhone or iPad will be able to set-up HomeKit routines that include the Sony XG95. That means those who want to set a 'movie night' routine will be able to ask Siri on the Apple HomePod to turn down the lights, turn on the XG95 and make the room's temperature nice and toasty; all with one command.
That's not the only Apple technology to make its way from the Apple TV to the Sony XG95, as this TV will also support AirPlay 2. In addition to support for the Chromecast protocol, AirPlay 2 support means users can natively stream content from their iPhone, iPad or Mac without worrying whether or not the app they're using supports the Chromecast format.
Pricing And Release Date
Sony's XG95 is now available to pre-order in the UK with it expected to begin shipping in early March. Pricing starts at £1,899 for the 55in model, £2,499 for the 65in model, £3,999 for the 75in model, while pricing for the 85in model is currently unknown. We've reached out to Sony to confirm details surrounding the 85in model and will update this article when we hear back.