Sonos has released full details of Era 300 and Era 100: it's next generation of smart speakers, built for the future of immersive listening.
Sonos says Era 300 has been created as a new design that will bring the joy of spatial audio to millions of homes. Described as an icon remastered, Era 100 is looking to redefine room-filling sound with next-gen acoustics and a new look.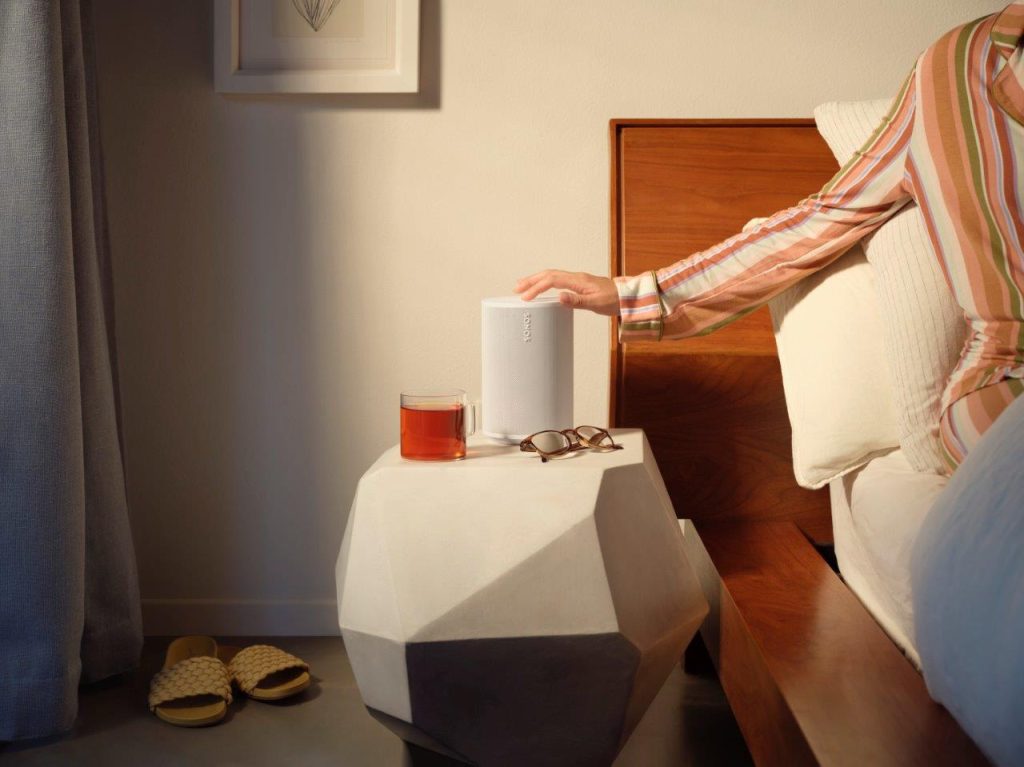 Sonos says Era 300is a bold, revolutionary new speaker built to deliver the best experience for out loud spatial audio with Dolby Atmos, while Era 100is a remastering of the best-selling Sonos One. Tuned by award-winning artists and engineers, the Era family powers new levels of immersive listening with expanded connectivity and Trueplay technology, says the company. These speakers are the first to offer Trueplay functionality to Android and Apple users as the functionality is contained in the product's own mic array rather than relying on the user's phone. Using the microphone array in Era 100 and Era 300, Trueplay optimises the sound for the unique acoustics of any space with just a tap in the Sonos app.
Era 300 and Era 100 are also the first speakers built to Sonos' new responsible design standards, which span long-term serviceability, energy efficient technologies and use of post-consumer recycled (PCR) materials. Both Era 300 (GBP £449) and Era 100 (£249) will be available globally on 28 March.
"In an age of constant background noise, quality listening matters more than ever. Our vision is to make listening an experience that is charged with feeling, and help our customers feel joy and vitality through their favourite music and audio content," says Patrick Spence, CEO of Sonos. "The Era family is the next generation of smart speakers, epitomising our commitment to sound innovation, responsible design and a deep connection to the creator community."
Era 300: 'an unmatched spatial audio experience with Dolby Atmos for listeners and creators alike'
Era 300 boasts six powerful drivers that direct sound left, right, forward and upward, delivering a breakthrough audio performance featuring Dolby Atmos that places listeners at the very heart of their movies and music, says the maker.
"Dolby Atmos created a new way for music and audio entertainment to be experienced. Sounds and music come alive with unparalleled clarity and depth," says Kevin J. Yeaman, CEO of Dolby. "Era 300's sound innovation with Dolby Atmos creates a completely immersive music experience."
Sonos Era 300 highlights
● Designed for spatial: Era 300 wraps its complex acoustic architecture in an cinched hourglass design, with every angle, proportion and perforation enhancing the direction and dispersion of sound to truly surround you.
● Surreal surround sound: Era 300 is the brand's first speaker that delivers multi-channel surround sound when used as home theatre rears. Movie fans can pair two speakers with Arc or Beam (Gen 2) to create a supercharged Dolby Atmos experience.
● Deep music industry collaboration: Sonos worked closely with its community of leading artists and creators – including Sonos Soundboard members – to meticulously fine-tune Era 300 so listeners can enjoy sound straight from the studio that's true to the artist's intent.
"Just like the shift from mono to stereo, spatial audio is the next evolution in listening – creating a sound experience that wraps you in music," says Giles Martin, VP, Sound Experience at Sonos. "As both creators and major streaming platforms embrace spatial audio for music, the time is right to create an out loud listening experience that delivers against the promise of this thrilling and creative format."
Era 100: reinventing an icon
Only slightly larger than its predecessor Sonos One, Era 100 features all-new hardware and software, with next-gen acoustics and design that deliver detailed stereo sound and deep bass.
● Now in stereo: two angled tweeters send crisp high frequencies left and right for a rich stereo experience, while a larger mid-woofer creates bass performance that's unexpected from a single compact speaker.
● Small but mighty: packed full of audio and tech enhancements, Era 100's slim, modern design has been created to make it a chic accent piece for any bookshelf, kitchen counter, desk or nightstand.
● Customize the system: level-up movie night by adding two Era 100 speakers as rears with a soundbar to create a surround sound system, or simply pair two together for room-filling stereo sound.
Premium, responsible design
Building on Sonos's acoustic-driven design aesthetic, Era 100 and Era 300 are responsive to the challenges facing the environment – and better for everyone who interacts with the designs, featuring a bold new UI and innovations that will help them last longer, use less energy and make use of recycled materials in each product says the company.
"We bring the same forward-thinking mindset to responsible design as we do to creating powerful new listening experiences," says Kitty Suidman, Design Director, Product Sustainability. "Our commitment to sustainability is embedded in our design process from the start, with the Era family marking a major step forward in our journey to create products that last beyond expectation, perform more efficiently, and use safer and circular materials."
More sustainable sound
● Better materials: Era 100 and Era 300 are made with post consumer recycled (PCR) plastic and packaged in 100% sustainably sourced paper, while also engineered to reduce power consumption with under two watts idle power consumption and a new advanced sleep function.
● Built to last: designed to live in the home for years, both speakers are built for serviceability by reducing the use of adhesives and transitioning to screws for easy disassembly and repair.
● Bold, new UI: Era 100 and Era 300 feature an intuitive new user interface, including a new capacitive volume slider for simple control that complements quick and private control of your music with Sonos Voice Control, the Sonos app, Apple AirPlay 2 and Bluetooth.
● Upgraded connectivity: stream audio using WiFi or Bluetooth, and directly connect other audio devices such as a turntable using an auxiliary cable and the Sonos Line-In Adapter.
● Expanding Trueplay to more listeners: using the microphone array in Era 100 and Era 300, Trueplay optimizes the sound for the unique acoustics of your space with just a tap in the Sonos app. Now available to both Android and iOS users.
Look out for reviews of both of these new releases coming to EI soon.