A virtual CES show this means its time for some of the biggest brands on the planet to into their new wares, one of the first out of the blocks in Harman with a whole bunch of new products in many different sector, a couple of highlights here are a new limited edition of the JBL L100 Classic and a compact all-in-one soundbar also from JBL.
75 years after JBL's founding and 51 years after the introduction of JBL's iconic L100 Century loudspeakers, the two events are celebrated and commemorated with the launch of the limited edition JBL L100 Classic 75 — an exclusive take on the legendary best-selling JBL L100 loudspeaker.
The L100 Classic 75 features the same iconic, 1970's-style retro design as the JBL L100 Classic, with vintage JBL styling including an iconic black Quadrex foam grille and exquisite teak wood veneer cabinets. With only 750 pairs of this product available, the exclusive loudspeaker features a unique signed rear-badge and Certificate of Authenticity, commemorating 75th years in our homes.
"We have seen tremendous success with the latest L100 Classic model that we introduced in the fall of 2018," says Jim Garrett, Senior Director, Product Strategy and Planning, Luxury Audio, HARMAN. "We thought there was no better way to honour the 75th anniversary of the JBL brand than with a limited edition version of what is perhaps our most iconic loudspeaker of all time. This one-of-a-kind loudspeaker is destined to become a highly sought-after model by music lovers around the world."
The most immediately striking feature of the L100 Classic 75 is the beautiful teak wood veneer that graces all sides of the loudspeaker enclosure. The wood finish is complemented by a black Quadrex foam grille accented with a gold and black JBL logo. Special edition badges are found on the front and rear of the loudspeaker including a commemorative plaque that includes the signature of the principal system engineer, Chris Hagen, as well as the individual pair number out of the total 750 pair production run.
Acoustically, the L100 Classic 75 features an improved woofer suspension design and a revised network to include bi-wire capabilities via a premium input cup with dual sets of gold-plated binding posts. The L100 Classic 75 is sold as a matched pair system and includes a set of JS-120 floor stands. The entire system ships inside a specially-crafted wooden crate with limited edition artwork on the side panels.
The L100 Classic 75 features the JT025Ti2-4 1in (25mm) Titanium dome tweeter mated to a waveguide with an acoustic lens for optimal integration to the JM125PC-8 5in (125mm) cast-frame, pure-pulp cone midrange driver located directly below. The vertical HF and MF transducer arrangement is slightly offset to the right of the woofer below, with HF and MF attenuators located on the upper left of the front baffle. Low frequencies are delivered by the JW300SW-8 12in (300mm) cast-frame, white pure-pulp cone woofer operating in a bass-reflex enclosure system that is tuned via a single, front-firing port tube with flared exit. The JBL L100 Classic 75 will be available beginning in April 2021.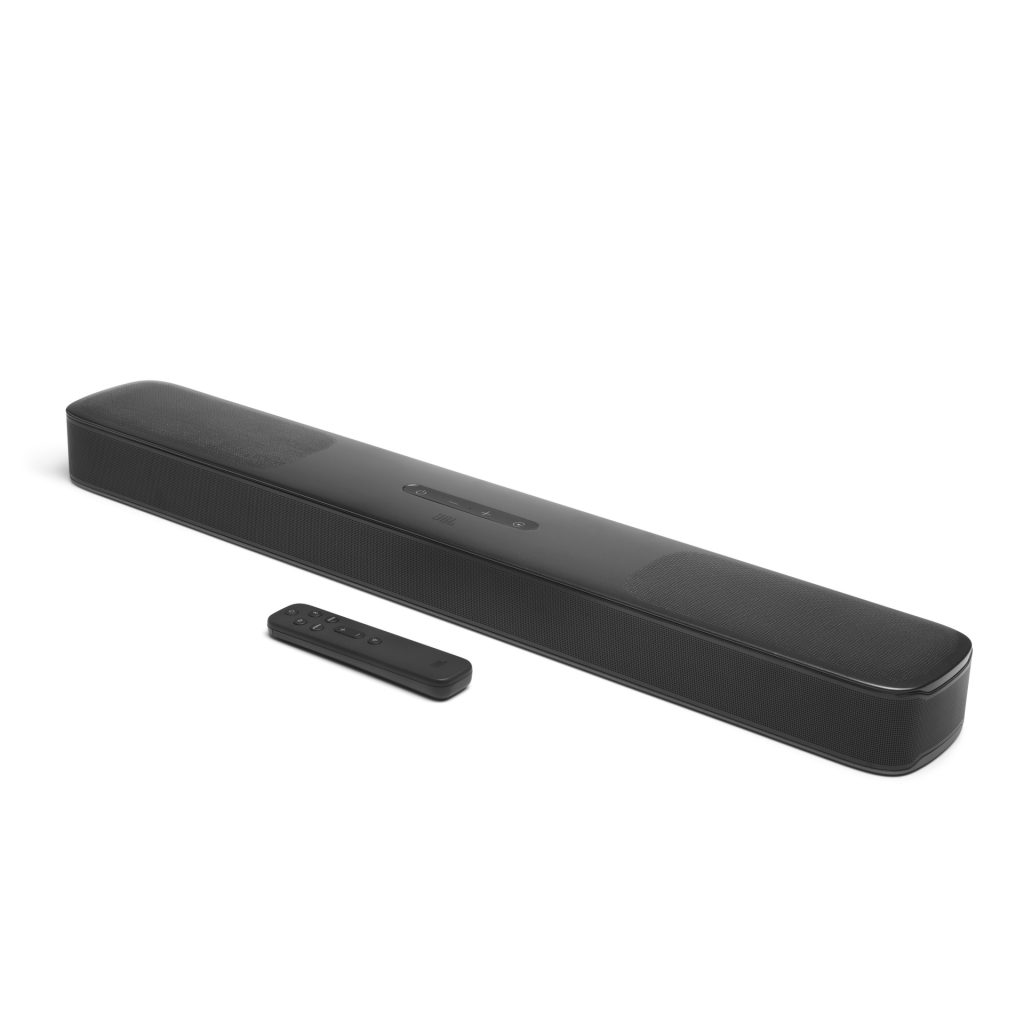 Sound-bar
The JBL Bar 5.0 MultiBeam, is the latest addition to the popular JBL Bar Series, delivers a spacious 3D surround sound experience with the first-ever combination of Virtual Dolby Atmos and JBL's proprietary beamforming technology – MultiBeam. Built for simplicity, this compact all-in-one soundbar is designed to fit every living space, offering a unique listening experience for watching movies, streaming music and gaming.  
Equipped with four passive radiators for deep and punchy bass, the Bar 5.0 produces clear, heightened and room filling JBL 3D Surround Sound, without the need for an additional subwoofer. Highlighted within the Bar 5.0 is HARMAN's MultiBeam technology that enables users to hear and feel surround sound without needing additional surround speakers, generating an immersive listening experience. In addition, Virtual Dolby Atmos allows the Bar 5.0 to reproduce the audio height dimensions from a movie or TV show, turning any living space into a 3D personal cinema, says the maker.
JBL says this all-in-one soundbar is designed for ease of use, easily integrating and works with all voice and music providers. Users can wirelessly stream music, via Multi-Room Music groups on Alexa devices, Apple Airplay 2 and Chromecast built-in, as well as Bluetooth. The JBL Bar 5.0 MultiBeam is also compatible with all iOS and Android devices.
"Built with industrial elements that exhibit a sleek, modern look, the JBL Bar 5.0 MultiBeam is a welcome addition to anyone's household," said Dave Rogers, President, HARMAN Lifestyle Audio. "Alongside an upgraded compact design and added technological features, this soundbar rounds out the JBL Bar Series, bringing consumers an added layer of innovation and ease of use."
The JBL Bar 5.0 MultiBeam will be available in Black on JBL.com and select retailers in Spring 2021.