The Barco brand has some big news with the launch of the Prometheus III, the latest evolution of its flagship laser light source home cinema projector.
Barco says the projector has more contrast and a wider colour gamut than other residential product offerings, and features the latest 4K DLP chipsets from TI (in a three-chip config) as well as a Barco Alchemy Integrated Cinema Media Processor (ICMP).
The on-board DCI media server assures that Barco's superior colour technology provides faithful reproduction of even the subtlest nuance of colour and detail, says the maker.
There are two HDMI inputs to support Blu-ray, DVDs, gaming consoles and other media devices. The projector's technology set delivers a viewing experience of 4K2D content at 60 fps and 4K3D at 30 fps. More big numbers as the beamer delivers native 4K projected at 11,500 lumens, with a 4500:1 contrast ratio. A wide range of replaceable and adjustable lens options are also included.
Barco adds that high-quality gaming is also delivered with a truly immersive experience.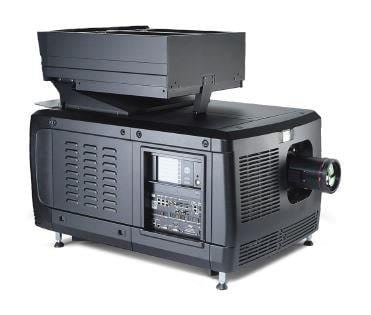 The product is manufactured in Barco's factories in Belgium and Norway, in the same location where the cinema lasers are produced. In doing so, the product team can maintain tighter control of consistent quality and rapid deployment of innovation, says the maker.
In the same vein as the commercial products, Prometheus is rugged with a dark all metal casing to ensure that the unit fares well in any environment.