Australian-based integrator, Len Wallis Audio, has received a prestigious Sound+ Image 'Installation Gold' Award, following on from its 'Best Integrated Home Level III' CEDIA Asia Pacific Award in 2020, for the company's impressive work at a beachside family home in Sydney.
This award-winning project stands out for numerous reasons, not least its extensive use of high-performance Digital Signal Processing (DSP) audio technology from Meridian Audio designed to elevate the listening experience to another level.
This exciting project includes not just a high-quality distributed audio-visual system but also lighting control, data networking, phones, intercoms and security, climate control, even pool monitoring, all integrated by Len Wallis Audio and controlled by a simple to use Savant automation system. High-performance audio throughout the home was paramount for the homeowner, although space was relatively limited. The client made clear that they preferred the entertainment to be 'concealed', rather than be a distraction from the stunning beachfront location or the contemporary interior design.
Len Wallis Audio partnered with Meridian Audio to help deliver the premium quality audio for the sound-critical areas in the property that would ensure that the client and their family could connect easily and emotionally with their music, without compromise.
The family home includes nine defined audio zones, five 4k video zones and a cinema room for entertainment where sports viewing is a top priority. Len Wallis Audio fitted a rack mounted Meridian 271 Digital Theatre Controller and several Meridian 218 Zone Controllers to maintain control of sound levels and deliver high quality digital audio signals to each audio zone within the home. A small delay was then applied to certain zones to avoid any 'echo' effect when playing music through both digital and analogue zones.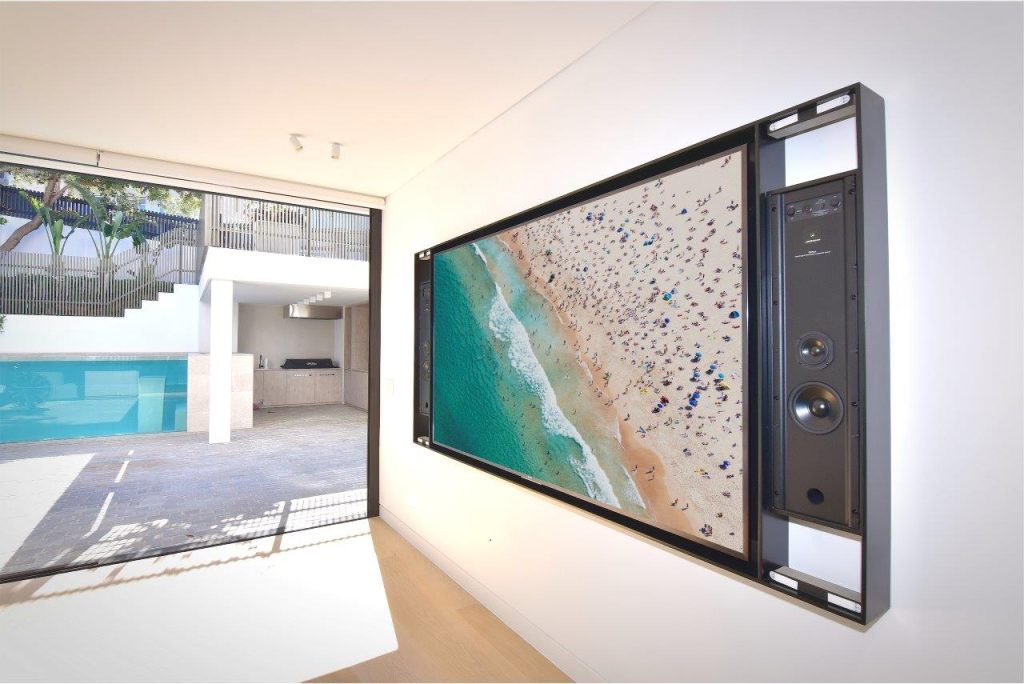 Within the living room, the homeowner did not want to see any in-room speakers. Len Wallis Audio specified an 85in TV screen complemented by a pair of Meridian DSP520.2 In-Wall Digital Active Loudspeakers, hidden behind cloth grills and framed in a custom-made aluminium housing. It's a bold and considered design statement allowing the family to enjoy natural, authentic and lifelike sound.
Len Wallis Audio then installed three Meridian DSP640.2 In-Wall Digital Active Loudspeakers behind a 135in Severtson woven Screen within the family's cinema room. The team decided to also include a pair of Meridian DSP520.2 In-Wall Digital Active Loudspeakers to fill the room with cinematic sound, and a pair of DSP320.2 In-Ceiling Digital Active Loudspeakers at height for a fully immersive Dolby Atmos experience. The bass is delivered by a pair of Meridian DSW Digital Active 12in subwoofers, finished in a custom matt finish to complement the décor of the space.
Bass sweeps through the room without creating any audible vibration, and overall, this is a near-reference level immersive cinema space. Indeed, the quality of audio throughout this home is described as exceptional – it's a stand-out feature of the property's design.
In the outdoor area, the incredibly harsh marine environment precluded the use of active loudspeakers, so passive loudspeakers intended for that application were used instead. The home is located so close to the beach that it gets salt spray from the surf! Here, a dedicated rack-mounted Meridian 258 Eight Channel Power Amplifier was used to power the third-party outdoor loudspeakers. This powerful, high performance, cool-running Class D amplifier is simple to integrate into a wide range of applications.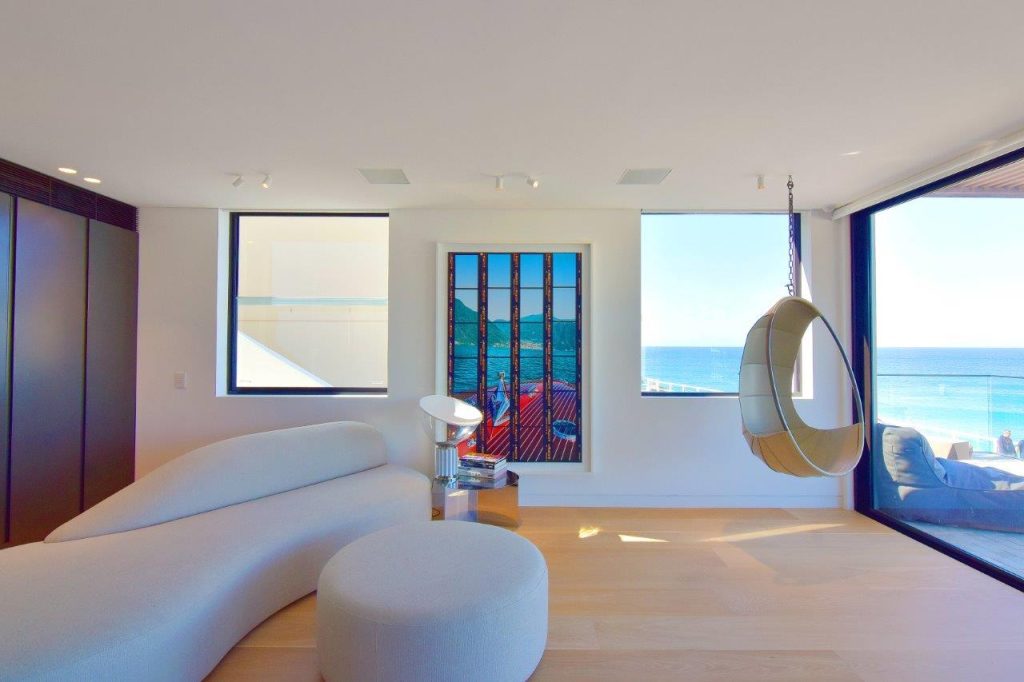 The music distribution uses a Savant 32×20 digital audio switch which has 16 analogue and 16 digital inputs available, providing 20 outputs and the ability to pass Dolby and DTS surround signals via its digital outputs. All the sources for this property are digital, including two Tidal HIFI-level streams, making 24-bit/96kHz streaming music available to any or all of the nine audio zones. Other audio sources include AirPlay, TuneIn internet radio, AppleTV and Foxtel audio, while each of the TVs also allows audio from any device to be played in any zone.
Sound+Image's GOLD Awards recognise the best integrated home projects which are covered in Sound+Image, Australian Hi-Fi, Audio Esoterica and Best Buys Audio & AV magazines.
Essential Meridian Audio Kit List
DSP520.2 In-Wall Loudspeakers
DSP640.2 In-Wall Loudspeakers
DSP320.2 In-Ceiling Loudspeakers
DSW 12in Digital Active subwoofers
271 Digital Theatre Controller
258 Eight Channel Amplifier
218 Zone Controllers