Meridian's new DSP9 is something of a landmark for the UK brand, bringing together every last ounce of its Extreme Engineering technologies to its latest active loudspeaker. Our reviewer Richard Stevenson takes an exclusive listen.
The DSP9 is smaller, lighter and more svelte than Meridian's flagship DSP8000 XE, but aims to offer equally top-line performance in a more compact, sophisticated and affordable package. I say 'affordable' with one raised eyebrow as the DSP9 still rocks to market at £60,000 per pair in the one standard finish of piano gloss black. The only other finish is 'any colour you like to order', available at premium depending on cost and complexity, with a funky colour wheel visualiser on Meridian's website. Pearl Chromacoat colour-shift white-silver-blue to match your classic 1980's TVR, sir? Not a problem.
The cabinet is resin coated (inside and out) plywood and our review sample pair arrived in satin white. That is something of a blank canvas that I have spent three weeks resisting the urge to paint 'Albany Wolf Grey' to match the cinema room – albeit the metallic orange pearl of the brochure images would be my first choice. The new cosmetic underpins the rest of the technology within, which is likewise all-new for the DSP9.
The smooth and sculptured cabinet apes the shape of previous Meridian designs with a less aggressive and easier to integrate style. The front-facing baffle houses just the 25mm beryllium tweeter and 160mm mid-range unit, along with a dimmable illuminated logo keeping the whole packaging looking sleek. Peek around either side though and you will see a pair of rather more business-like 200mm long-throw bass drivers. The cabinet's curves extend neatly to a rear panel that conceals the amplifier and lower connection panel.
This is a whole new input board with a host of analogue and digital connections alongside Meridian's familiar SpeakerLink RJ45, feeding the brand's latest R1 electronics platform. Fully active, each cabinet houses 10 amplifier channels. Both the tweeter and midrange units get their own Class AB 150W power amps, while the four bass drivers are each fed by a stereo Class D module, bridged together to deliver 240W each. Over 1250W per speaker sir? I don't mind if I do.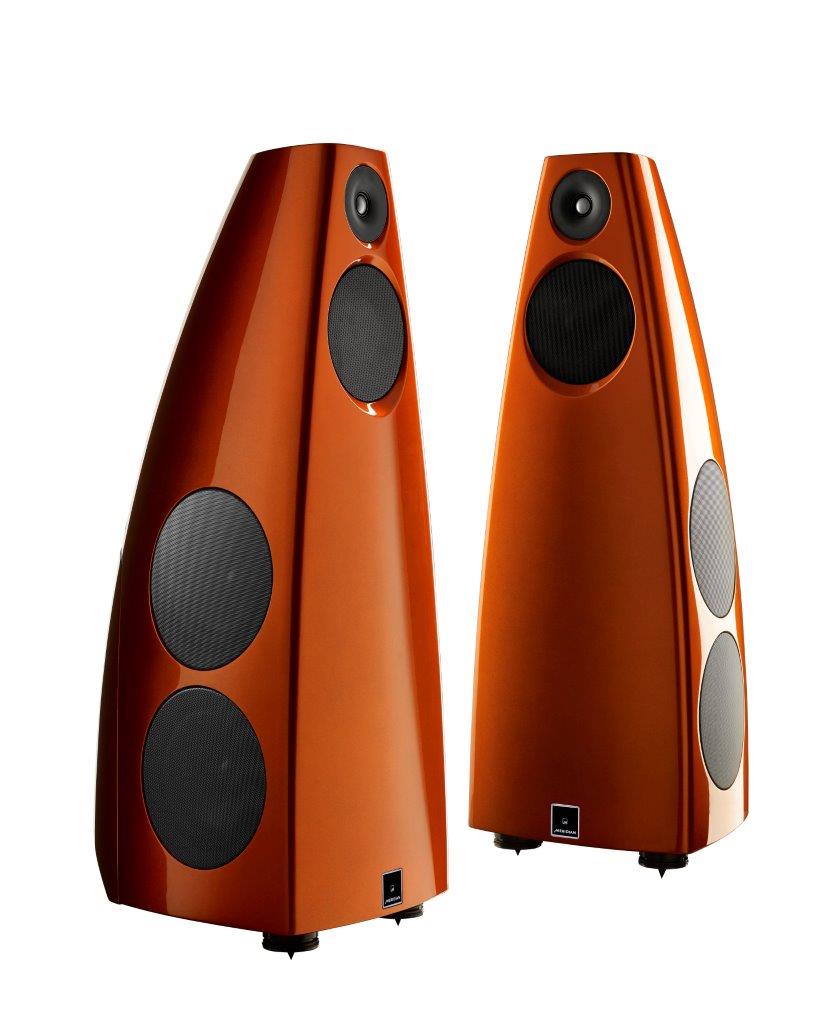 Clever cogs
Clever DSP is Meridian's signature technology of course, and the DSP9 has all the tricks. Full Frequency Alignment (FFA) adjusts the time alignment of each frequency ensuring 20Hz to 40kHz reach the listener's ears at the same time and Perfect Balance (PB) adjust EQ individually at every step of the volume control. This ensures the sound is as balanced at late-night listening volumes as it is having a rave. Free-Q addresses room placement issues, E3 Bass enhances and extends LF response… and so on. There is literally so much physical and electronic engineering going on inside these cabinets, Meridian's digital brochure and marketing toolkit for dealers are 'must read' documentation.
For installers and auditioners alike, all this Extreme Engineering is brought together seamlessly in Meridian's control app with features that make in-room installation perhaps the simplest of any speaker on the market. The Free-Q control offers free, wall, shelf (?) or corner placement, LF Resonance Control is available in min, med, max and off, and you can switch the FFA and PB systems on or off – although I have no idea why you would want them off.
Perhaps the most useful additional feature for installers is Image Focus and Image Focus Plus, which adjust the centre of the audio image horizontally or vertically in incremental steps. Unlike simple balance controls, the system adjusts both volume and the delay to ensure the sound reaches your ears simultaneously, eliminating time-smearing of not being directly on the centre line of the stereo pair. The effect is nothing short of amazing. Close your eyes and it sounds for all the world like both speakers are moving L/R or up/down with the adjustment. It is ideal for non-central hot seats or raising the sound up onto a screen for AV.
Our installation used a Meridian 218 controller with the DSP9-supplied B-Link Bluetooth model and a Roon Nucleus server. The 218 accepts a host of input devices itself and transfers the low-level signal to the DSP9s via an Ethernet Cable, the supplied versions of which are flat profile for easy under carpet installation. Doing that with most audiophile speaker cables would create a trip hazard the size of a speed bump.
Just to prove a point on ease of installation, we dropped the DSP9s at one end of the room facing the sofa where they looked 'about right' and left it at that. I did move them around later, but with the wealth of DSP controls available, it didn't make a great deal of sonic difference. Given I have I have spent weeks tweaking back, forth, sideways and experimenting with toe-in angles with other speakers in this room, the DSP9s are ridiculously easy speakers to place.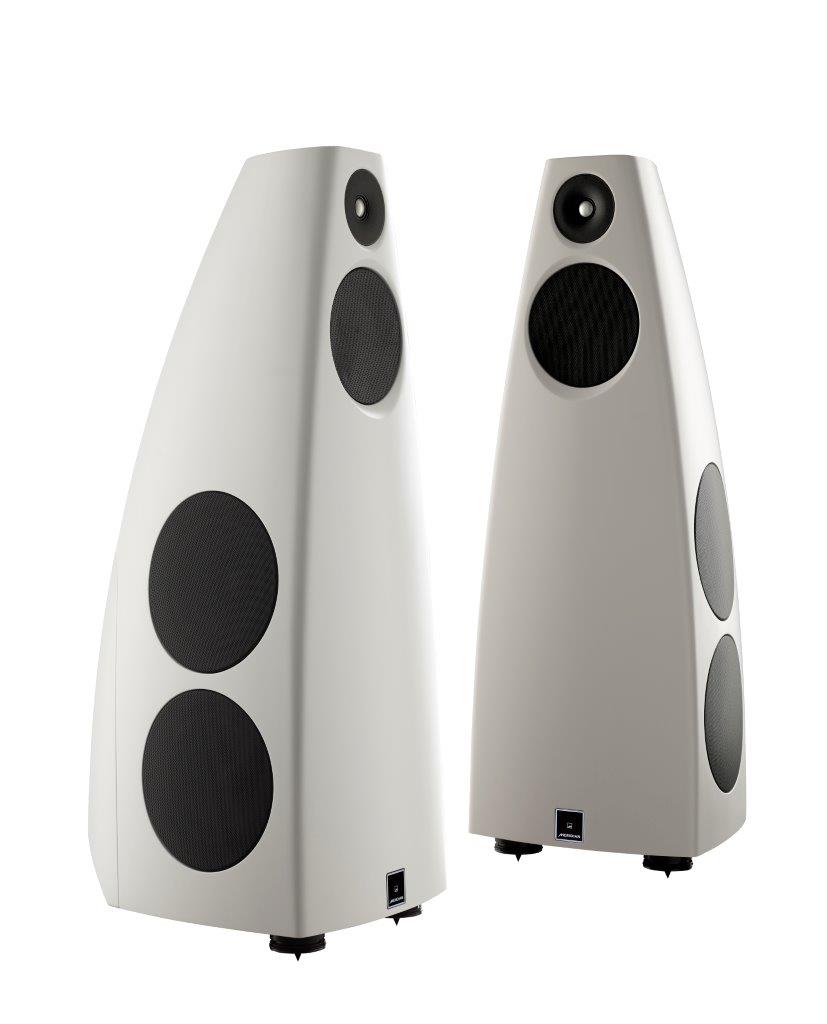 The Performance
Performance-wise, where do I start? The DSP9s are nothing short of sensational and, by a significant margin, the best sounding loudspeaker I have reviewed in the last 30 years – including several models that are twice their asking price and passive!
They are unbelievably powerful and dynamic, with the most amazing imaging and natural space in the soundstage. This is backed by incredibly tight, deep, tuneful and articulate bass that scales perfectly with the volume. From 70dB SPL background music to critical listening at 100dB and parties beyond that (max SPL quoted @ 119dB!), I have never heard a speaker that maintains such a great balance, and incredible detail and articulation, at every volume level.
Unlike many speakers that can have a bias for certain genres of music, often dictated by the acoustic engineer's listening preferences, the DSP9s always seem to be on best form. From classical to hip-hop and metal to dance, they nail the detail, rhythm and nuance of the material with smile inducing accuracy and toe-tapping tempo 100% of the time. Even early AC/DC recordings, which have all the dynamic range of a pomegranate, had me Angus-hopping the air-guitar around the room.
So, other than Meridian requiring five men and a crowbar to peel the review sample pair from my whitening knuckles, where does the DSP9 fit in the integrator's armoury?
For the most part I would guess the DSP9s are going to be used in a stereo configuration in all but perhaps the most affluent of AV installs in combination with the brand's Reference in-walls. The Image Shift function would be supremely handy to centralise an AV image onto the largest of projection screens and adding subwoofers for LFE would be a 'nice to have' rather than essential given the DSP9's inherent bass power. A trio of DSP9s behind an AT screen would be a breathtaking AV front end.
The active configuration, industrial design and range of finishes is a strong sell-in to customers too. Their size is nothing like as imposing as, say, B&W's flagship 800 series floor stander, there are no amps, pretentious cables or 'hi-fi-isms' to deal with, and they are just as happy streaming Radio 2 on a Sunday morning as they are rocking Faithless at 110dB with a house full of vino-fuelled dinner party guests. I speak from experience here – we do like to review 'thoroughly'.
In terms of an added value sale to pretty much any premium AV installation, I would work out your easiest access to a demo ASAP. Even installations that are pure cinema focused with in-walls all-round, the DSP9s could literally sell themselves from a demo – potentially for another room in the customer's home.