By pairing Sonos kit with Flexson accessories, the company argues its now easier than ever to install appealing surround sound systems at a range of price points.
From wall mounts and TV mounting solutions, to a variety of floor stands, Flexson offers a comprehensive choice for all Sonos installation solutions.
The Sonos Beam, Playbar and Playbase are all viable options for the main speaker in a surround sound system, and whether integrating into an existing setup, or completing a new installation, Flexson can yield strong results.
With Flexson's wide range of mounting solutions, installers can match a Sonos soundbar with a wall-mounted television. The Flexson Cantilever Mount for TV and Sonos Beam or Sonos Playbar allows the audio and visual to rotate and move as one complete unit.
If enhancing an existing AV installation, you can add a Sonos Beam or Playbar to an existing TV wall mount, using Flexson TV Mount Attachments. Alternatively, Flexson's new Wall Mounts for Sonos Beam and Sonos Playbar offer simple yet secure mounting, a good choice for positioning below a wall-mounted TV.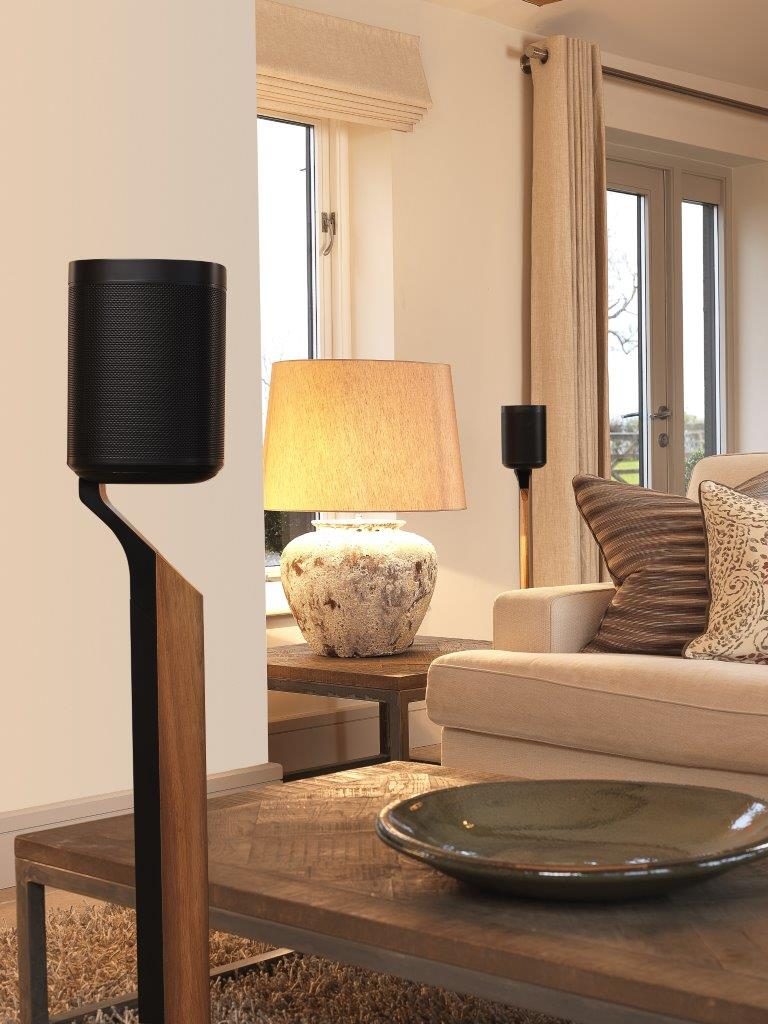 Stand by your Sonos
Flexson TV Stands, available for Sonos Beam, Sonos Playbar and Sonos Playbase, offer solutions for table-mounting speakers. Neatly ensuring the TV picture is unobscured by the soundbar or soundbase, as well as offering a compact solution, these stands unite the audio and visual for home cinema setups.
By pairing two Sonos One (or Play:1) speakers with Flexson's range of floor stands, two wireless rear satellite speakers are positioned at the optimum listening height. For added luxury, the Flexson Premium Floor Stands (available in both Black/Walnut and White/Oak) are designed to match the speaker and are crafted from high-quality materials.
Flexson's 2x Adjustable Floor Stands for One or Play:1 are ideal for creating a surround sound system and offer greater flexibility. This pair of stands allows installers to position the speakers at a wide range of heights. Available in both black and white, these stands match the speaker and their surroundings.
All of Flexson's Floor Stands for Sonos One or Play:1, as well as those for Play:5, feature cable management, routing power cables so they are out of sight.
With Flexson's bespoke wall mount for the Sonos Sub, any surround sound setup can be completed with a subwoofer mounted in the ideal position to both look and sound right. Freeing up floor space, this installation option helps to create a neat and inobtrusive surround sound setup. This wall mount offers easy fitting and flexibility, and like all Flexson products, allows for neat cable management.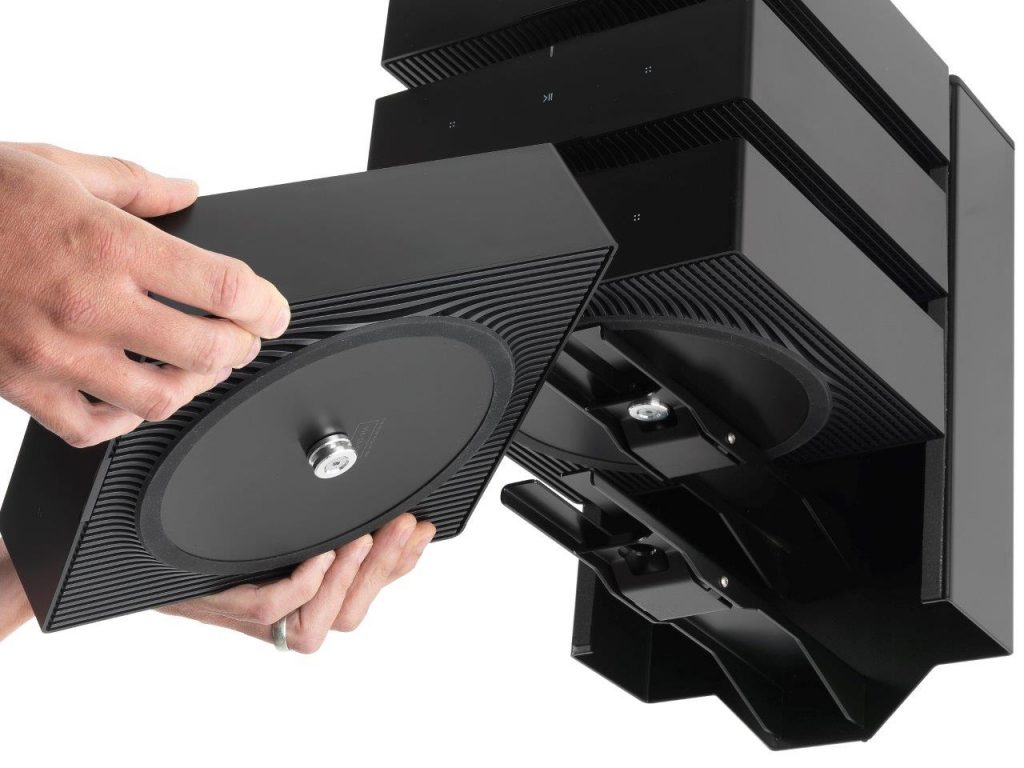 Getting amped
With Flexson's range of installation solutions, it is also easy to incorporate the new Sonos Amp into the setup as well.
The Flexson Wall Mount for Sonos Amp offers a range of positioning options, including attaching to the rear of a TV via the VESA mount.
Alternatively, you can mount up to four Amps at once with the Wall Mount for four Sonos Amps or use the Flexson Dock for four Amps for greater mounting flexibility – either mount on the wall or invert it and bolt to the bottom of a cabinet.
These mounting options also feature neat and tidy cable management, for a sleek installation.
Alongside these varied installation solutions for Sonos products, Flexson also offers a range of alternative power cables. The short, 0.35m cable is ideal for any speaker positioned next to a power outlet, whilst the 5m option is perfect for powering rear speakers, or those positioned away from a power source, without the need for a chunky extension cord.
All Flexson power cables are available with an 'L' connection for Sonos One or Play:1 or a straight connection for all other models.