Prominent Norwegian audiophile Brand Hegel Music Systems is targeting installers with new modular high-current Class-AB mono-block amplifiers.
Norwegian audio brand Hegel Music Systems, known around the world for its integrated amplifiers, pre-amplifiers, digital-to-analogue converters and CD players, has announced the launch of its first amplifiers aimed at the home theatre and distributed audio markets. Called the C5 Series, three models are available, the C53, C54 and C55, which are configured as 3, 4 and 5 channel amplifiers respectively. With MSRP starting at $6,000 (£4600 approx.) and up depending on configuration, the amplifiers ship to dealers beginning this November.

Each within the C5 Series are Class AB mono-block analogue amplifiers rated at 150W per-channel. The amplifiers maintain a peak reserve capability that virtually doubles down to 2 ohms, closing in at 600W per channel. The creators say these amplifiers are quite capable of driving virtually any loudspeaker to its fullest capability and meeting a wide variety of installer's needs.  

For example, a solo C55 can drive a 5.1 surround sound theatre, with a few required to drive Dolby Atmos, Auro-3D, and DTS:X theatres. The maker also argues that the pedigree and musicality of the amplifiers make them ideal for use in professional recording studios and the most demanding commercial and residential applications. They can also be used to bi-amplify speakers or mate with active cross-overs.
Hegel's Proprietary SoundEngine2 Low-Distortion Technology
Incorporated in the C5 Series is Hegel's patented SoundEngine2 low-distortion technology. Used in the company's audiophile amplifiers, SoundEngine2 dynamically cancels out all distortion elements created within the amplifier's circuits. It achieves this by playing them back in a negative phase, almost like a noise-cancelling headphone, rendering a unique purity and musicality, says the manufacturer.
SoundEngine2 has multiple benefits. It combines the powerefficiency of Class AB amplifiers with the sonic accuracy of Class Aamplifiers, yet without the drawbacks inherent to either. SoundEngine2also delivers high-performance and very low bias for cool operation, allowingfor installation in a 19in custom AV gear rack yet without requiring activecooling. 
Another benefit is the high-damping factor (2000). Hegel says this makes for complete control of loudspeaker drivers to deliver deep and accurate bass in-step with the type of dynamics and musicality that Hegel amplifiers are known for. 
 "The C5 is a hybrid between our H30 mono-block andH190 amplifiers," says Hegel Music Systems' Vice president of sales and marketingAnders Ertzeid. "The C5 is based on the latest SoundEngine2 and the soundfrom the H190, yet with 50% more output transistors and individual massivetoroidal power transformers on each channel.  At the same time, it usesthe same concept and layout at the output stage as the H30 mono-blocks,resulting in unprecedented speed and slam. Even compared to our giant H590,when people hear the C5 they go 'Wow… what was that?'"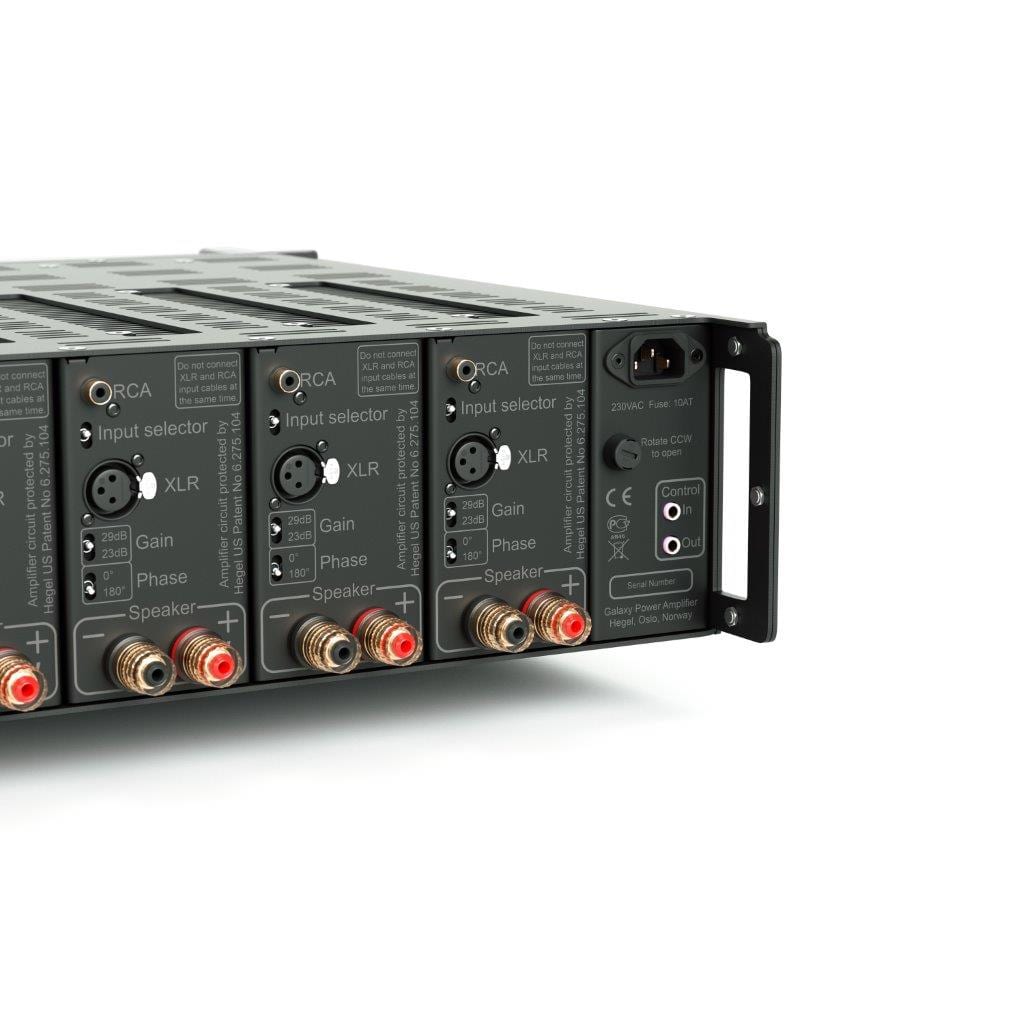 Versatility
The C5 offers the installer the ability to switch phase individually for each channel as well as select different gain settings for each channel. For integration into a wide variety of systems, the amplifiers are equipped with both RCA line and balanced XLR inputs. In keeping with the custom residential channel, also incorporated are input and output control (triggers). This allows for daisy chaining and makes possible placement of the amplifiers in a separate room for remote on and off switching.
Measuring 3u tall, the C5 amplifiers are equipped with large rack-mount ears integrated into the amp chassis, allowing them to fit in any rack. For added flexibility, also supplied are detachable/adjustable rear mount ears, as well as feet for use when placed atop a shelf or in a cabinet.
"The majority of high-end speakers are 4 ohms, and many will dip into 2 ohms, requiring a lot of current to keep music and action peaks fully reproduced. However, many amps simply choke at that point," says Hegel Music America's national sales manager Brad Paulsen, who is leading the expansion of the brand in the US. "The C5's will easily deliver down to 2 ohms and in a big way. These amps are flame-throwers that will seriously light-up any home theatre."
The products are available all over Europe starting mid Nov. Recommended retail prices are EUR 7,500 – 6,500 – 5,500, GBP 7,000 – 6,000 – 5,000. UK, Ireland, Norway, Sweden, Denmark and Finland are direct to dealer markets, so products are available direct from Hegel UK with warehousing locally in the UK. The rest are distributor markets, to be found on Hegel's website.