Bluesound, premium audio brand and MQA, the pioneering music technology company, teamed up recently with two influential music organisations, Jazz re:freshed and British Underground, to present The Master Sessions.
The Master Sessions is a series of live concerts, streamed in real time using MQA sound, to over 100 audio retailers around the world through Bluesound's premium hi-res audio players. The UK based event sent live music to dealers in the UK, Europe and South Africa.
An audience of music fans and journalists were invited to share in a live audio experience like no other, featuring some of the UK's leading jazz talent performing from renowned studio locations. For the London session EI was invited to, the venue was the highly impressive British Grove studio, famously owned by British music icon Mark Knopfler.
The place is an absolute candy store for anyone interested in recorded music and live music for that matter. Studio 1's control room is based around a huge Neve 88R console, cutting edge stuff, but the studio is also home to some older, but no less distinguished residents.
The 1960s REDD.51 console is thought to be the only one left in the world and there is also a stunning 1950s Fairchild 670 in the room.
The studio's EMI TG12345 console, was originally commissioned for the EMI studios in Lagos, Nigeria, but has found a second home at British Grove. These beautiful machines are not museum pieces however, as studio staff inform EI that all of them get used, it just depends of what sound is required by the artist/producer working in the Studio 1, as the venue, as well as being home to all of Mark's work such as albums like Kill To Get Crimson and Get Lucky, is open for other artists to use and some pretty impressive names have done just that.
Nick Cave, U2, Roger Waters, Sting, Razorlight, Kaiser Chiefs, Jamie Cullum and Goldfrapp have all graced Studio 1 in the past.
The studio has been created with a no compromise approach, so was the perfect place for what this very special event had planned, namely getting some of the UK's most talented Jazz musicians to play live in Studio 1 and then broadcast it live to UK dealers who where holding listening sessions in their premises and to the lucky few who were gathered up-stairs in another part of the complex to listen to the performance via some Bluesound equipment using MQA technology.
Those at the event listened to the live performance from Studio 1 via
Bluesound Powernode 2i, Bowers & Wilkins 703 S2 speakers all controlled through BluOS app on an iPad.
A dedicated microsite TheMasterSessions.com has been published with full details on the participants and activities to find out more.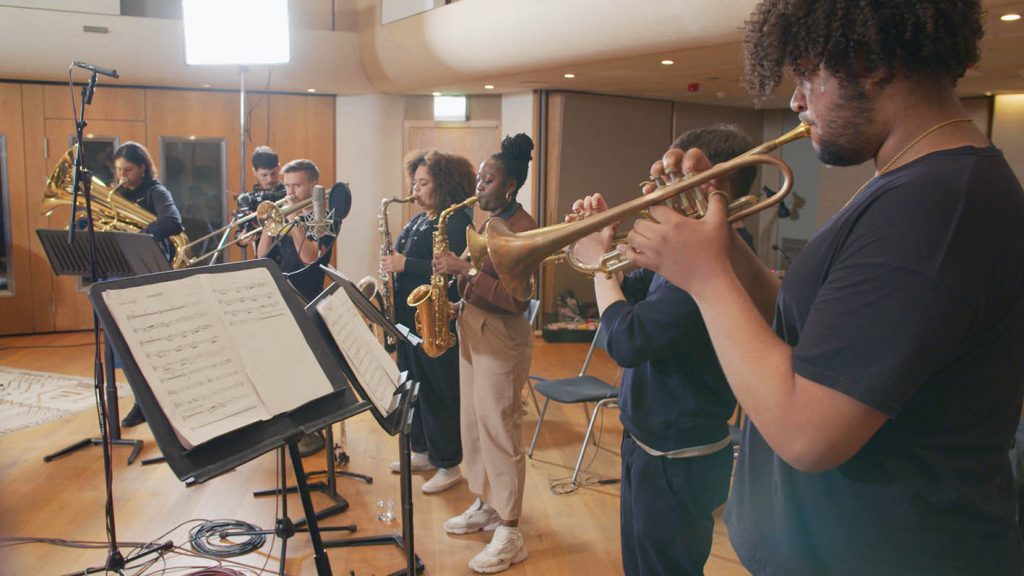 Event objectives
The collaboration bought together a partnership of experts and tastemakers in the music and technology worlds with two shared objectives:
To promote skilled artists and help them reach a wider audience
To articulate the power of pioneering audio technology and create better listening experiences.
Following a panel discussion led by British Underground's Crispin Parry with Cassie Kinoshi and Shirley Tetteh from SEED Ensemble and co-founder and co-chief executive of Jazz re:freshed Justin McKenzie, a movement has played a pivotal role in the emergence of the UK's current vibrant jazz scene since the early 2000s, the performance got under way.
It really was a high-impressive demonstration of how cutting-edge digital technology can marry up with the best musicians around to deliver new and exciting experiences for fans. Imagine being able to sit at home and listen live to a studio session or concert in high-quality audio, well you don't have to imagine, this event proved its entirely possible.
There is also something extra in the audio, a feeling of 'presence' not found on normal recordings or live streams, the music feels very real and the listener experiences a closeness to those playing, it really is very pleasant.
"As accomplished live musicians, the idea that high resolution audio technologies like Bluesound and MQA can offer a studio experience at home was something both SEED Ensemble and Theon Cross were keen to support," says Justin McKenzie. "They believe, as we do, that technologies like these bring artists closer to their fans by literally delivering the sound of the studio."
Crispin Parry, CEO, British Underground, a creative production company that produces international showcases and strategic development projects in music and the arts, adds, "It was fantastic to be part of The Master Sessions live audio stream with SEED Ensemble at British Grove studios. It's a pleasure working with MQA and Bluesound, and it's great to see what a creative partnership between Arts Council England-supported organisations and music technology companies can deliver."
Whilst Yvette Griffith, Exec Director, Jazz re:freshed, comments, "We were proud to be a partner in The Master Sessions European livestream, presenting 10 piece ensemble, SEED. Working with MQA and Bluesound's technology provides us with the opportunity to convey the detail and quality of sound in UK jazz and ensure its reach continues to be worldwide."
Of course, it would be unthinkable not to have the thoughts of Bob Stuart, Founder, MQA and co-founder of Meridian Audio, who says, "Through The Master Sessions partnership, we're enabling audiences at Bluesound dealerships around the world to hear incredible live performances, in the highest quality audio and in real time, from some of the most exciting talent on the British jazz scene. MQA's promise is: 'Take MeThere – to the original performance, wherever you listen' and when listeners hear MQA Live audio, they tell us they feel like they are in the venue. When included in HD video, MQA Live audio transforms the concert experience."
Final world goes to June Ip, VP Marketing, Lenbrook, creators of the products delivering the audio, "Bluesound and BluOS products once again demonstrated their bullet proof reliability in decoding and streaming to over 80+ locations across Europe in full 24 bit, 192 kHz audio.
"A unique experience demonstrating the investment benefits in our products. Bluesound products and technology partners like MQA are helping to encourage discovery of new music and allow for all artists of any genre to reach a global consumer base, direct to any room in a consumer's home."
Photos by MQA