SnapAV Vice President of Connected Products, Kenny Kim, talks to EI about his career, past, present and future.
How did you get into the IT/AV space?
I've always been attracted to tech. I went to school in Silicon Valley, joined AT&T, and rotated through a number of roles searching for the most innovative parts of the company. That's how I got into AT&T Digital Life. There I was exposed to smart home technology and a glimpse of the CEDIA/AV industry. After a few years there, I had an opportunity to meet John Heyman with SnapAV and the rest is history.
Tell us about your time at AT&T. What did you learn there that has proven to be the most useful at SnapAV?
I started with AT&T in their Leadership Development Program, a two-and-a-half year general management training programme that rotates the participants through three management roles across the most fundamental parts of the business.
My roles included leading a team of field technicians, call centre reps and network operations engineers. Upon completion of the programme, I took on strategy and product management roles across different parts of the business.
This experience helped me understand the complexities of delivering a high-availability service to customers, how to navigate an organisation, how to develop and launch services and how to quickly learn a new role so I can deliver impact. These learnings have been invaluable for me at a dynamic company like SnapAV to constantly adapt and bring a service solution-oriented mentality to product development.

Tell us about the launch of AT&T Digital Life
It was exciting to be a part of an innovative and autonomous business unit at its infancy. The industry was a bit of a mess at that time. There were a lot of venture dollars funding companies to build IoT hubs, manufacturers developing point-solutions and organisations creating new standards.
In the midst of that chaos, AT&T had a simple conviction that most people just wanted a professional technician to install and support a smart security and automation system. AT&T Digital Life was created to address that need. I believe that still holds true today, whether it is in a relatively simple mass market solution like AT&T Digital Life or a sophisticated smart home delivered through CI professionals.
In the UK market, Control4 has a higher profile than SnapAV. How does the company plan to evolve SnapAV awareness?
First, we have started making SnapAV products available through the Control4 dealer portal, so dealers can easily purchase them the same way they have been purchasing Control4 products.
Next, we have trained our sales and support personnel on the SnapAV products so that dealers who have built relationships with the Control4 team can call the same individuals to receive sales or technical assistance whenever they need it. And of course, we are providing ongoing training for dealers to learn about the product lines and how they can make a difference for their businesses and customers.
What is the penetration of OvrC in the UK right now and what is the company doing to drive uptake?
Prior to the merger with Control4, SnapAV did not heavily pursue growth globally and, accordingly, did not have a strong presence outside the US. However, some dealers in the UK have actively sought-out SnapAV products and are actively using OvrC. We believe that a big driver for OvrC adoption in the UK is our recent announcement that OvrC is our single remote management platform for the future, including support for Pakedge, Control4, a large ecosystem of third party products and an end-user app. We are also helping dealers who have used alternative remote management platforms migrate to OvrC to simplify the transition.
OvrC had some recent updates, can you tell us a little more?
We announced that OvrC is SnapAV's single remote management platform for the future and where we are focusing our unified remote management development team. The latest update is a significant release that includes hundreds of improvements that help dealers get their work done fast.
Pages load twice as fast, we have optimised layouts so it's easier to find information with fewer clicks and scrolling, more information is available at a glance, we show the last known state for offline devices, and we offer a fully-featured mobile app that empowers dealers on the go. And big news for Control4 dealers – we are integrating the Control4 ecosystem of products, starting with Pakedge.
The new OvrC platform allows us to deliver site-based features so dealers can be even more efficient. The first on the roadmap will be wireless SSID management so dealers can fully configure and manage SSIDs across any number of access points in a system.
COVID-19 has placed a lot of emphasis on remote management and remote communication/ training. What's the future here?
Remote management is essential for dealer success, but more importantly, connectivity is critical for customers. Some even call it the next essential utility. This pandemic has made that abundantly clear. Remote management helps dealers become profitable by minimising truck roles and increasing service efficiency, but it also enables dealers to minimise downtime for their customers and respond quickly to issues.
Today, this is what customers expect of their service providers, and if dealers can deliver this type of service, it will set them apart. Macro events like this will continue to happen. It is times like these that the strength of a dealer's business is truly tested. Those dealers that had strong RMR (recurring monthly revenue) streams seemed to be more resilient during this recent pandemic. Integrating RMR with robust service operations in the business provides dealers with a great opportunity to generate recurring revenues.
Do you think the industry is currently leveraging the power of 'connected' products and systems as much as it could?
I would say that most dealers are not. Many think of the connected infrastructure of the home or business as a necessary means to delivering the smart system. That mindset is ingrained in the transactional business model of our industry.
However, the connected infrastructure has the potential to help dealers unlock recurring revenues, allowing dealers to diversify their business and create more value. This transition to service-based business will happen in our industry just the way it has in the IT industry.
It is a matter of when, not if. I think dealers could start to invest more into developing a strong service operation and consider it a strategic part of the business, not as a cost centre.
Once dealers figure out how to efficiently and consistently deliver services to their customers, they could then start charging for those services to drive profitable growth.
What difference will 5G make to the industry?
A big generation change in technology like this will undoubtedly have a disruptive impact to all industries, things that are hard to even imagine today. Think of all that has changed going from 2G (Edge) to 3G to LTE! I don't have a crystal ball, but here is how I think about it. First, customer expectations will change as they experience almost zero latency and new types of services will be enabled that leverage low latency, higher bandwidth and higher speeds.
Accordingly, customer expectations of what a smart home can do will be greater. Products will become smarter as devices leverage unlimited computer power in the cloud. This also means that hardware becomes further commoditised as lower cost devices deliver advanced functionality.
The downward pressure on hardware margins is going to force dealers to create margin elsewhere. I expect that providing services and remotely managing customers' systems will create new business models and become increasingly important for dealers.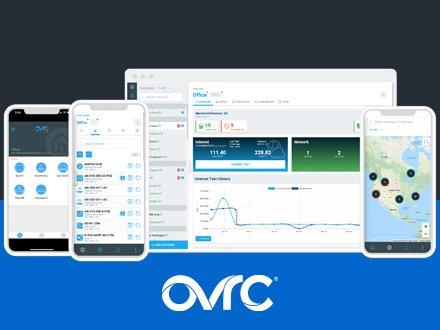 What is your favourite product/ service offered by SnapAV right now?
I'm biased, but it is OvrC. When dealers tell me how they've been able to increase their productivity, become more profitable, deliver 'wow' experiences to their customers and free up more time to spend with their families, it is extremely rewarding. There is no better feeling for any product manager than to hear that your work is having a significant impact on someone's business and life.
What are your interests/hobbies away from work?
Outside of work, my favourite thing to do is spend time exploring the world with my twoyear- old daughter. When time allows, I also love to travel and build wood projects in my shop. As a technology enthusiast, I also like to keep tabs on new innovations in various fields as I daydream about starting my own business one day.