Pulse Cinemas introduces a major product release, now shipping and available in the UK.
The last word in home cinema and AV processing from this most accomplished of creators is now available. This carefully created processor will sit at the heart of the very best home cinemas and will elevate, refine and enhance every project it is included in.
Anthem has scrutinised every part of this design, every component has been carefully considered and reconsidered. It's the culmination of everything the company knows, in short, the AVM 90 is the embodiment of excellence and is available to order from Pulse Cinemas.
Anthem began by creating an oversized high-efficiency toroidal power supply, isolating the high-power signals from the sensitive audio pathway. The critical conversion from digital to analogue uses the highest performance ESS Sabre DACs for all 19 channels of processing. Compared to traditional voltage source circuits, these current source designs are a dramatic step forward in performance and complexity when compared to conventional voltage source circuits.
But Anthem knows of course reference DACs on their own aren't enough; the entire signal path needed to be upgraded to match. Ultra-low noise, ultra-low distortion high output op-amps were carefully selected, and superior 0.1% high precision resistors were used to reduce distortion further and ensure gain consistency between channels. The best linear regulators were selected to provide low noise reference supplies to the premium audio converters and back-end circuits. As the complexity and density increased, it became necessary to implement premium high-layer count circuit boards with additional isolating ground planes. This allowed Anthem's engineers the freedom to ensure every channel has a unique, low cross-talk and pristine signal path.
To ensure a bit-perfect experience, Anthem also included the most advanced implementation of the in-house created and award-winning ARC: Genesis Room Correction technology and an all-new DSP platform featuring a 32-bit floating-point audio data path with a 64-bit floating-point computation and double-precision filter states. With ARC: Genesis, professional calibration of every system can be achieved with the click of a button while still offering advanced functionality to further refine the sound to the personal taste of every customer.
ENHANCED PROCESSING FEATURES
This new advanced product is built around an 8K capable HDMI platform with e-ARC support included; which simplifies connectivity, provides greater ease of use, and supports the most advanced audio formats and highest audio quality. Adding this feature ensures full compatibility between audio devices and upcoming HDMI 2.1 products. Also on-board is Dynamic HDR support ensuring every moment of a video is displayed at its ideal values for depth, detail, brightness, contrast and wider colour gamuts, on a scene-by-scene or even a frame-by-frame basis.
There is no doubt many customers require advanced gaming functionality, and the AVM 90 obliges with an added level of smooth and seamless motion and transitions for gaming as well as movies whilst Variable Refresh Rate (VRR) reduces or eliminates lag, stutter and frame tearing for more fluid and better detailed gameplay. Auto Low Latency Mode (ALLM) allows the ideal latency setting to automatically be set allowing for smooth, lag-free and uninterrupted viewing and interactivity. Quick Frame Transport (QFT) reduces latency for smoother no-lag gaming, and real-time interactive virtual reality.
Supporting the next generation of audio and video formats, the AVM 90 unlocks the potential of the latest generation hardware. Stunning resolution up to 8K/60Hz (4K/120Hz) and the latest generation audio formats in up to 19-channels (15.4) are all supported. Advanced processing precisely positions every sound and renders it with breath-taking realism and clarity, making it easier to get fully immersed in any world and get an advantage over the competition.
With up to 48Gbps bandwidth available on each of its seven HDMI inputs, features like 4K/120Hz HDR graphics, Dolby Vision, and Dolby Atmos have never been easier to experience. AVM 90's Variable Refresh Rate (VRR) support includes both Freesync and G-Sync, so whether the customer is a console or PC gamer they can experience high frame rate gaming with no screen tearing. In addition, AVM 90's true HDMI 2.1 functionality means users will not be locked out of any of the other current technologies made possible with next-generation consoles like the PlayStation 5 and Xbox Series X. Coupled with support for advanced features like Auto Low Latency Mode (ALLM), Quick Frame Transport (QFT), and HGiG, the AVM 90 is ready and waiting as these technologies roll out to next-gen gaming hardware.
The AVM 90 of course also features all the compatibility with home cinema audio codecs that you would expect. Featuring Dolby Atmos, DTS:X, DTS Virtual:X, and IMAX Enhanced processing customers can experience all of their favourite audio formats up to 19-channels (15.4).
ANTHEM ROOM CORRECTION
Surfaces such as windows, furnishings, and the geometry of the walls, floor, and ceiling all add unwanted resonance and coloration to the audio of any system.
Anthem Room Correction measures each speaker's output relative to the listening area, then through a series of calculations, adjusts its output. Not only does ARC correct peaks and dips in a speaker's frequency response, but it also preserves the beneficial acoustic attributes of a room. The AVM 90 carries the very latest version of this fantastic software, speak to us to learn more.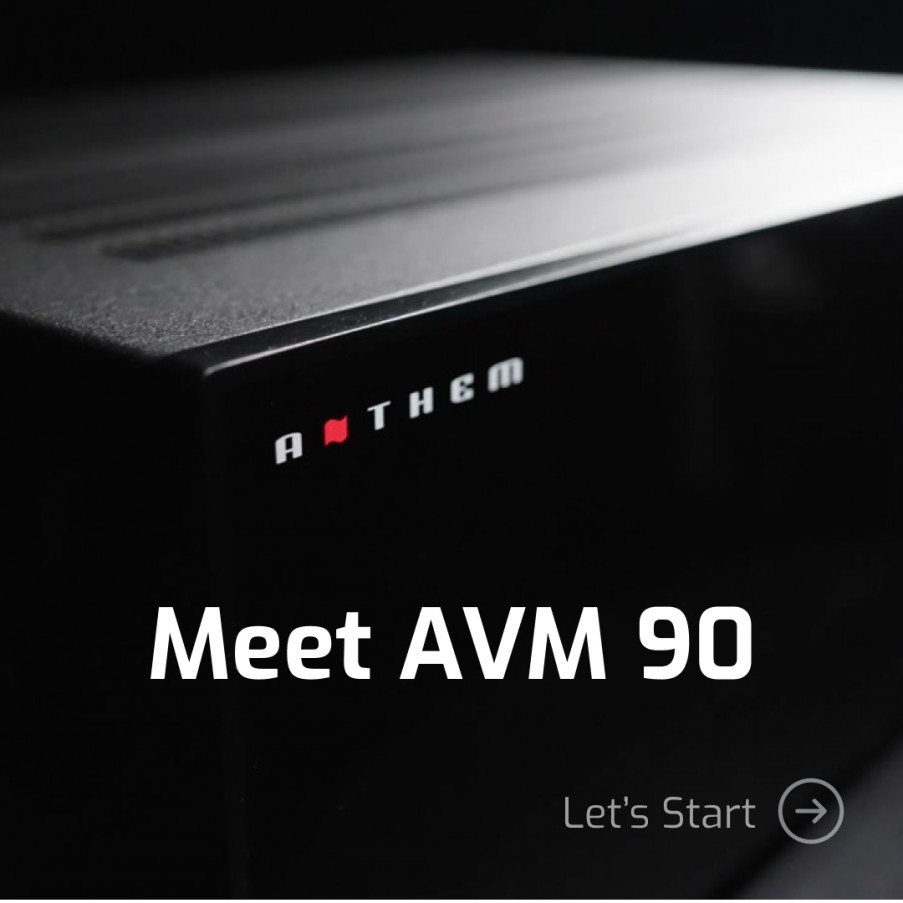 ADVANCED COMPATIBILITY
The AVM 90 includes a robust set of streaming options that can pull each customer's music in from local storage or from the internet. Thanks to Anthem's high-speed processing and premium digital-to-analogue conversion using high-end DACs, sound quality can be every bit as good as dropping a CD into a dedicated disc player.
Included out of the box are Airplay, Google Chromecast, Spotify Connect with Roon compatibility coming soon
Today's premium home cinemas need support for as many as 15 speakers and four subwoofers to handle the latest Dolby Atmos and DTS:X object-oriented audio codecs. Pair the AVM 90 AV Processor with a stack of compatible Anthem MCA amplifiers and you'll hear sound that rivals the best commercial cinemas.
Fully aware of its surroundings, the AVM 90 is designed to play nice as part of a wider whole home project and features RS232 Serial and IP control capabilities for easy customisation and compatibility with common third-party integration solutions. Included as standard, the AVM 90 will work as part of a Crestron, Control4, Savant, URC, RTI or Elan based smart home.
Set up and hand over is handled by the intuitive and easy to follow Anthem Web User Interface. Nothing could be more simple than on-site configuration and calibration using this web-based wizard which has been specially designed to work on any device. From here installers can custom configure everything the new AVM 90 has to offer.
Kapes Patel, COO at Pulse Cinemas, concludes, "Partnering with companies with the type of abilities, knowledge and experience as Anthem pays huge dividends. We know how capable the Anthem team are, but with this product they have surpassed themselves, its just does everything you want it to and more with ease. Get in touch and order yours today, we know you are going to be impressed."