Mark Laird, Managing Director, of install company Lairds gives EI an exclusive tour around this awesome iRacing car sim AV project.
For obvious reasons this is one of our favourite projects. Not only working with amazingly talented people but we are into our gadgets… Need more be said? When you are absolutely crazy about Formula 1 what do you do? When you are a hardworking 16 hour a day businessman what do you do? Fuel your passion! Rev it up a bit, and power in!
Our client's playground, den, entertainment spot, chillout area, and memory palace has been meticulously designed by one of the most talented people you will ever find.
This project was built inside a barn that had been an integral part of our client's business for a number of years, so the memories were ingrained. With friends who are the best tradesmen in their field they set to work to create this masterpiece. Each and every detail is a memory. The images on the wall, the cleverly converted kitchen units, to even the paint on the floor.
Our task was to bring it together with innovative ways to use the technology at our disposal. The car simulator was always on the cards, but the extras just brought it slap bang up to date and helped put the icing on the cake.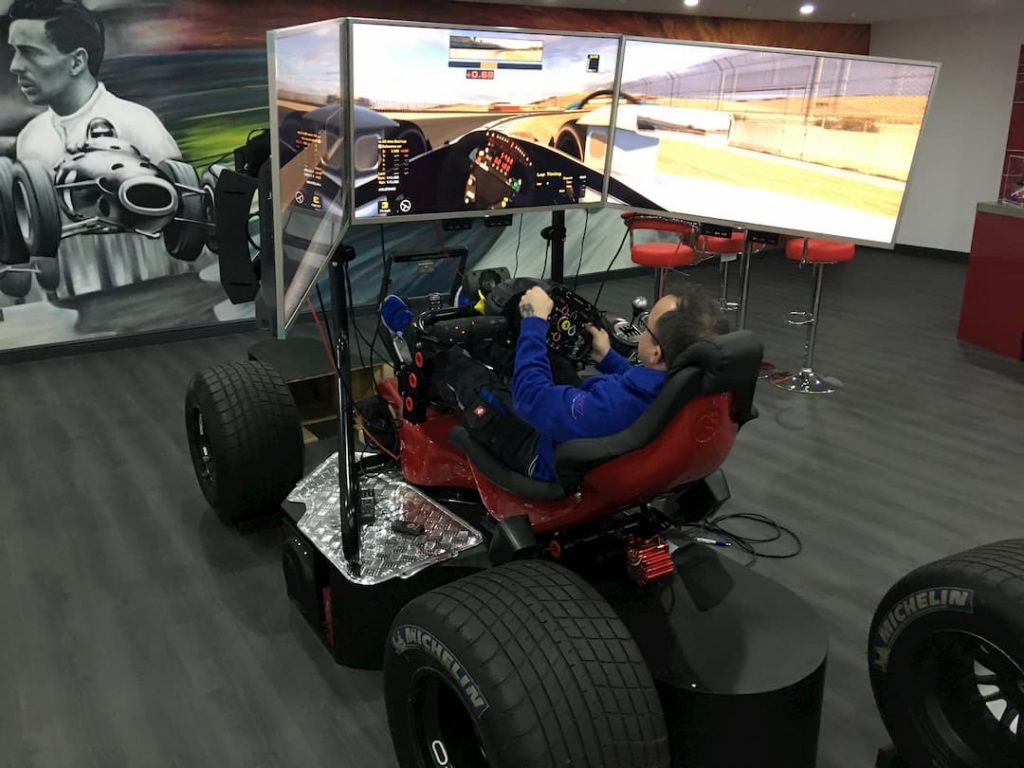 How did we do the Space AV?
For the first floor of this amazing place, the car simulator and AV needed to have top quality sound. With the room audio it would have been a disappointment to have horrible echoes and slaps with the construction of the room.
We got our heads together and designed a more intimate solution. Studying the size of the room and acoustic specifications of a number of speaker solutions, we settled on the Sonance 4.5in speakers evenly spread throughout the room powered by a Sonance amp.
It is the age-old conundrum. When you are working with commercial clients, the amount of speakers required becomes a more in depth conversation. If you can imagine a room with twenty people sitting, eating, talking, with four speakers, the volume would have to be higher for the music to be audible.
Normally by that time, the twenty people won't be able to hold a conversation because to each of them their voices may be drowned out. Adding to the quantity of the speakers will allow for that volume level to be lower and the coverage to be greater in the room. This results in a comfortable background music level and the ability for the company to converse freely.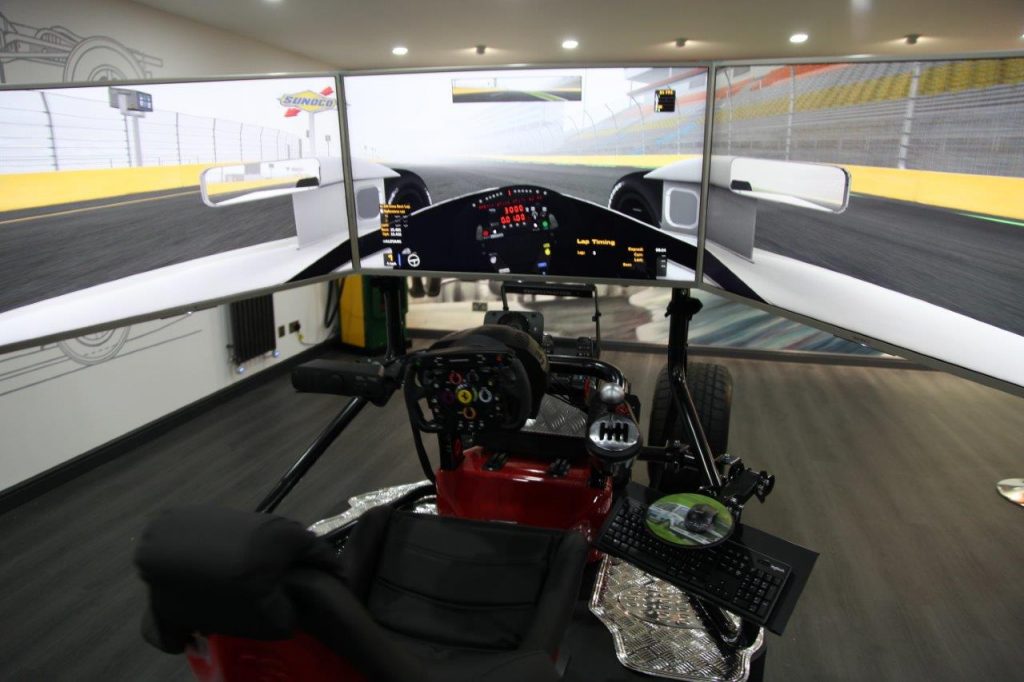 Retro Magic
With the even, comfortable coverage in the room, we decided to add some magic to the mix. Our client had searched high and low for a good old Wurlitzer music box.
With a room full of speakers, we thought it would be a shame not to take advantage. So, with a bit of jiggery pokery and a couple of Sonos units, we included the Wurlitzer not only as a source but a separate zone for the room for those more intimate retro moments. Just picture the Fonz and you'll know what I mean…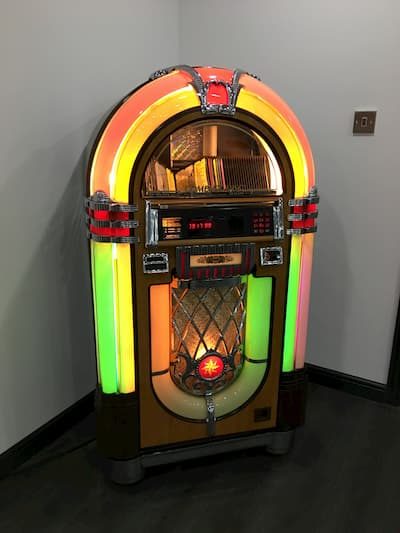 The Car Sim
Multi Zone and Car Sim Audio taken care of, now onto our focus point. The custom built, Formula 1 Simulator. Running the industry's go to racing simulator, iRacing.
There are a lot of companies out there putting massive price tags on simulators. We aimed to bring the absolute best specification to our client pushing the budget to its limits. Sometimes customer satisfaction is more important than profit. How did we make this car simulator and space AV shine?
We started with the latest and best components and built the core system from scratch. The latest GeForce RTX 2080Ti and an Intel Core i9 10900k Overclocked to the MAX!! Solid State Drives and a nice 128 Gig of memory thrown in for good measure. Liquid cooled, air filtered, all built into the freshly built simulator platform.
We added a rumble seat, surround sound system and the stunning Fanatec Racing wheel system. There is plenty of room for upgrade too, the F1 Reclining seat and chassis is perfectly capable of being mounted to the D-Box Motion frame with minimal disruption.
We have the multi-screen setup and using an UltraHD video Matrix system we have a fourth screen available for the 'crowds' to view the action whilst having a chilled beer or two. There is also the ability to add more screens or projectors to the system as and when required and with the zoned Sonance speakers, the engine sounds are stunning! All of the above is controlled by a simple, intuitive, button.
All of this amazing Car Simulator Technology is the platform for iRacing, the world's number one online racing platform. iRacing was developed as a centralised racing and competition service, iRacing organises, hosts and officiates online racing on virtual tracks all around the world. And with their technology, on this platform, it looks absolutely sublime!!
Our client also has the comfort of knowing that we are there if needed for upgrades, remote support using secure access systems and a wee bit of calibration now and again when needed. These kinds of projects are the core of our business, taking technology and fulfilling our clients dreams.