PPDS has announced that its range of Chromecast built-in Philips MediaSuite 4K TVs have been selected and installed inside Miami's luxury Beach Haus Bal Harbour vacation residence, delivering ultimate all-inclusive entertainment experiences to guests, together with immediate cost efficiencies.
Located along Miami's sandy beaches, in the affluent and upscale village of Bal Harbour, the Beach Haus – spaced over three buildings – goes beyond a traditional hotel, with spacious living suites, full kitchens, bathrooms and bedrooms, complete with all the amenities found at home. With guest stays ranging from a few days to a few months, the TV plays a vital role in achieving its 'A vacation that feels like home' promise.
As part of a major modernisation project, replacing the existing, cumbersome entertainment TV setup  , which had resulted in poor guest experiences and negative feedback – Beach Haus teamed with PPDS and hotel solution specialist, Hospitality, working side-by-side throughout the entire process, integrating more than 200 Philips MediaSuite TVs in the living room (65in) and bedroom areas (55in) across all three Beach Haus Bal Harbour complexes. 
Philips MediaSuite TVs were the standout choice, as it's the first dedicated hospitality TV designed exclusively to provide enhanced in-room guest experiences. It offers a seamless and natural transition, similar to how guests access all their favourite TV channels and streaming platforms at home, with no additional hardware or subscription requirements.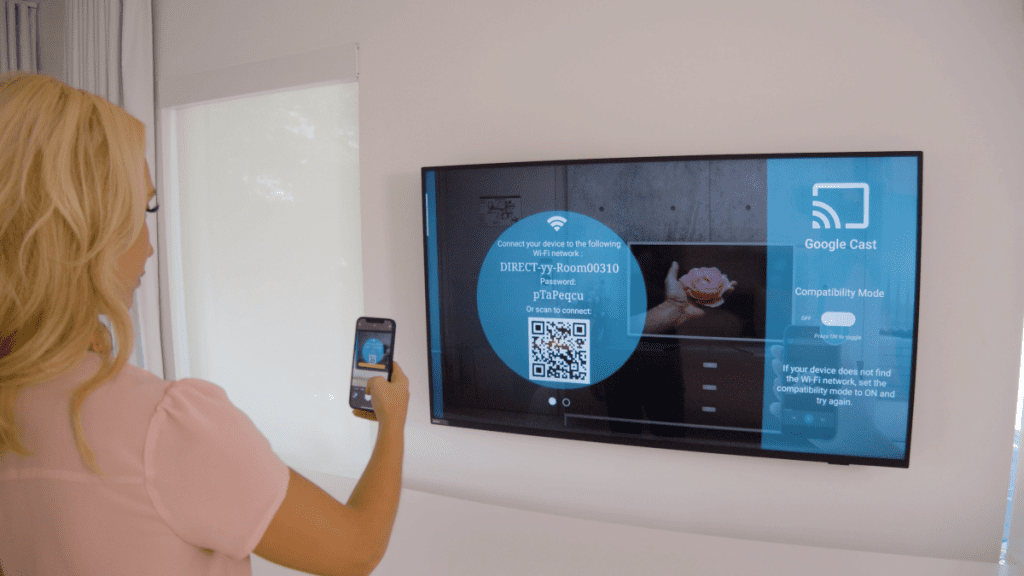 Cast your eyes on this!
Philips MediaSuite TVs provide a night and day contrast to the previous setup. All unsightly and unsecured third-party USB solutions plugged into the previous TVs are no longer required. Philips MediaSuite is the world's first dedicated hospitality TV to feature Chromecast built-in technology and security.
Philips MediaSuite puts the guest in complete control of their entertainment experience. Connected securely to the Beach Haus Wi-Fi, guests can now select from their favourite providers – such as Netflix, Disney+, HBO Max, Hulu, Apple TV+, Paramount+, Spotify – using their own device (tablets, phones, laptops) and personal accounts, and stream in up to 4K directly onto the big screen in a couple of clicks. This is a stark contrast to the previous set up, which required a frustrating four to five-step login process, resulting in an often-poor guest experience and negative feedback. The inclusion of Chromecast built-in also eliminates the vulnerability of external devices, which were susceptible to theft and tampering, as well as reducing maintenance and replacement costs.
Running on the ever-updating Android TV OS, Beach Haus guests also benefit from having secure access to thousands of apps via Google Play, including popular services such as local news, weather, games, YouTube, plus secure voice control capabilities via Google Voice. Philips MediaSuites also feature Netflix-ready functionality, embedded on the TV, allowing guests to immediately pick up shows and movies exactly where they left off on their accounts.
Beach Haus was previously paying several monthly subscriptions to provide a comparable list of channels and services to guests, which are now no longer needed, saving significant monthly costs.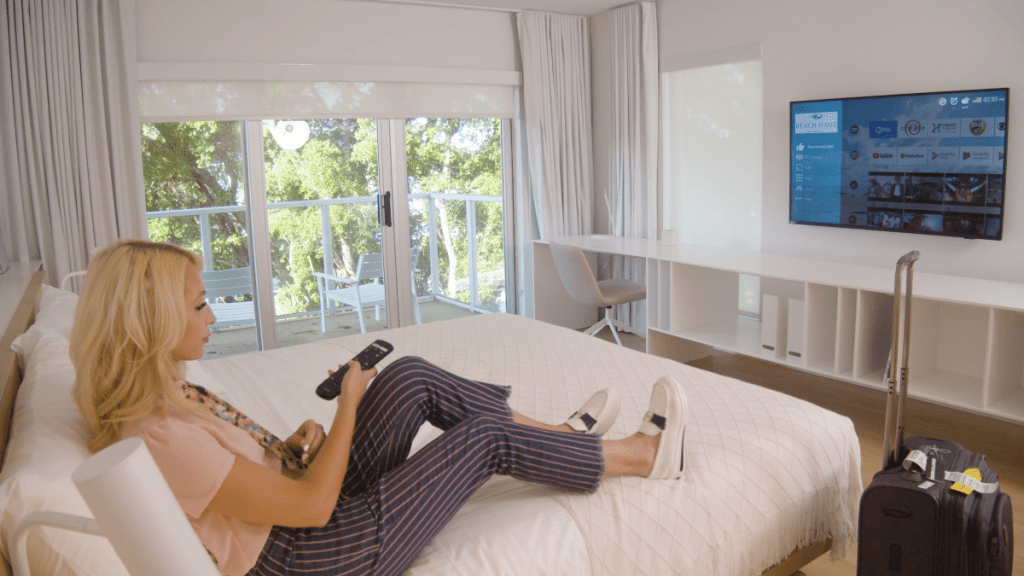 Safe and secure remote management
The inclusion of Philips MediaSuite has resulted in instant time and cost efficiencies, a savings valued at more than $10,000 a year.
With the previous solution of USB devices designed for consumer use at home and not for a commercial property, and security of customer data of paramount importance, Beach Haus staff had to ensure a lengthy process of manually deleting all data and resetting all accounts accessed on each TV upon a guest's departure – a process that could add up to two hours per day for staff when turning around rooms for new guests.
With Philips MediaSuite, all actions can now be managed entirely remotely, with guest data immediately deleted and disconnected upon their departure, saving more than 730 hours annually, and speeding up suite turnaround times.
In addition, all software updates and general troubleshooting of Beach Haus TVs can now be managed and controlled entirely remotely via PPDS' single, intuitive platform – Philips CMND. TVs are also fully customised and branded, with Beach Haus now able to easily tailor each TV to the apartment and guest. This includes individual languages, marketing or messaging, Beach Haus services (bicycle rental, housekeeping, parking, beach chairs), local information (bars, restaurants, shops), or customising screens to celebrate a specific occasion, such as a birthday or anniversary.
In keeping with Beach Haus' and PPDS' focus on sustainability, Philips MediaSuite TVs have also been designed for long-term use. The Android platform allows TVs to be updated with the latest features and functionalities as and when they become available. This ensures Beach Haus TVs provide a consistent performance in every room while remaining relevant longer and extending product lifetimes for increased sustainability. Updates can be scheduled and installed on all or individual displays entirely remotely, during a convenient time, such as when a room is vacant, to avoid disruptions.