Jenga is an iconic building in Manhattan's trendy tribeca area and an acoustically challenged penthouse apartment required a clean and uncluttered aesthetic that could only be achieved by Amina invisible speakers.
The apartment, which was originally a concrete box, created challenges that, with install company Communitec's expert knowledge and experience, were overcome.
So how do you create beautiful sound in an acoustically challenging space, with concrete walls, differing cavity wall sizes and no cables? Working alongside a globally renowned interior designer, Hill House Interiors, Communitec's solution centred on Amina invisible speakers in order to create the acoustic ambiance their client desired.
Key to the project was preparation. Cables were painstakingly installed throughout to ensure the team had everything they needed to create the perfect environment.
Due to the concrete ceilings, ceiling speakers were not an option, however due to the different thicknesses of cavity walls, Communitec had to be smart about how to mount the speakers to ensure the desired effect.
In some rooms the speakers were also designed to go behind very heavy wallpaper, so the team had to train decorators when bonding the paper to the speakers to ensure good transmission of sound.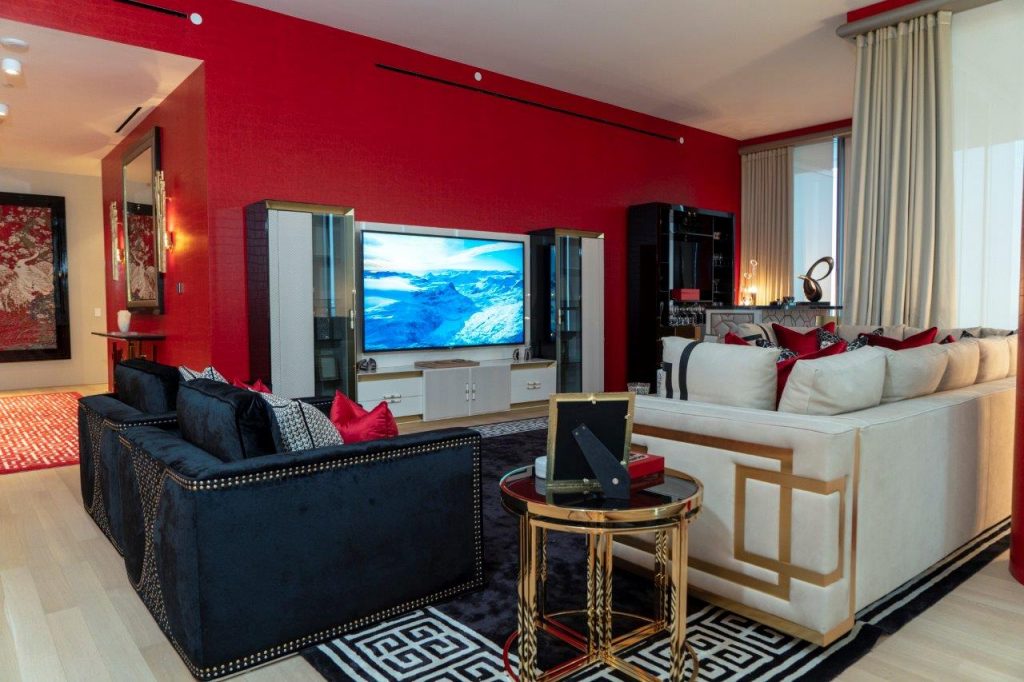 Why Amina?
Opting for Amina, not only aesthetically pleased the client but it also solved many of the problems Communitec might have experienced with traditional cone speakers. A mixture of Edge5's for the bedrooms, and Edge7's for the entertaining spaces delivered a wide dispersion needed for the space to be filled with sound.
The Communitec team employed Savant's Control System, including their integrated amplifiers to deliver music throughout the apartment as well as motorised shades on each window with a discreet security system for when the client isn't in town.
With everything controlled from one system, Amina products fit well into the scheme.
A Communitec spokesperson says, "The Clients absolutely love the finished result, the sound is great, and is especially effective when they entertain. You can still hear the music clearly when the room is filled with voices, without having to boost the volume or having to shout over it. The fact that they can have audiophile quality sound from something you can't see continues to blow their minds."