Matt Cain's Nortek Security & Control (NSC) systemincludes control by ELAN, audio by SpeakerCraft, Sunfire and power conditioning by Panamax.
Regarded as a key contributor to the MLB San Francisco Giants' success over the last decade, retired pitcher Matt Cain has two World Series championships under his belt and is a possible first ballot lock for the Hall of Fame.
After retiring from baseball in 2017, Mat moved out of the spotlight to the quiet serenity of Paradise Valley, Arizona, where he built a custom 8,300-square foot Southwest-inspired smart home, fully equipped with an ELAN control system designed by U.S installer JL Automation.
"With a games room, home theatre, five bedrooms, six bathrooms, a resort-style pool, an outdoor putting green and more, the Cain family required an expansive and all-inclusive automation system to give them the instant control they desired," says JL Automation president Jon Lunt. "ELAN is the best automation system for the job because it enables seamless access to all major subsystems, including audio, video, climate, security and irrigation."
Jon and his team installed a complete ELANFlagship-Certified System with an extended product warranty for the family. Thesmart home infrastructure is anchored by an ELAN gSC10 Controller forwhole-home system control and an ELAN g1 Controller dedicated to door intercomand gate automation.
An ELAN S1616A multi-room AV controller and ELAN 8×8 HDBaseT 4K HDMI Matrix distribute audio and video throughout the entire home to several Sunfire in-wall subwoofers, SpeakerCraft in-ceiling speakers and multiple Sony televisions. In the equipment rack, a Panamax M4320-PRO Power Conditioner protects the entire system.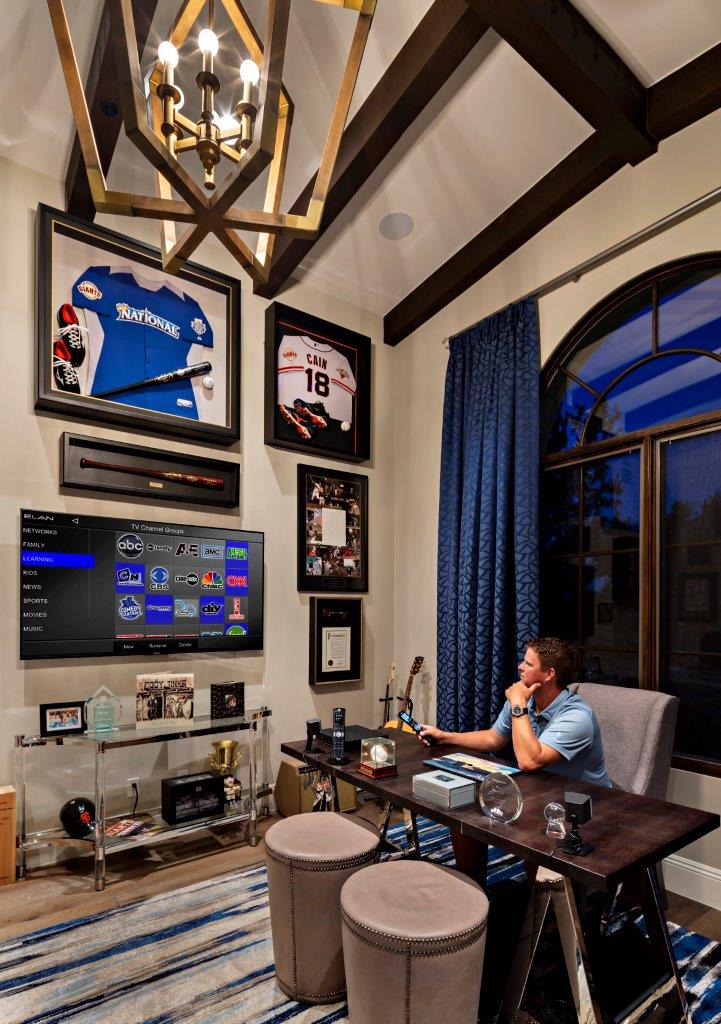 System security
While designing the system, security was of major importanceto Matt, who travels frequently and lives with his wife and two youngdaughters. JL Automation used the ELAN Intercom feature at every entrancepoint, pairing it with automatic door locks, gate openers, and securitycameras, which allows Matt to monitor, control the opening and closing of thedoors with full feedback from his smartphone.
"ELAN is extremely convenient for securing the home," Matt says. "Being able to monitor the doors and the entire property when I'm home or away is a significant benefit. I never have to wonder if I locked the doors. I just know because the information is right in the palm of my hand."
JL Automation also installed motion detectors throughout the property that are automatically turned on by ELAN in the evening. If motion is detected, lights will turn on, and Cain will receive a notification on his smartphone. Lunt also configured a particular security event scene that allows the family to hit 'goodnight on their ELAN touch panel, locking the doors and turning off the televisions, music, and lights.
In addition to full-property surveillance, the Cain's also wanted the system to help them entertain in any space of the home. Controlled and automated by ELAN, JL Automation outfitted the property with a beat-bumping 360° audio experience made possible with SpeakerCraft AIM Series 2 in-wall and in-ceiling speakers paired with Sunfire in-wall subwoofers. "These speakers provide a really great surround-sound experience in every room," Jon explains. "Any area of the house can become the perfect place for entertaining."
One such space is the dual game room/home theatre, which includes an ELAN-controlled Sony VPL-VZ1000ES 4K Short Throw Projector hidden in a custom-made Salamander UST Miami Media Cabinet, and a Severtson Screens Tension Deluxe Motorized 16:9 11in Screen. One button press on an ELAN remote will dim the lights, turn on the projector, and ramp up the sound. "The Cain family really took advantage of ELAN's ability to customize automation to meet their needs," Jon says.
According to Matt, the system has seamlessly merged into his family's every day routine. "Even our kids are able to use ELAN to turn on thelights and televisions – it's that intuitive," he says. "And beyond that, it's so reliable. With ELAN, I know that it's going to work every time."