Connected Cinemas is a new concept from established CI distributor Connected Distribution. Launching in November its purpose is to focus on the provision of the 'Cinema In The Home' model for domestic cinema installations, which was introduced at EI Live! 2023.
The launch coincides with the completion and opening of the dedicated 'Cinema In The Home' demonstration facility at Connected's Cheltenham office. This state-of-the-art cinema has been designed to present the mainstays of the company's cinema offering – Aurea loudspeakers and Acurus electronics – to installers, retailers and their more discerning clients.
The 7.1.4 Dolby Atmos cinema has been built to show off the impressive audio performance that this combination of products achieves. As Connected Cinema's Mike Bonnette explains, "We set out to build a facility that would enable us to showcase our 'Cinema In The Home' offering, which differs from practically all other home cinemas as it genuinely delivers true cinema performance in the home, so much so that we don't refer to it as 'home cinema'.
"The Aurea cinema speakers are designed using exactly the same criteria for dispersion, SPL, intelligibility and timbre as the company's professional cinema speakers which are used in such locations as Odeon Leicester Square and BFI Imax.
"Combine them with Acurus processors and amplifiers, whose remit is to take the encoded film soundtrack and process it without compromise, and the result is a domestic solution that is as close to the experience of being in a commercial cinema as is possible."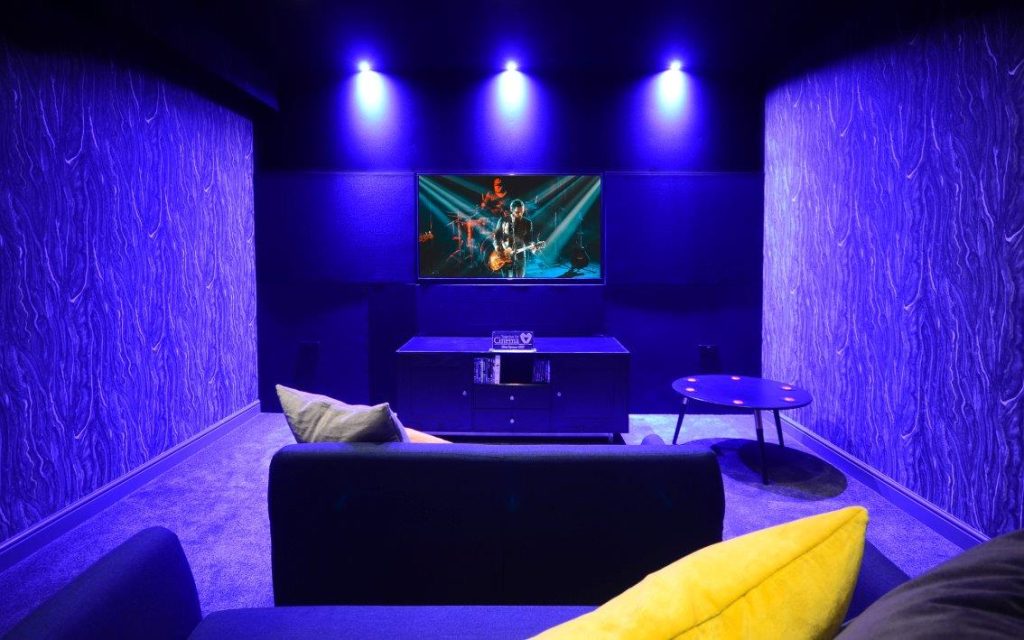 The facility
The Connected Cinemas demo facility is permanently equipped with the Aurea In-wall series 6+6 model for the LCR channels, IW 5+5 model for the side and rear surrounds and the Coaxial 5 model for the four height channels. Two Sub 12 in-wall subwoofers are employed, taking the LF response down to 23Hz. The total system is capable of a maximum continuous SPL well in excess of the 105dB Dolby specification.
Processing is done using the Acurus Muse, a 16-channel processor that is devoid of unnecessary and often unused features found in other brands, allowing it to do nothing but decode the immersive audio experience to the highest possible levels of performance. Power amplification comes from the Acurus M8 eight-channel power amplifiers, delivering 200W per channel.
The room has been calibrated using the Acurus AspeQT speaker parameter and EQ tool, a comprehensive four microphone system that enables the room to be tuned to the required target EQ curve.
In addition to the Aurea and Acurus brands, Connected Cinemas also specifies and distributes Euroscreen screens, Yamaha AVRs and Parasound amplification – a brand used in commercial movie production studios such as Warner Bros, 20th Century Fox and Lucasfilm. These products can also be demonstrated in the Connected Cinemas room.
Installers and retailers are invited to experience the new demonstration cinema for themselves and may do so by contacting cinema@connecteddistribution.com to book a time to visit.