The Arcstream team has recently completed work on a huge digital generative art installation in a trading platform's headquarters in the City, which includes a massive circular LED screen in the ceiling which takes feeds from the world's trading centres and changes according to the 'trading weather'.
The idea is to inform and influence the staff's awareness of the financial world situation, in real time, and it also responds to them walking past with interactive trails and other immersive elements. Arcstream, developed and installed this, in partnership with the interior design company that fitted out the company's new offices, and with the software company that created the artwork interface.
This is believed to be the only one of its kind where a display of this kind integrates with financial data in real-time.
The project started when Capital.com, an international commodity trading platform, had an ambitious vision for their new London headquarters. Modus Workspace, the main contractors and interior design company were tasked with providing something that wasn't just a modern working environment, but a space that felt alive and responsive.
Arcstream were brought onto the project when they needed a team to help them create and deliver a large-scale digital installation as part of that vision. As the concept was something that had never been attempted before, they needed a partner with the experience and ability to bring together the complex hardware and software solutions it required. That's where Arcstream came in.
The project
Neil Dickinson, Managing Director, Arcstream, explains, "We were approached on the basis of our reputation for turning the most ambitious ideas into delivered and reliable installations. Obviously, we had to make sure that the clients and partner companies were confident in our ability to deliver on the brief, but there's not really anyone else that does what we do. That is, creating bespoke software and unique hardware installations, then making them all work together in challenging environments.
"Once we started talking to Modus about their ideas and what they wanted, it was clear that there were several practical issues that needed to be overcome. There always are when doing something ground-breaking. If it were easy they wouldn't have needed us. But once we were on-board, it was a perfect working relationship."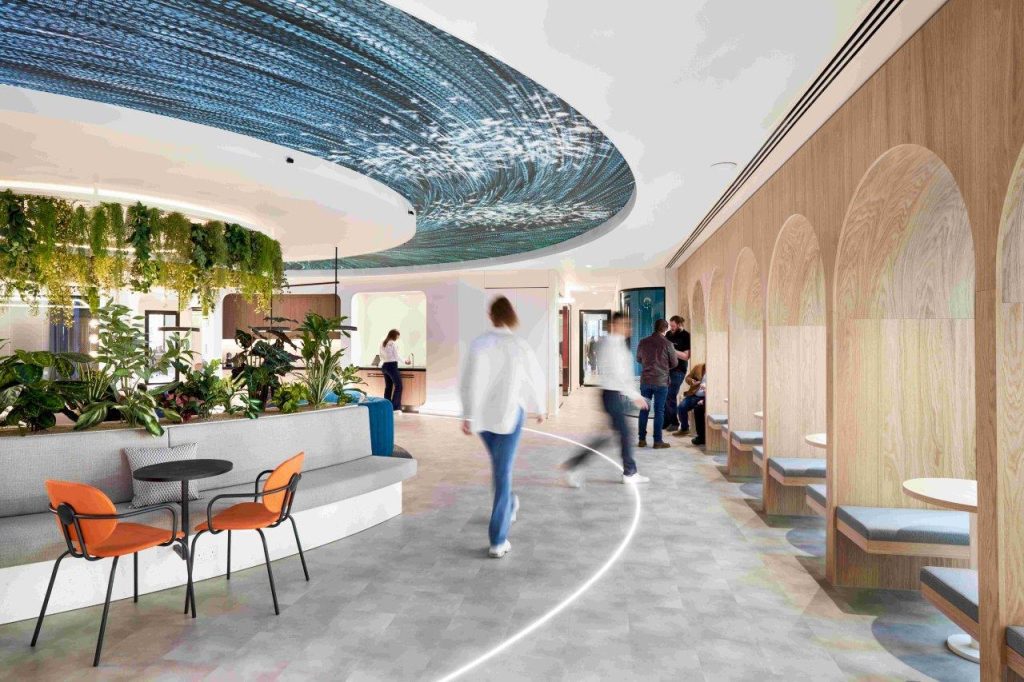 Neil adds, "Since lockdown companies realise that they need more ways to pull their employees back into the office or attract the very best people to their company. The client wanted interesting experiences there to make office life more exciting, collaborative and community based. But they also wanted their team to be informed and influenced by the financial world situation at a glance, combining real-world information with an artistic flair and other immersive elements.
"The centrepiece of the project – the really unique feature, is an 80 square metre, C-Shaped, LED screen with content driven by API feeds from global trading centres. This screen adapts in real time to the 'trading weather', and a series of cameras surrounding it track movement of passers-by, providing an extra layer of interactivity. However – what's different about this is that it's on the ceiling!"
The Arcstream team managed and installed all the LED hardware and back-end rack equipment, as well as an interactive digital table-tennis table and games room. These provide recreational facilities for Capital's staff and an opportunity to socialise.
Neil says, "In many ways it was a straightforward installation. Just upside down and backwards! That meant that, of course, it wasn't a standard installation, but then that's why we were brought in, as we specialise in the unusual and unique.
"We had to ensure that the hardware chosen was reliable and would do what we needed it to, so for the LED screen itself, we turned to Leyard Europe to provide the display components that would be effective at a short viewing distance and angle. To drive the content, we worked with Skandal Technologies. Their POET server system is designed to drive large scale generative art displays and can generate interactive particle effects and much more. We created 13 different scenes to define different scales of trading weather, overlaid with the tracking of people walking past the display for additional interactivity."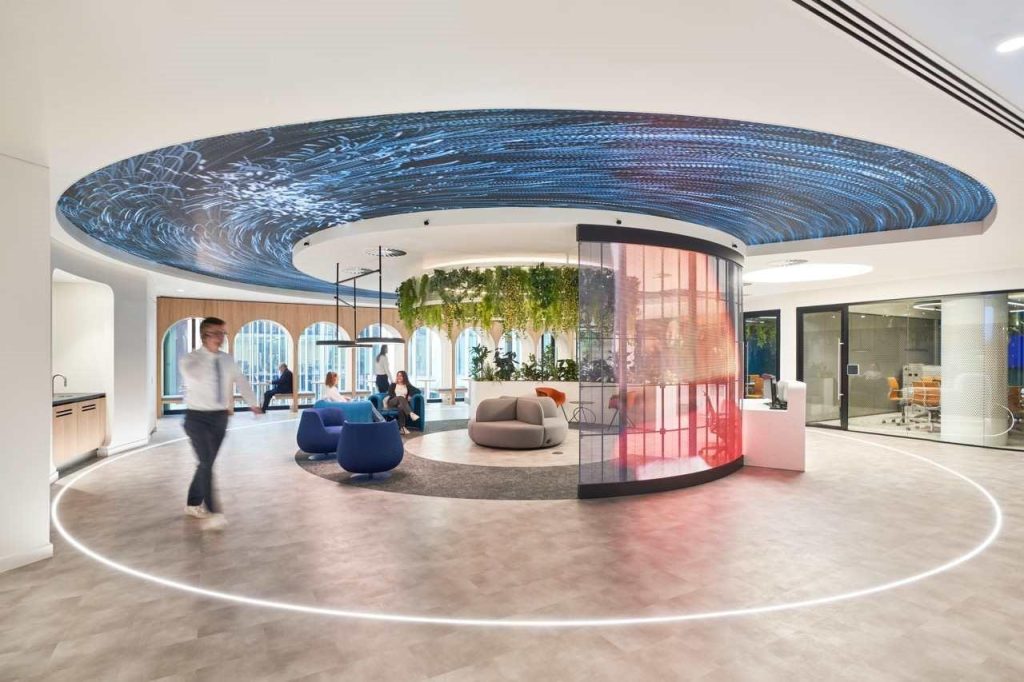 Generative art, typically, is projections on buildings as one-offs for events, but this time, the generative art installation is a permanent part of the interior. This is the first example, at scale, that is part of the interior design furnishings, not just a screen mounted on a bracket, and set an ambitious precedent by being on the ceiling instead of just stuck up on a wall.
The whole office was being fitted out, with major works throughout. So, planning and scheduling the installation and setting up was a logistical triumph. Even there the team faced the challenge of bringing all the LED up to the 2nd floor with no service lift!
Capital's office is open 24/7, so the screen needed to offer reliability in this environment. The unusual placement and size meant Arcstream had to design a serviceable system whilst also considering the weight and managing the heat it generated – all in a very busy ceiling space working around the usual cabling and ducting.
Favourite aspect?
Neil reveals, "Our favourite part – and the client's too – is watching when people see it for the first time. They step into the company's reception, and wow – it's there! It's enormous, colourful and in constant motion, showing trails as people walk past. Everyone talks about wanting the 'wow factor' for their projects, and often that's exaggerated. In this case, it genuinely isn't. Whenever anyone sees it for the first time it has an instant effect on them and most really do genuinely say 'wow' out loud. That's our favourite part."