Following a three-year redevelopment project, a single-storey, four-bedroom home in Lytham St Anne's -that relies on Control4 automation to manage lighting, blinds, security and more in a system designed by Snap One Partner, Majik House – has been acclaimed the Winner of the Best Smart Home Project category at the 2022 Northern Design Awards.
Built in the 1950s, this striking 13,000ft² contemporary home offers a stunning, living space inside and out, including an Olympic-length swimming pool, a high-end gym, nine bathrooms and open plan communal spaces that adapt to the client's needs at the touch of a button.
Ben Jurin Architecture was commissioned to create this ultra-high end, bespoke residence by a client who considered himself to be non-technical. Ben was also new to the world of smart home technology and so turned to Snap One Partner and automation specialist, Majik House, to advise on what could be achieved. They worked in partnership with Opus-Electrical on the design and delivery, project managing the electrical installation and the activities of contractors.
Jit Mistry, Sales Director at Majik House, explains, "Preston Pools referred Majik House to the architect Ben Jurin who had never built a smart home before and wanted a very step by step understanding of what was required, therefore, the project grew over the build process."
While the home largely keeps to its original footprint, every other aspect has been enhanced as Ben Jurin Architecture worked to create a bold and contemporary, yet timeless design that offers luxury living at its best. To achieve this, smart home technology has been integrated throughout, all while respecting the architect's core requirement that it remained unobtrusive and complemented the property design rather than overshadowing it. This meant that everything needed to be discreet, seamless and, crucially, easy to use.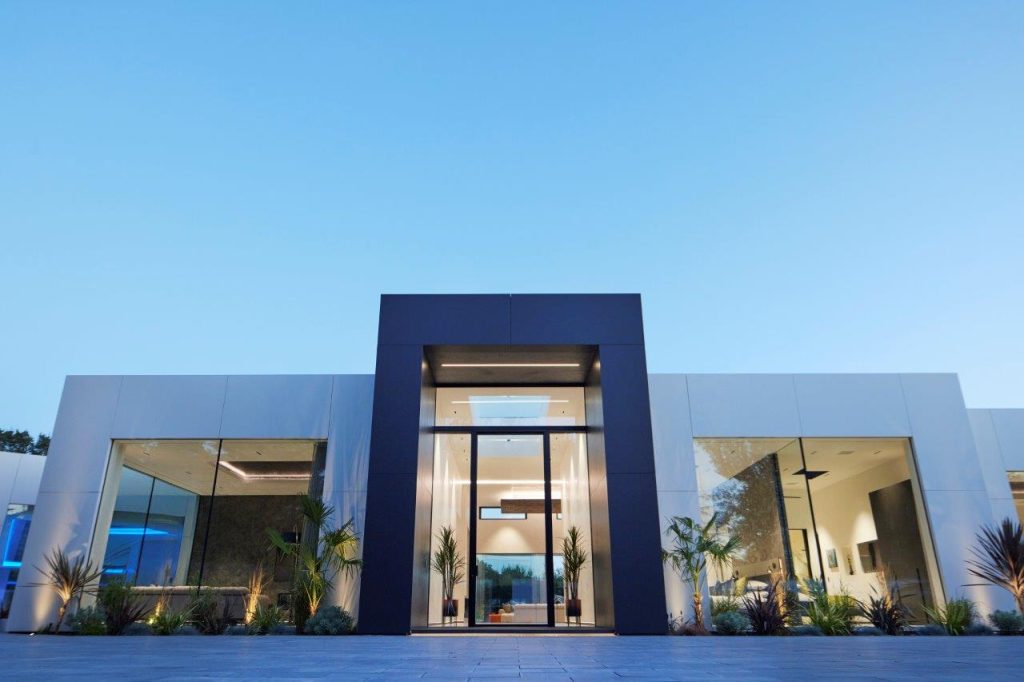 To meet this need, the property uses Control4, utilising hand-held remotes and T4 touchscreens, to ensure the client can quickly and easily adapt any space to meet their needs. For example, the family only needs to interact with the control system when they wish to change a lighting scene, isolate the AV to individual rooms (zones) or join it up in 'party mode', when required.
Invisible speakers and subwoofers were deployed to deliver expansive sound without impacting the aesthetic. These are enabled by multi-room amps and an Audio Matrix from Snap One brand, Triad.
Jit reveals, "We used Redline to help us design invisible speakers (Amina) with discrete but powerful bass using Velodyne and Ariston products. Habitech supplied all the Sonance in ceiling speakers and Garden series Sonance solution, the network was Snap One's Araknis but Wi-Fi was Rukus."
The home also features Lutron QSX Lighting control and Silent Gliss curtain motors with Blind Space tracks. Future Automation Under Bed TV Lift and all articulated brackets were also included.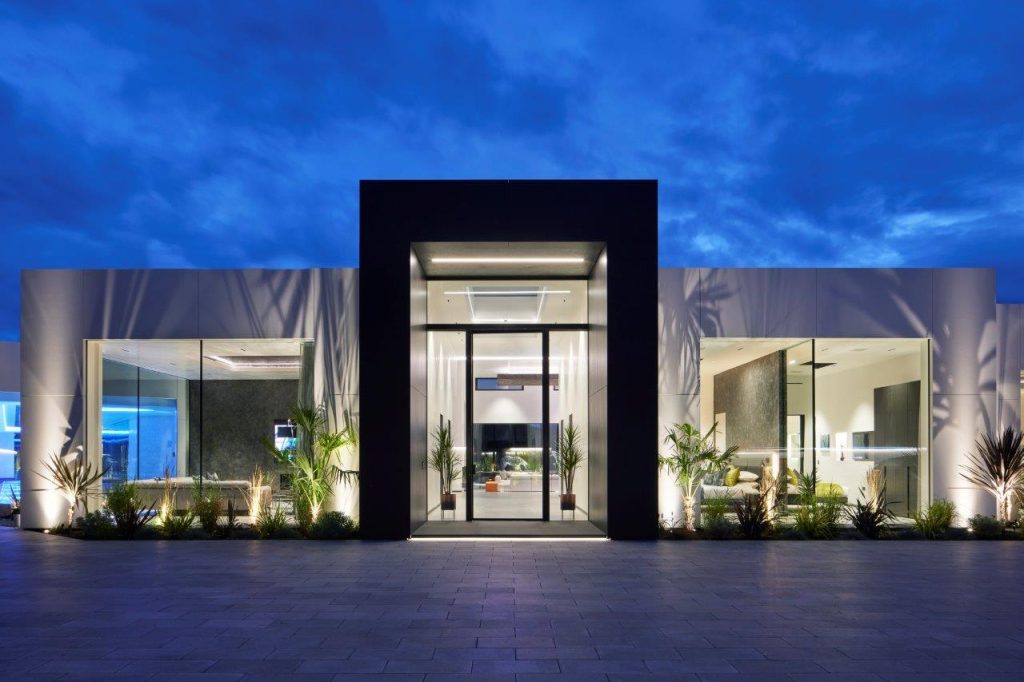 Lighting control proved to be a particular focus for the architect as the possibilities within the property became clear. Majik House were initially given a base lighting design to work from, but this expanded as the project developed and the lighting scheme throughout is now integrated into the fabric of the building, enhancing the clean and precise lines of the structure, and controlled by Control4. Elsewhere, automated curtains and shading, security and access systems are all integrated and controlled by the Control4 system.
Jit says, "The architect was excited at being able to control all the lights and to have a global scene for such an open plan space. Ultimately, we've created global scenes for the whole house – the customer has three scenes that he uses for different events and it sets the whole house, inside and outside."
More control
The Control4 CA-10 primary controller along with the EA-5 are used to ensure a simple client experience, no matter how complex the programming behind the scenes. The system is built on a robust data and Wi-Fi network using the Araknis and Pakedge products from Snap One. The CA-10 also comes with OvrC from Snap One which allows Majik House to offer advanced remote management and monitoring and effectively maintain the system, without having to be overly intrusive with unnecessary visits to site. Majik House provides extensive warranties for the whole installation, including remote rebooting of technologies in the house, when needed and operating system software updates all managed through OvrC.
"Because OvrC is embedded within Control4, it's so easy for us to set up and then be able to reset devices, like satellite boxes," adds Jit. "The client expects us to look after the system with a high level of customer service and with OvrC we can maintain it without any hassle at all."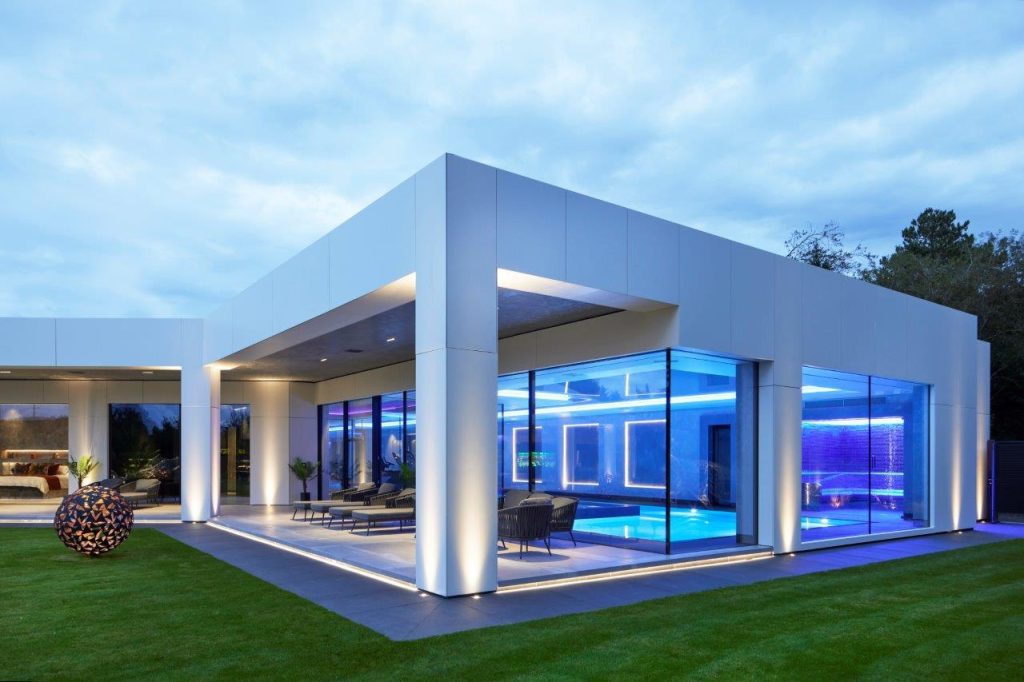 The customer says, "Having Majik House and Opus-Electrical involved in the project proved a huge benefit right from the outset. Their approach was never that of a contractor, more a trusted and assured partner who would bring their experience and expertise to the table throughout. Whatever was asked of them, they provided solutions; not always easy, but solutions which would ensure Ben's beautiful design of our new home was never compromised. They never tied us in knots with technology – just like the operation of the lights, the sound, the TVs, everything is just nice and simple. There's no question, the involvement of Majik House has elevated our home beyond our expectations."
Jit concludes, "My favourite area is outside in the firepit with the water feature and music from hidden speakers in the hedge. The customer loves to entertain in summer with music on, all doors open which creates one open space and brings the outside, inside."
Looking ahead and the positive outcome of this project has also led to a strong relationship between architect and integrator, with the pair committed to working on two more projects together this year.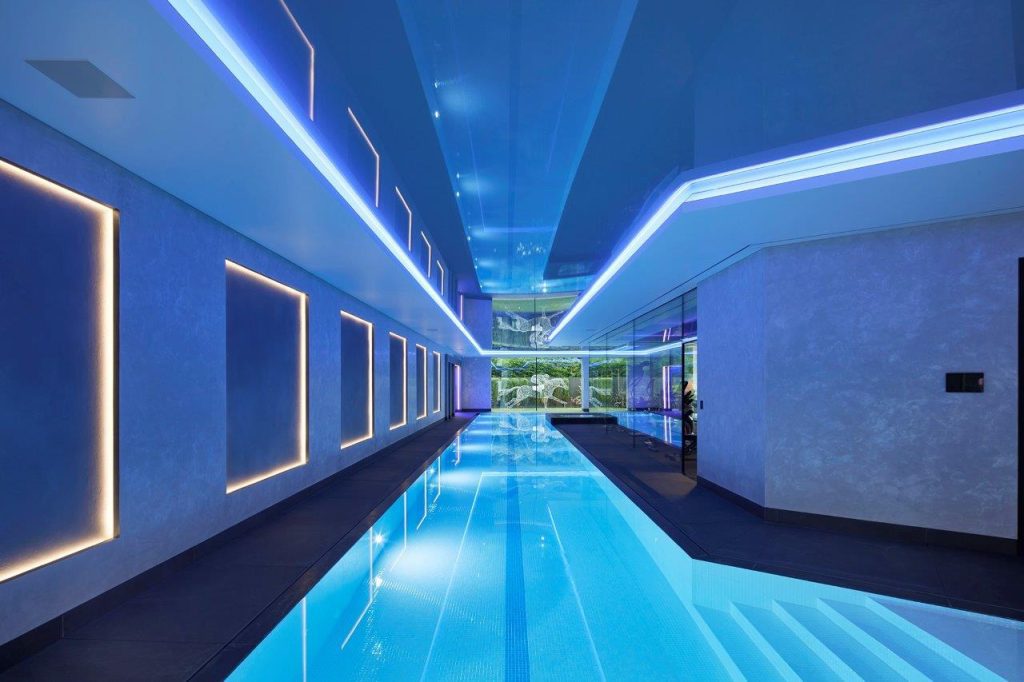 Essential Kit List
Control4 EA-5
Control4 CA-10
Araknis Network with OvrC
Pakedge IP power control
Triad Audio Matrix
Triad multi rooms amps
Neeo Remotes for all rooms
Control4 T4 Touch Screens all areas
Wyrestorm 8×8 4K matrix
DS2 Gate station
2N Fingerprint entry at 6 doors around the house
Lutron QS Lighting control
Silent Gliss automated blinds and curtain tacks
Living Area
Amina Invisible speakers
Velodyne inwall subs and freestanding subs to produce 7.7.4 Dolby Atmos sound
100in Sony 4K screen
Christmas Room
Amina Invisible speakers
Velodyne inwall subs to produce 5.2.2 Dolby Atmos sound
100in Sony 4K screen
Swimming Pool
Sonance Visual Performance Ceiling Speakers with Artison in-ceiling subs
Bedrooms
Future Automation under bed TV lift
Sonance Visual Performance Ceiling
Rear Garden
Sonance Garden Series speaker system 8.2