Just before the Christmas break, Crestron and its sales agent TIG (Technological Innovations Group) put on a joint press conference to lay out plans for 2020 and beyond.
For its part, TIG, which focuses solely on the sales aspect of the Crestron set up, has committed to putting itself more firmly on the map with a complete marketing overhaul which includes a new interactive website (much more end user focussed) coming in February, and also more direct marketing initiatives.
The company has also set up dedicated marine and hospitality divisions to offer a more bespoke sales service into those sectors. Both companies also underlined the opportunities to experience the products in the flesh. New experience centers are being set-up in Frankfurt and London, due to open later this year. In 2019, Crestron opened new training centers in Weybridge and Eschborn (Frankfurt).
The company also reaffirmed its commitment to add new brands where appropriate including its recent deal to supply the range of attractive controllers from Black Nova.
Crestron will be underlining many of its new product offerings at this year's ISE of course and in the commercial world one of the big announcements will be the addition of USB-C across many of its systems.
This type of connection is becoming widespread for laptops and is part of Crestron's commitment to allow installers to be able to offer the connectivity options companies want and to operate more seamlessly across IT real estate as well as AV.
In truth Crestron believes these two to now be one and the same in the commercial sector and is encouraging dealers see it the same way, not just in the products they offer, but in the way there are offered using IT infrastructure to offer a more efficient roll-out across a customer's systems.
Crestron will also give its AirMedia 2 wireless presentation connections platform a big push in 2020 and at the ISE show. First announced in 2018, but now updated with AirMedia 2.1, this will be a key technology for the company in the commercial space.
Seen already at the InfoComm show but being pushed hard at ISE also will be Crestron Mercury X, the latest evolution of this tabletop meeting and collaboration solution.
Crestron Mercury X connects to a room's AV and IT systems a single cable and also offers the flexibility to run native software, including Microsoft Teams and Zoom Rooms, and BYOD on the same device. Crestron Mercury X, and all Crestron Mercury models, also now feature a more modern UI for a simpler user experience.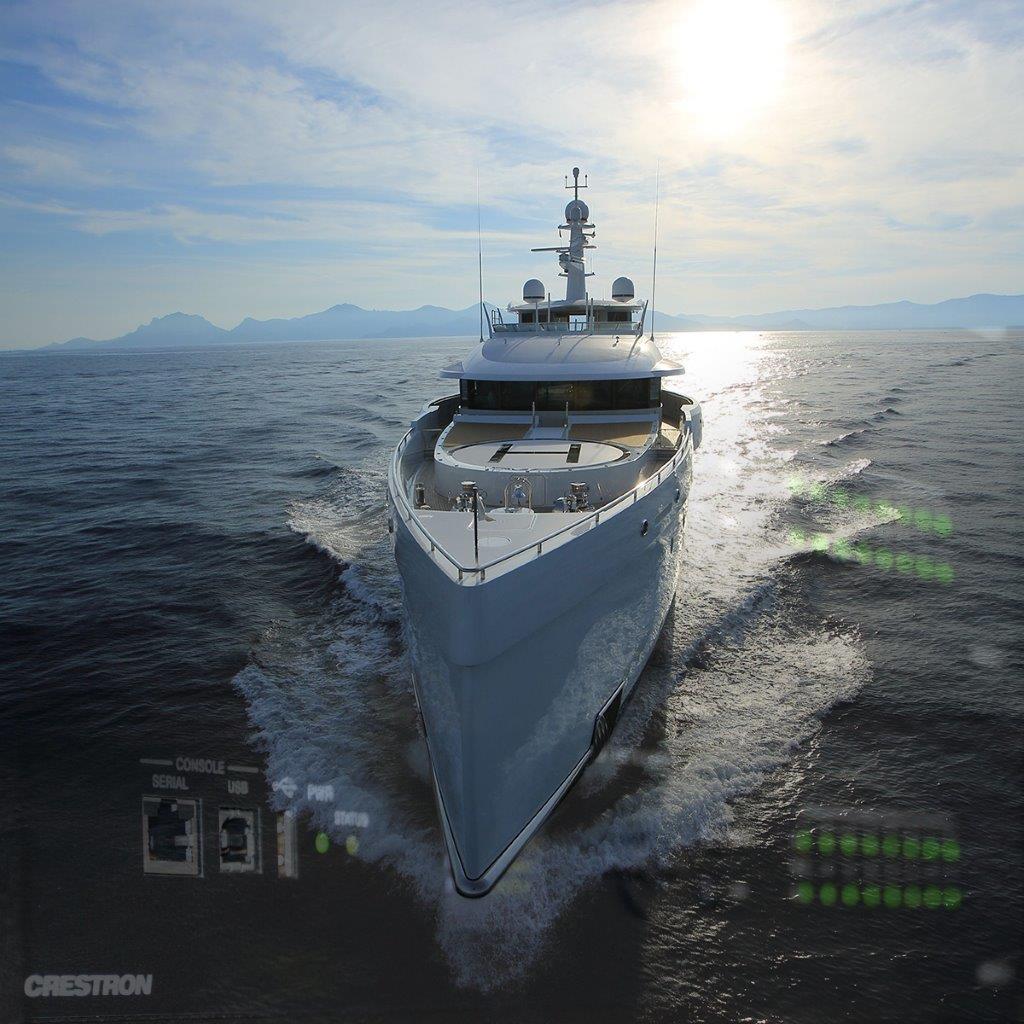 Residential
Probably the biggest news to break here is that Crestron Home in its updated OS 3 variant, now natively works with Lutron.
Perhaps surprising as Crestron does have its own lighting solutions, but the company wants to show a willingness to work with other brands it considers to be able a high-performance solution and deliver packages that installers and their customers want.
Shipping in February is a new connectivity hub called the MC4-R, which will drive a lot of the new integration the company will be offering.
Crestron says the MC4-R provides a secure, high‑performance, cost-effective control processor and interface for use with Crestron Home OS in a small form factor and low-profile unit.
The product is suitable for single‑room systems, small to medium‑sized homes, and MDUs.
Big news on the programming side is that HTML5 and Crestron now works together, the next Crestron Masters programming events will feature this new option strongly.
Crestron was keen to add this as it opens up a wider range of possibilities to add other types of designers into the Crestron universe as well as Crestron specialists.
Crestron Home OS 3 Deep Dive
A big feature of the company's ISE presence will be the Crestron Home platform, designed to deliver a simple, clean, and sophisticated user experience and speedier deployment of any sized project.
Crestron Home OS 3 includes hundreds of new features and an interface that's designed to be both beautiful and easy to navigate on mobile devices and Crestron TSW touch screens.
Combined with fast deployment for integrators, a much more drag and drop and choice-based system rather than pure programming, Crestron says OS 3 offers residential integrators the complete package for any sized smart home project.
OS 3 delivers new page designs, dynamic room controls and icons, with new features such as stylish, responsive, smooth performance, support for multiple homes and new icons to save as favourites providing intuitive custom access and experience.
The platform has also been created to offer a more refined layout for easy access to commonly used functions, and personalisation of the UI using photos of the home to represent rooms. There is also enforced end-to-end encryption for secure communications.
Also new for 2020 is OS 3 integration with CoolAutomation to deliver native BACnet integration. Developer of HVAC automation solutions to provide native BACnet integration, CoolAutomation now works directly in the OS 3 world allowing installers to customise the BACnet modules within the Crestron Home app to ensure an easier installation.
This solution is a strong option for MDU applications where there is a centralised BACnet controlled HVAC system. Instead of manually commissioning each unit, integrators can now deploy thousands of units with one touch using the MyCrestron deploy code concept.