Created as a premium upgrade compared to the Beam, Sonos has staked a hell of a lot on this launch. It's asking this new product to do an awful lot and do it well. So what does our Sonos Arc Review conclude? does it perform? Well it does, and then some.
First impressions are that it does feel like a premium piece of kit. The large box the product arrives in has a handy carry handle right in the centre, which it definitely needs as the product is considerably longer than its predecessors. The product's dimensions are 8.7 x 114 x 11.6cm (hwd), or 3.4 x 45 x 4.5in and it weighs 6.25kg (13.78lbs).
It's an obvious point, but getting used to these new dimensions for a Sonos soundbar is important. It's not so big that it is going to cause too many issues, but height in particular is worth keeping an eye on, especially if it's going on right under the TV on a mantle as ours was.
This move up to a middle weight is mainly due to the 11 multi-directional drivers arranged inside to deliver the headline audio party piece of Dolby Atmos compatibility. Each speaker is driven by its own Class D digital amp, with eight woofers (four in front, one at either end and two on top) and three tweeters also located at the front (two of these deliver audio at an angle into the room).
You could argue Sonos is a little late to the Atmos party, so if it's going on the principle of 'Don't be first, be second and be better', it needs to get it right. The product can also support Dolby True HD, Dolby Digital+ and Dolby Digital formats.
Arc comes in at £799, around twice the cost of the Beam, so there is even more pressure on its curved shoulders to deliver.
Inside the box, the speaker is covered in a rather nice fitted cloth for protection, which could come in useful if the product ever needed to be moved post-installation to avoid unwanted scratches.
The curved design is attractive and also contributes to the upgrade in terms of how the product will fit in with interiors. It is pleasing to the eye and touch, but as it takes its design cues from a natural curve, it also delivers quite a neutral look so will fit in if the location is a modern type or something more period.
Sonos promised to make its own branding less obvious with this product and the Sonos logo on the front of the speaker is less prominent than on some Sonos speakers, but it's still very much a Sonos product. The connection suite (power connector, HDMI in, optical, ethernet) is tucked neatly away in a recess at the rear of the product. The supplied leads are of decent quality, but perhaps could be a little longer, especially the power lead. However, neither of these issues are difficult to solve if you have a difficult installation to work around.
As with the Beam, there is an optical adapter supplied for more vintage TVs, but obviously the preferred option is HDMI so the whole set up can benefit from Audio Return Channel functionality direct from the TV. This new soundbar actually goes further and has eARC (Enhanced Audio Return Channel) too, which comes into its own if you are getting your Atmos from a more powerful source such as a disc player or Kaleidescape system, rather than direct from a TV delivering a streaming service.
Other familiar Sonos stables are included such as the touch activated play and pause button and volume control either side. These are subtly integrated and ready for action when needed.
The bottom of the speaker has special pads to give it a solid footing. It should not slip or be too vulnerable to being knocked off its perch and this also gives it a solid base from which to perform. You can, of course, mount the arc on the wall (and in a neat trick it knows when this has happened) or have it sit on a surface below the TV. For our test, we had the product sitting on a fireplace directly below a six-month-old 4K LG TV.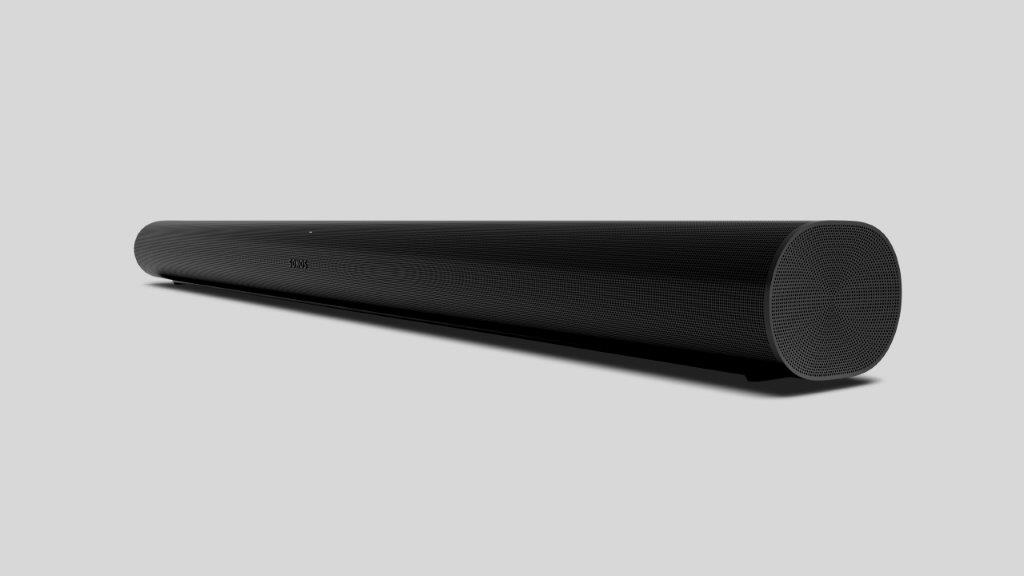 Set up and performance
Nobody wants this type of product to be hard to set up. If the installation calls for something right at the high-end, then decent set up is of course part of the process and the expertise of an integrator is essential. However, with this type of deal, especially if there are multiple units going into a large install, then 'Plop n Play' set up is essential.
We had no worries getting the Arc ready for action – we all know the drill by now. We thought there might be some issues as the venue for our test had been experiencing some drop off in internet speeds of late, but Arc popped into view no problem and we were able to get started right away.
Before venturing into using the product within a 'proper' Sonos environment, you can of course use Arc as a source via a variety of streaming services like Spotify, Tidal and Airplay2 is there as an option as well. Even though Tidal is included as a source in our Sonos app, we did like the immediacy of using Tidal to go straight in for music only playback. It just feels neater.
From an install point of view, one of the issues that has come up in the past, not just with Sonos, is the 'always on' aspect of power, connection or indicator lights, especially if placed in a bedroom. To its credit, Sonos has done something about this and the indicator lights just above the logo are off most of the time and when they are in use adjust to the light level in the room.
For the speaker to deliver its promised Dolby Atmos performance, of course it needs to 'bounce' sound off the room's walls and ceiling. Now it's easy to say this is not 'proper' Atmos, and there is some validity there, but firing audio off the walls has been part of the Atmos set-up pretty much from the start in the domestic arena. Some of the earliest previews had this functionality included.
Also, in the soundbar category in general, this type of approach has been around a long time with category pioneers like Yamaha going back a long way with this idea. So, it's fair not to get too hung up here. No, it's not going to be a 'good' as a genuine multi-channel system, but then it's a soundbar and you knew that already. Our speaker was lucky it had a nice middle-sized square living room to work with and we went without the advantages of Trueplay room adjustment.
This is still very quick and easy to do if you have an iOS device to hand. However, Android users are still out of luck due to the variable nature of mics found on the different type of products using that system.
However, with a product at this price point, is it not time for Sonos to provide a 'pro mic' for set up? Yamaha had them way back. Other adjustments are available to the sound within the Sonos app, so Android users are not totally without some ability to play with bass and treble.
Like previous sound bars, this product retains the 'Night Sound' feature that reduces the impact of percussive sounds and the bass. Sonos bills it as a means of not waking the rest of the house, but if the product is going into an MDU, then there is a useful option there also. 
In use, Arc can communicate with the TV over HDMI-CEC, so firing up is straight-forward as the soundbar will turn itself on when the TV is activated in TV support mode. Like with Beam, volume can be altered via the TV remote.
There is plenty here for voice control enthusiasts, as Arc plays nice with Alexa and Google Assistant. There is nothing wrong with the functionality here – the product is built so that voice commands still work even when the volume is turned up – but as there are so many 'better' ways of accessing and controlling content via not just the Sonos app, but others too, it's only really of use for basic stuff, volume down being the most common command in our time with the product.
Sound as a pound?
So away from all the bells and whistles, set up and functionality, it is a speaker right – so what does it sound like?
Music only first because with the Beam we found that performance here was pleasing and perhaps a little better than expected. Straight into the Tidal app and we chose the very recently released Curse of The Crystal Coconut by 'pirate metal' exponents Alestorm.
This admittedly slightly obscure corner of the world of rock felt like a decent choice, as this band has loads of attack and play really fast with a surprisingly large variety of sounds and instruments in use. Arc delivers all the fun and power this band try and pack into their sound, with the chugging guitars and keytar coming over particularly clear and punchy. Change of mood entirely and Songs from The Wood by Jethro Tull received an airing.
Again, Arc managed to retain the authentic sound of the flute here, placing it pleasingly right in the centre of the audio image. Stereo purists might experience a few areas that don't quite add up, the product uses all of its drivers when playing just music, but the serious audiophile is not going to be picking Arc for their main two channel experience, so it's not a major issue.
Music performance aside, this is a product made to support TVs and the growing amount of Dolby Atmos content that is available across the various platforms. So this was the next hurdle to get over.
The company has been at pains to point out that that over 25 apps now offer Dolby Atmos playback. The big four of Netflix, Amazon Prime Video, Disney+ and Apple TV are the most likely port of call for most consumers, so via our Sky Q box we went for Rogue One: A Star Wars Story via Disney+. EI's favourite Star Wars title, this film has loads of set pieces that give Atmos a chance to shine, but Atmos should not just be about the big stuff, but add more subtly and pick out bits in the soundtrack that might have gone unnoticed before.
Thankfully, it does all of this really very well, totally filling the space available but allowing the centre and forward-facing channels to do most of the story telling. Is it the best sound-bar we have ever heard? Nope, but at the price point the performance is what Sonos promised. It's very good and for the smaller room or 'second system' applications it's likely to be asked to deal with, it is a very accomplished machine.
Some more playing around with content – the latest series of Portrait Artist of the Year had an Atmos upgrade and with something very sedate such as this, you just want to relax and listen the voices. The bar copes really well, adding a new dimension, but not over doing what is available. Now for a Blu-ray title, this time Captain Marvel, this is the kind of popcorn move that any decent soundbar needs to eat for breakfast and happily this is the case here. All the wiz bangs are intact and the soundtrack composed by Pinar Toprak, which we hadn't really noticed before, gets a fairer hearing.
One of the things that Beam did really well was partnering live concert footage on the TV, so an old favourite, the DVD version of AC/DC Live At Donnington was employed here. This definitely does not have Dolby Atmos – the disc is presented in 5.1 – but if it's going to fly, its got to fly in the real world of legacy footage and the fact that loads of people watch concert footage on YouTube. Again, happy to report all of the greasy, sleazy, muddiness of this full-on rock out were delivered with a really big soundstage.
Conclusion
So a few thoughts; the newer the TV, the better the performance is going to be if the Arc is relying on that as its main source for streaming content and the lack of Bluetooth connectivity is something that could be looked at in the future. Also worth remembering, Arc is not just a stand-alone – it can work with other Sonos real estate such as SUB (recently updated) and the new Five (replacing the Play:Five) for an even more immersive experience.
All in all, this is a very good soundbar, agile and able to cope with a wide variety of content that it is going to experience out in the real world and the Dolby Atmos part of the experience is very enjoyable.
Sonos Arc is available globally from June 10.