Polk Audio has announced the launch of its updated loudspeaker range, the Signature E Series – a collection of floor standing tower, centre and bookshelf speakers that incorporate premium audio technologies drawn from Polk's top-of-the-line home entertainment speakers.
Polk says the new iterations build upon the success of the original Signature Series to bring big surround sound cinema experience through a thoroughly refined design.
Changes include better-performing linear drive units, combined with new crossover topology and improved crossover components. Refined bass tuning rounds off the upgraded sound, all housed within carefully crafted and braced cabinetry.
The new collection consists of the S60e, S55e and S50e floor standing tower speakers; the S35e and S30e centre speakers and the S20e, S15e and S10e bookshelf speakers.
With aesthetics at the forefront when designing the Signature E Series, the new range incorporates curves and gilded accents. The new products are available in Black Washed Walnut or Winter White finishes.
The full-size towers, bookshelf speakers and a powerful yet slim centre speakers create a fully immersive home theatre experience, instantly bringing your movies, television and music to life through explosive sound.
Thanks to Polk's patented Dynamic Balance Technology Driver Design, Polk says its engineers were able to integrate the most suitable, carefully selected materials and most efficient geometry, analysing each speaker's entire electro-acoustic and mechanical system.
Offering 3dB more bass response output than a traditional port, the exclusive Polk Power Port technology extends the overall bass port, providing a strong surface area to eliminate turbulence and distortion. This allows for bigger, more musical, deep bass impact, says Polk.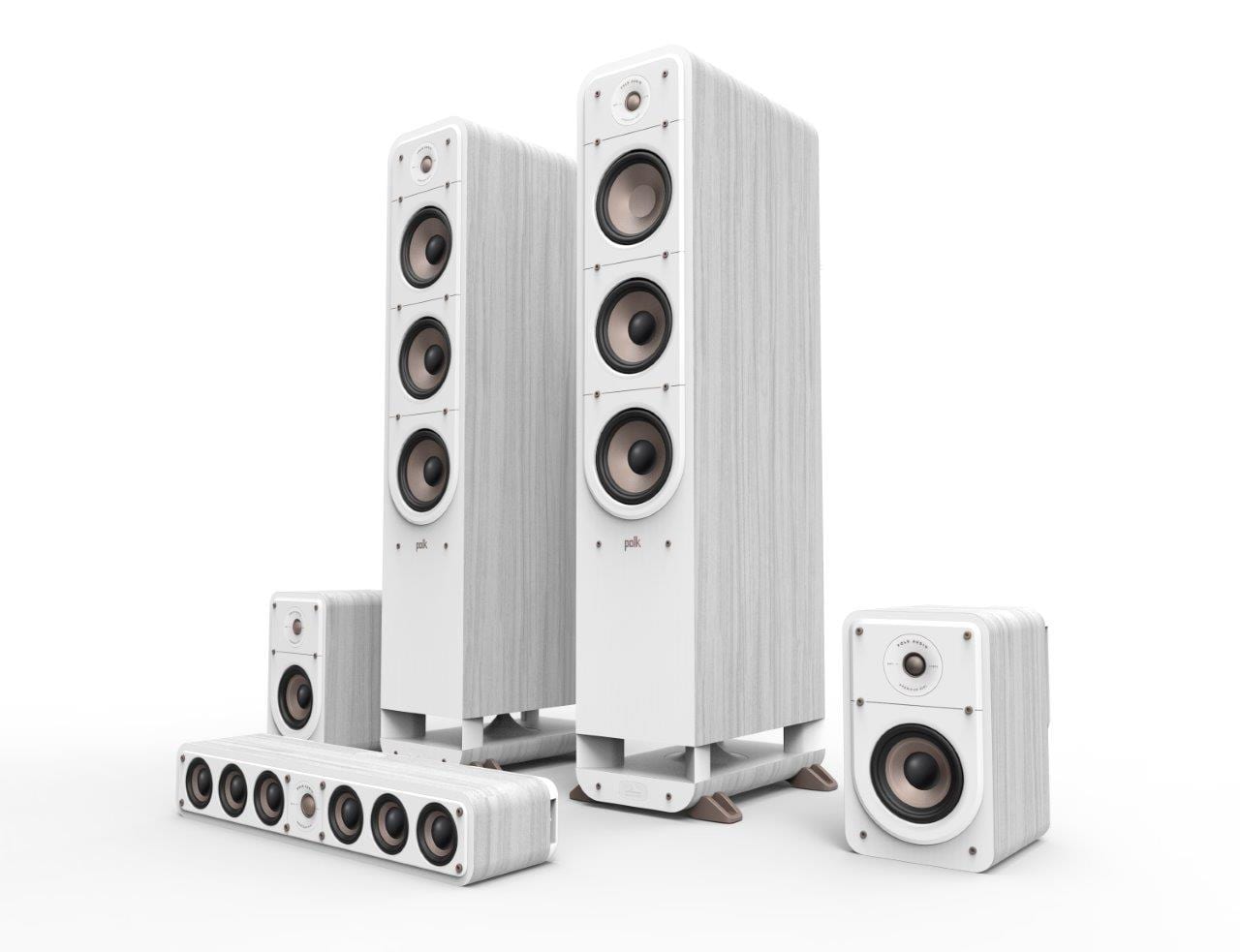 Towers of Sound

The flagship Polk Signature S60e tower speaker boasts a range of features to deliver the required performance. The Hi-Res certified towers feature 2.54cm Terylene High-res tweeters that are capable of delivering 40 kHz to support the latest high-resolution files. Similarly, the S55e and S50e offer the same performance as the S60e tower speaker, with the S55e featuring two 6.5in mid-range drivers and the S50e featuring two 5.25in drivers.
Other features include a four-driver (S60e and S55e) and three-driver (S50e) cascading tapered crossover array for a more life-like sound stage, anti-diffraction grills for a perfect fit and minimised sonic interference and dual gold plated five-way binding posts for easy set up.
Clear Centres
Polk's centre channel speakers, the S35e and S30e, are designed to be an unobtrusive way to bring clean, full-range sound for movies and music. With a slim form, the S35e stands at just 4in tall, making it a good accompaniment to the most slender televisions. Both the S35e and S30e feature a 1in Hi-Res Terylene tweeter for crisp, clear high frequencies, alongside mica-reinforced polypropylene mid-bass drivers – six 3in cones (S35e) or two 5.25in cones (S30e).
Similar to the tower speakers, the S35e and S30e centre channels are highly sensitive and power efficient, working efficiently with most receivers, says the maker.
The S35e features a six-driver array, while the S30e offers a two-driver array, with each featuring anti-diffraction magnetic grilles and gold-plated five-way binding posts. Additionally, the S35e can be used as a left, centre or right speaker (L/C/R) and can be wall-mounted horizontally or vertically via built-in keyhole slots.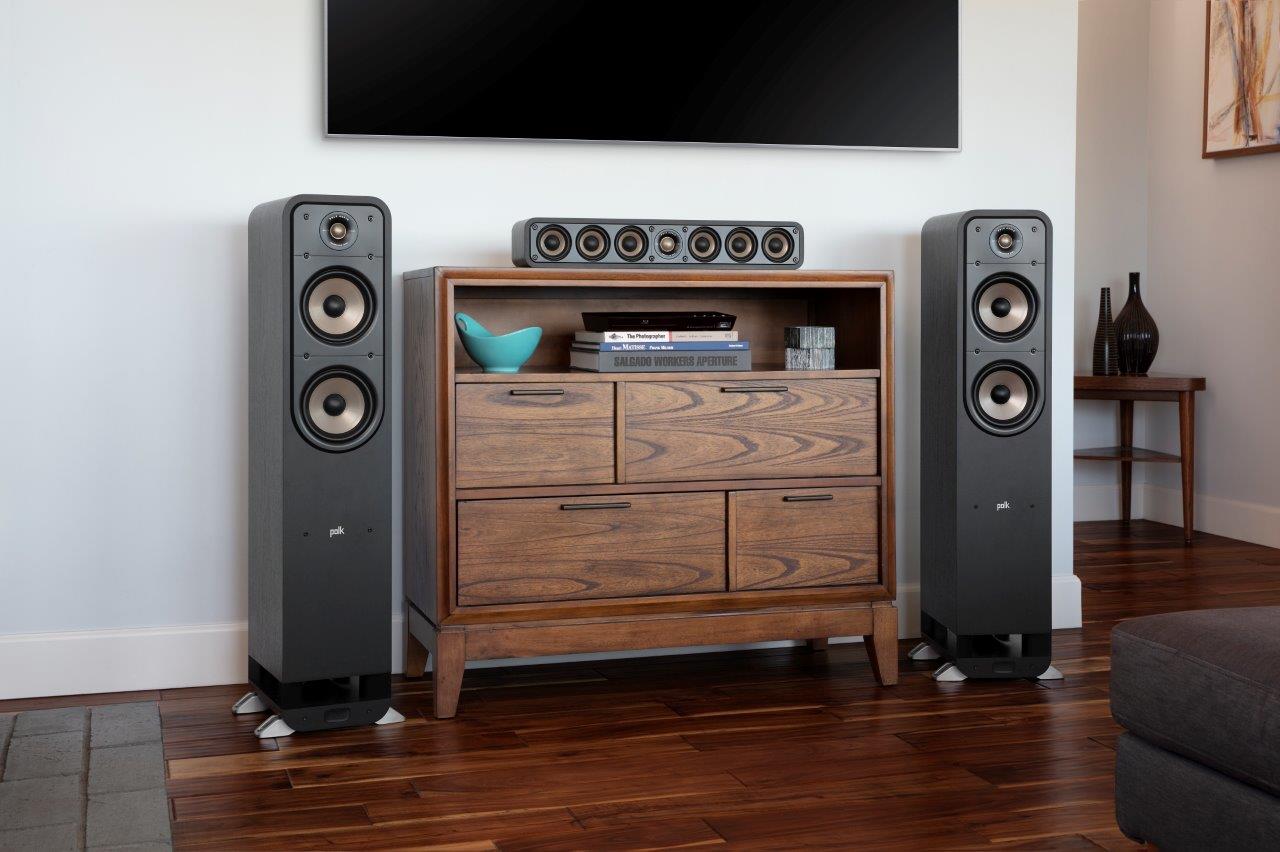 Big-Sounding Bookshelfs

Polk Signature E Series S20e and S15e bookshelf speakers elevate the sound of movies, TV and music from a handsome cabinet. Suitable for front or rear speaker for any 5.1, 7.1 or 9.1 home cinema configurations, these compact bookshelf speakers feature a single 1in  Terylene tweeter. Each speaker also hosts a single low-distortion mica-reinforced polypropylene cone, ranging from 6.5in (S20e) to 5.25 inches (S15e). With Power Port for authentic bass impact, as well as easy wall-mounting, the Signature E Series bookshelf speakers can be used as standalone monitors or as the foundation for a home theatre system.
Total Immersion

The Polk Signature E Series S10e surround speakers complement any multi-channel home cinema configuration. The compact satellite surround speakers feature a single 1in Terylene tweeter and a single low-distortion mica-reinforced 4in polypropylene cone. The S10e surround speakers feature Power Port for increased bass response, and are timbre-matched to the Signature E floor standing and bookshelf speakers. Wall-mounting can be easily accomplished via the built-in threaded insert or keyhole slots.
The Polk Signature E Series will be available in October and will retail at: S10e (£199 per pair), S15e (£249 per pair), S20e (£299 per pair), S30e (£269 each) S35e (£299 each) S50e (£599 per pair), S55e (£799 per pair), S60e (£999 per pair).