Our resident reviewer, Richard Stevenson, feels the power of the Perlisten D212s. This Review was first published in Essential Install Magazine.
Founded in 2016 in Verona, Wisconsin, Perlisten Audio has only recently arrived in the UK courtesy of Karma-AV. One of the first speaker brands to achieve THX's flagship Dominus certification for larger rooms, the brand offers a rich list of premium freestanding and in-wall loudspeakers and two subwoofer series' – covering six models ranging from seriously potent to monumentally epic.
Given the cabinet of the latter £9,000 RRP, D215s is 800mm tall and would encroach on the bottom of the test screen, we opted for the marginally saner D212s. This formidable sub packs in two 12in carbon fibre composite cone drivers mounted in a 90° offset push-pull configuration and a 3kW amplifier in a 668mm tall cabinet that is 'just' 420mm wide and 550mm deep. At a RRP of around £7,000 it has a lot of stiff competition – but none of them boast the D212s THX Dominus certification.
Intriguingly, the two bespoke Perlisten drivers have +/-30mm of travel and are arranged in a sealed enclosure, one woofer facing forward and the lower one facing into the sealed part of the cabinet. The lower section of the cabinet beneath the internal woofer is extensively vented on three sides.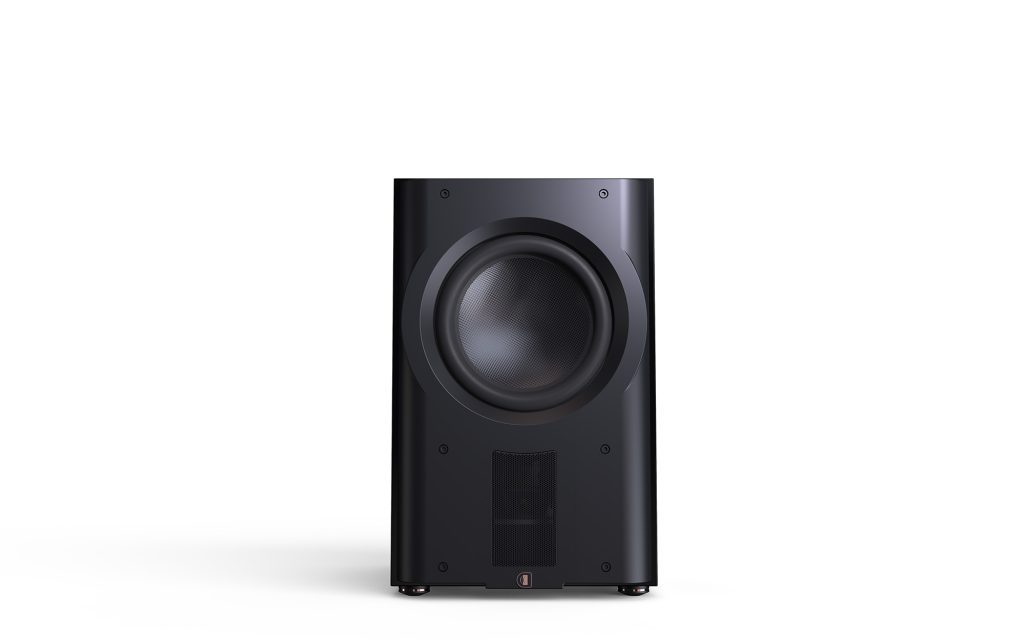 The woofers are still moving acoustically in phase but are mechanically out of phase, which helps to cancel second order distortion by an additional 10-12dB. The sealed enclosure ensures the low frequencies to remain tight and controlled while the increased surface area of using dual drivers results in prodigious maximum SPL even down to very low frequencies that reach 15Hz at -6dB in 'large room' mode.
The amp is a Perlisten-designed 3kW peak/2.4kW RMS output capable Class-D unit controlled by 32 bit ARM M4 cortex processor with voltage-based limiters and very low 5ms sub-delay (plus DSP) to account for in the system set-up. Connectivity covers stereo XLR and stereo RCA inputs and corresponding pass-through outputs, a 3-12v trigger socket and a USB service port. Controls are via the top-mounted 24in LCD touch-control display for the basics and advanced control via the Perlisten iOS or Android app.
The app allows the control of up to eight subwoofers, with trim levels, phase in 1° steps from 0-270°, polarity, delay from 0-100ms, low-pass slopes form 0dB-24dB/Octave, and four to eight standard EQ sets to fit some generic room shapes. There is also a 10-band parametric EQ with three user pre-sets. These are entirely manual so you either rock the EQ tuning by ear or deploy third-party software, like REW or similar, to measure the output in-room and manually enter the trims.
I can't help thinking that is a relatively inelegant EQ solution for a sub at this price. Although, you could argue it is highly likely to be partnered with similarly affluent AV processing with flagship versions of Dirac, Audyssey or ARC, all of which can EQ the sub-channels anyway.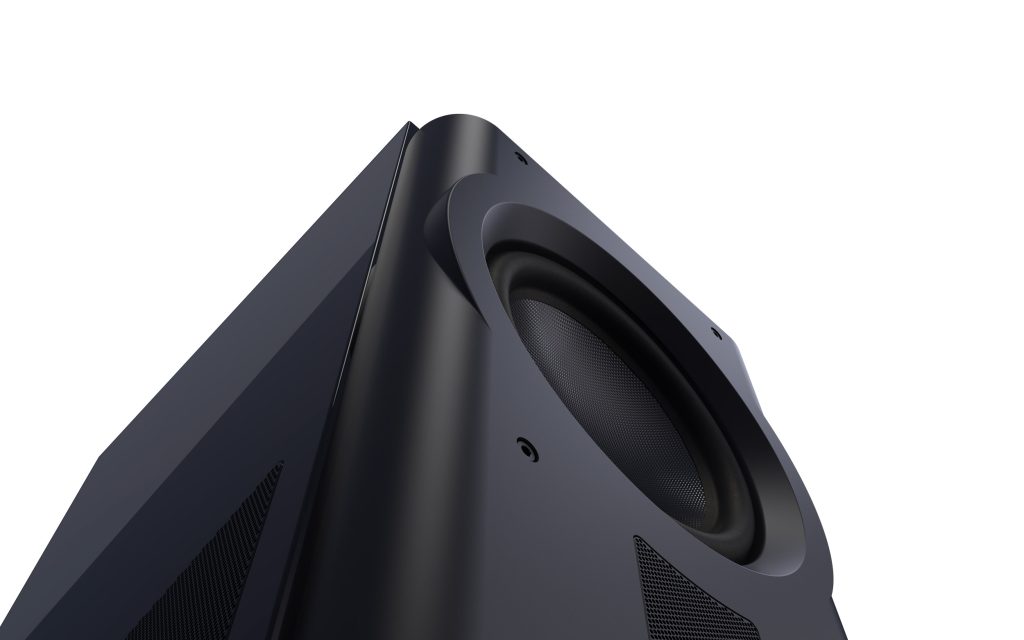 Solid sounds
Build quality is absolutely outstanding throughout, although the lack of grille is unusual in the UK if not a deal breaker. Its ludicrous 68kg notwithstanding (over 80kg in the very sturdy packaging), the tall and relatively narrow form factor makes the D212s fairly flexible in placement compared to much lower and wider models such as REL's similarly-priced No.31. The lower section of the cabinet vents on the front, left and right panels, which will make building the D212s into room cabinetry a compromise, albeit still an option given its ostensibly sealed enclosure design.
Using Denon's flagship AVC-A1H AVR, we set up the D212s in the front corner of the cinema room and let Audyssey's paid-for MultiEQ-X system do the sub-EQ trim. That said, in some irony, it didn't have to do a lot as the Perlisten produced a relatively smooth response in my room straight out-of-the box. Quite why it seems to smooth some of the inherent architectural room nodes without EQ may well be due to the front-facing driver and LF energy emerging from three sides in the lower half of the cabinet, but smooth it does.
Suitably dialled in with phase, level and some subtle out-board EQ tweaks to best work the room and integration with the main speakers, the D212s set out its stall as an absolute sonic beast. The beast part of that sentence ought to be in bold-face with foot-high letters. No other subwoofer has produced such hard-hitting, super-fast and ridiculously high sound pressure LFE in my 20m2 room and the D212s has the headroom to do the same in a room four times the size with consummate ease.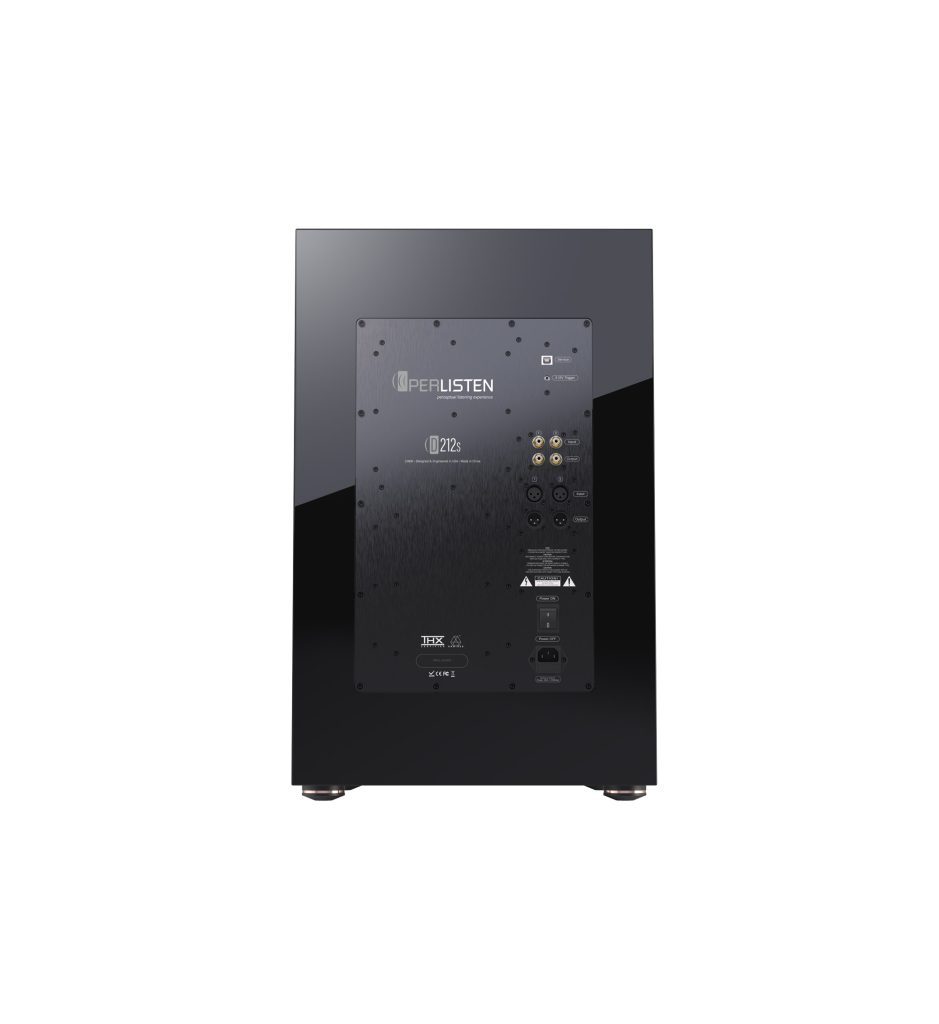 Ripping through a bunch of classic movie test scenes, this is a sub that is wholly at home with big and very deep LFE effects, from the tyrannosaurus footsteps in Jurassic Park to driving home the percussive impact of gunfire in The Matrix or Heat. Super low frequency ambient effects (such as submarine rumble in any of the well-produced war films) are catered for with aplomb, creating a physical effect you can feel more than hear. As an all-round, ludicrously impressive LFE sub for cinema systems, the D212s has few peers at the price in terms of sheer impact and depth-plumbing ability.
Having the nicely reactive app to hand will be essential if you are romping through various musical genres or artists via a streaming app. The D212s dynamically reveals the different bass levels in musical mixes and its high gain via either of the line level connections makes for frequent gain or trim adjustment to get different mixes sounding balanced. You end up reducing the gain for bass-heavy rap and dance and then nudging it back up by several points for tunes with lighter LF content in the mix. To be fair, that is far from unusual with larger, powerful subs, but several brands smooth that dynamic gain change via high-level inputs, which isn't an option here.
That said, hit the right gain balance and the D212s turns just about any genre of music into a visceral, 'live' feeling session that encourages anything from foot tapping to air-guitar duck walking around the room. As if it were a track almost designed to highlight the Perlisten's incredible depth and agility, We Come 1 by Faithless has several breaks with a deepening bass sweep that goes sub-sonic. The D212s is one of the few subs I have ever tried that can get to the very end of the sweep at the same SPL throughout – and that is mighty impressive.
Perlisten's D212s is a supreme feat of audio and physical engineering, from the overall architecture to the custom amplifier and drivers, and it delivers spectacularly impressive LFE in even the largest rooms. The inclusion of the manual PEQ system baffles me and the lack of high-level inputs seems a little frugal and perhaps uncompromisingly cinema-centric. Yet, if I was looking to deliver the biggest, fastest and deepest LFE in an uncompromising large-scale home cinema system installation, there is very little to touch the D212s at or around the price. Well, not in my room where the D215s just won't fit!