Max Cooper's much anticipated Unspoken Words album, releasing today on Mesh, premieres at a spatial audio event hosted by immersive sound pioneer, L-Acoustics.
Max Cooper has carved a unique space as an audio-visual artist with a science PhD and an international reputation as a leading electronic musician. Unspoken Words is his 6th Studio Album and one of Billboard's most anticipated albums of 2022. The album also features Everything, one of 13 short films combined into Unspoken Words which will be released as a film on Dolby Atmos encoded Blu-ray to accompany the album.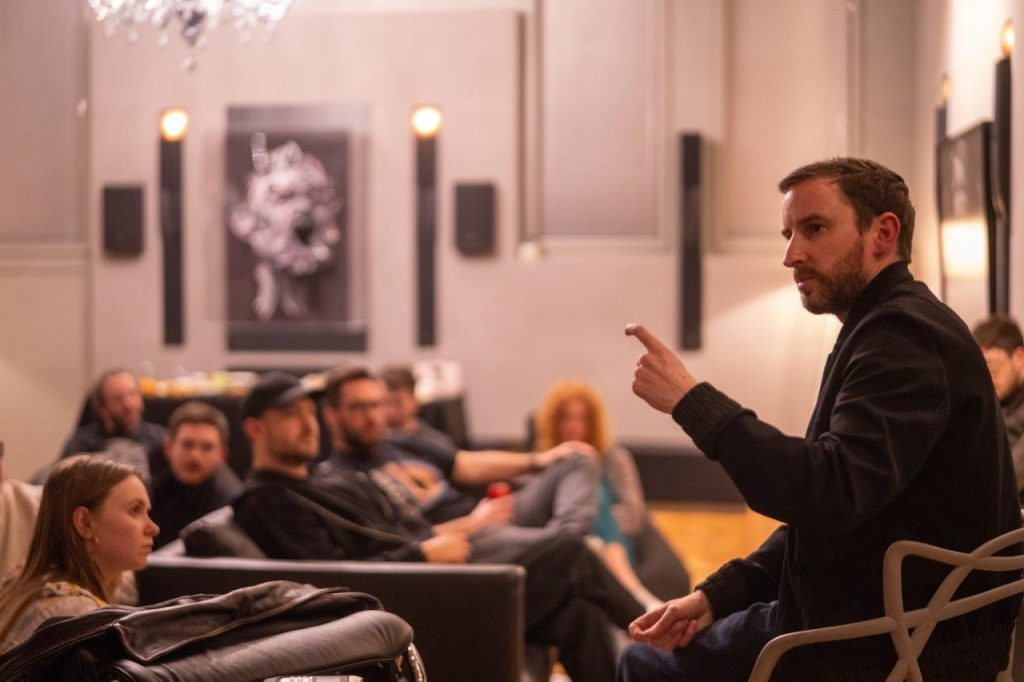 At a premiere, tracks were presented using L-Acoustics Creations 18.1.12 channel 'Ocean' immersive sound space, the special event highlighted the possibilities of spatial audio to heighten the listening experience, particularly in the hands of inventive electronic music artists. With music streaming services such as Apple Music, Tidal, and Amazon Music investing heavily in offering spatial audio content, L-Acoustics Creations says it is at the forefront of evolving this exciting audio revolution from a simple binaural headphone experience into a whole room immersive sound format.
The album premiere event, held at L-Acoustics Creations immersive sound space in Highgate, London, showcased how contemporary music artists can leverage spatial audio technology to create greater emotional resonance and sensory connection with the music. The listening room features a configuration known as Ocean 18.1.12. The setting is equipped with 18 L-Acoustics Syva loudspeakers mounted on the walls in a 360° configuration. Low frequency sound is produced by a circle of Syva Low loudspeakers and Syva Sub to reinforce the visceral and haptic sensations of music. Adding a third dimeson to the soundstage, 12 overhead speakers are used to create a fully immersive hemisphere in which sound can seamlessly move and shapeshift.
QnA
In the artist Q&A session following the exclusive listening event, Max Cooper shared his impressions and process working in spatial audio. "For every piece of music on Unspoken Words, I wrote a spatial brief. But the primary format is still stereo and so we have to make sure everything sounds good in stereo," commented Max. "It would be nice to start the process beginning in spatial, in a room such as this. It sounds special in here because of these speakers. I just love it in here."
A music industry guest at the event, Greg Marshall, General Manager of the Association for Electronic Music (AFEM) remarked, "The experience was a convergence of artistic and sonic excellence. To hear Max's new music in the L-Acoustics spatial audio environment was breathtaking. It produced personal moments of synesthesia-like experience for me, hearing and seeing musical images alive with movement, depth, texture and clarity."
James Palmer-Bullock who manages Max Cooper and the Mesh label added, "I'm so grateful to L-Acoustics for enabling Max to present his innovative immersive music this way, and their support for Mesh as a community of artists exploring the intersection of music, science and art. Hosting a listening session provides the ultimate feedback loop; putting a leading artist and tech company together in a room with an appreciative and inquisitive audience is an exciting way to further the future of sound."
Spatial audio enables artists to deliver a unique listening experience and has been gaining popularity since Dolby unveiled Atmos processing, initially for movie soundtracks and more recently Dolby Atmos Music popularized by the likes of Apple's Spatial Audio service. Tidal and Amazon Music HD offer both Dolby Atmos encoded Spatial Audio tracks and, like Deezer, have recently added Sony's 360 Reality Audio to their service. According to a senior figure at Apple, by February this year more than half of Apple Music subscribers were listening to Spatial Audio with the number continuing to rise rapidly.