This compact sound-bar packs a decent audio punch and provides some useful options for installers.
Sonos says it has created this product to deliver a solution for smaller homes and apartments. However, like so many products in the hands of an installer, the Beam could be adapted to deliver not just its intended usage – which it does well – but also offer more possibilities, filling in audio duties for a variety of spaces.
These could include kitchens and less vital audio zones, in part due to its compact size, but also because of its good level of audio performance and of course its Alexa (and soon to be introduced Google Assistant) capabilities. Siri compatibility is also available, but only in a limited sense, as it does not work directly; users will need to use an Apple product as the mic.
The unit can also be paired with a sub or be used as an LCR for a 5.1 set up. Sonos is also confident that in use, the Beam delivers good clarity – particularly where voice is concerned – and stereo imaging.  
The speaker array includes four full-range drivers, a central tweeter with three passive radiators arranged around it, plus five class-D amplifiers.
Control-wise, the top of the product houses volume up/down, previous/next track, play/pause and the microphone mute. There is also an LED which indicates the soundbar's status, mute status and voice feedback.
In the rear there is the HDMI connection, ethernet port, power connection and the pairing button. The product also ships with a handy optical adaptor to get the speaker set up with older TVs which do not have an ARC enabled HDMI slot. If the TV is a newer model with ARC and CEC support, the TV can also be controlled for basic functionality via voice commands.
More sophisticated TV voice control can be added via a Fire TV device delivering extra voice commands via the Beam, so users can search for specific programmes on a given service. The other advantage of this is that it provides a different option to the Fire TV remote, which is pretty indifferent.
For voice control, there are five far-field microphones, designed to deliver no matter where in the room the user is seated, and also still work if the speaker is at high volume. The mics can be turned off if that is the preferred option.
As well as supporting the TV sound, the Beam of course provides access to a large family of playback services such as Spotify, Tidal, Apple Music, Amazon, Google Play, Deezer, within the Sonos control universe. AirPlay 2 support is also included, allowing the creation of a multi-room system using products other than Sonos speakers.
Audio codec-wise, on board is PCM stereo, Dolby Digital and Dolby Digital 5.1, but no support for DTS or lossless audio. The Beam comes in black and white finishes.
So, promising all of this at the Beam's sub £400 price point, we were keen to see how it performed as a genuine multi-use speaker dealing with everything that was likely to get thrown at it.
Installation
Set up is really simple and quick. Once in place and connected to the TV via the generous HDMI lead, the unit goes through the normal Sonos searching process to find its place on the network. We were using the Beam with an existing Sonos system and although it took a couple of goes to get connected, once established the connection has been solid for a full month with no issues.
 Trueplay room correction software can be employed via an iPhone to help improve the sound; rather frustratingly this is still not supported for Android phones. The issue lies in the many different mics used on Android phones, meaning the algorithm used for Trueplay cannot be configured to cope with all the different kit out there. However, installers can use an Apple product during set up and even if the user is an Android fan, the settings can be retained and switched on and off via an Android device. As far as the Beam is concerned, some advantages are delivered by Trueplay, but if absolute sound quality is really going to be an issue, the Beam is probably not the right option in the first place.
It is worth however making sure all the sources used are sending
Dolby Digital to the TV, and the TV can receive and send them to the Beam natively.
Audio features include the Sonos Loudness feature, which is the default setting; the product feels less impressive without it, so it's best left alone. Other modes include Night Mode and Speech Enhancement, both of which are off by default, but can be employed when looking for extra voice clarity.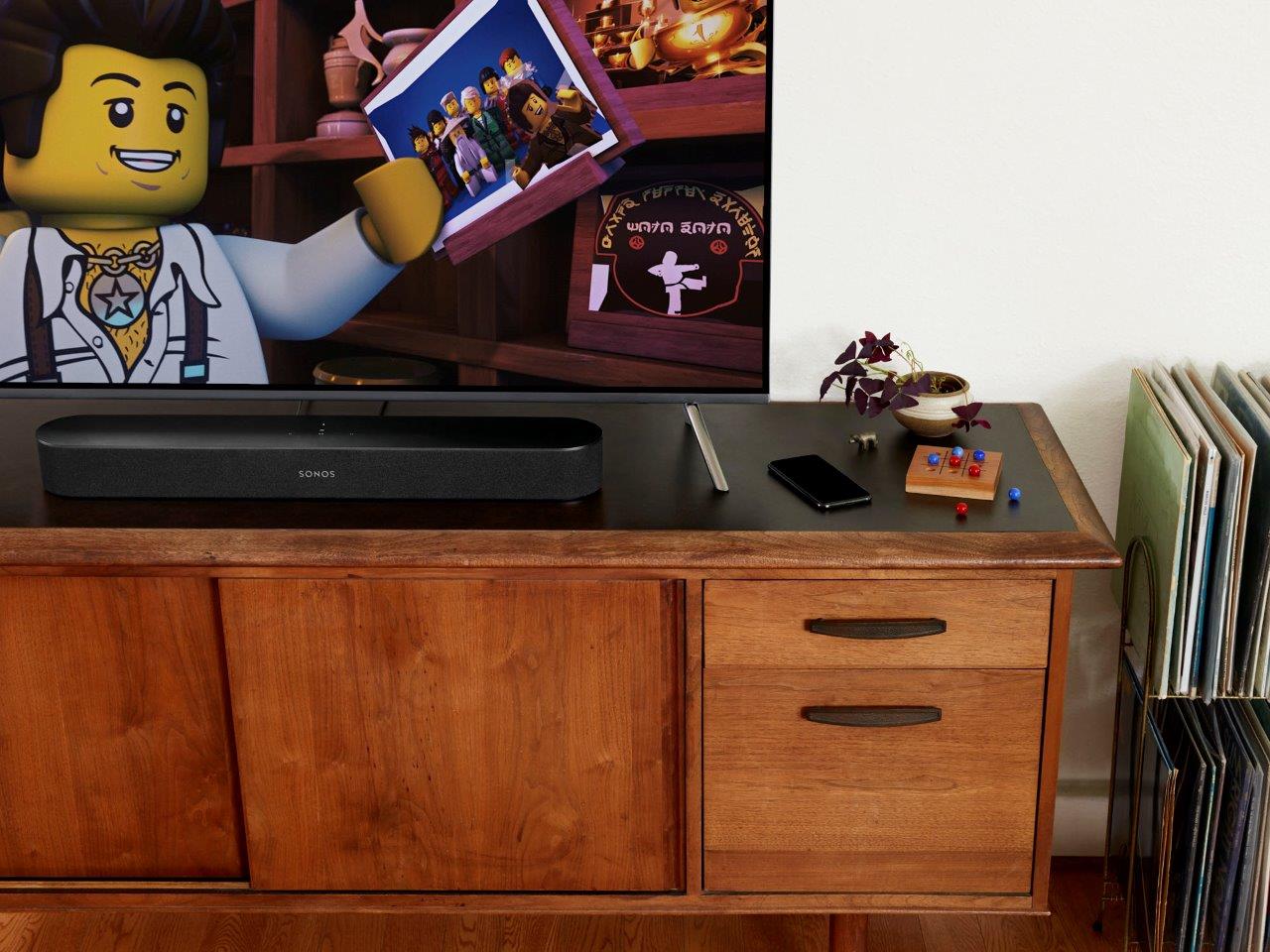 The performance
First thing here to note is the product's size, – a bit obvious perhaps, but it is one of the product's biggest assets. The dimensions are 25.625 x 3.94 x 2.70in (651 x 100 x 68.5mm) and it weighs just 6.2 lbs (2.8 kg. Coupled with official and non-official mounting options and the fact you can just place it on a shelf below the TV, the Beam can reach and deliver enhancement in places others would find hard or where you just don't require anything more powerful.
The official Beam mount delivers a discreet option and a Flexson solution is also available that can be adjusted up or down.
Yes, it's meant for TVs, but one of the places we really enjoyed it too was in the kitchen where the Alexa functionality delivers good hands-free support checking recipes, weight conversions and so forth – and, of course, inspiring music to help the creative juices flow.  
 As for the Alexa functionality in general, people tend to be fans of this or not; once you get tired of asking it stupid stuff, how useful is it really? Well, in this context, it starts to make a little more sense. Watching TV or films, questions often come up: what other movies has she starred in? Where have I seen him before? Who wrote the soundtrack to this?
The unit provides a nice solution here without having to reach for the smart phone. Voice control of Sonos needs a little more work apart from basic functions such as volume up and playback. Whatever system you are playing back through (we were using Tidal via Sonos), the dedicated app delivers so much more, that there is no real motivation to do all the practice that it takes to get more accomplished with the voice control. Ultimately, the usability here will be different for each customer.
So, the big question, how does it sound? Well, it sounds very good, especially for a unit this size. Speakers at this price and size often struggle to create any real space or depth, but the Beam does both. Movies and sport in particular benefit, delivering an immersive experience.
Maybe less expected and all the more pleasing to boot is how good this little speaker is at playing music. A decent stereo image is created, and there is some good versatility and character there. The unit is at its very best when delivering concert/music video footage, coping well with a variety of content via YouTube, disc, and standard TV feeds, opening up a new world of decent quality TV playback for the music fan. Using the Beam to look around the new YouTube music app was a particular highlight.
A couple of issues; we noticed the voice control activated a number of times when it should not have, but not to the point that it gets annoying. Also returning to TV sound after music only playback is harder than it should be; we found quite a few users online having an issue with this. You are supposed to be able to do this via Alexa, but it's not consistent in performance. The other way is from within the app using the browse option for the zone being used, but it did take a bit of finding.
All in all, however, none of this spoilt enjoyment of what is a strong product for the price and will offer installers extra options for users looking not just for decent TV enhancement, but good musical ability too.