Joining a new line-up of products to celebrate Audio-Technica's 60th anniversary, the ATH-WB2022 is the company's first pair of wireless headphones to feature a wooden housing.
EI does not often feature headphones, but occasionally we do come across examples that fit right into the install universe. With a newly designed 45mm HD driver, the maker says the WB2022 is capable of reproducing studio-level sound quality on the go, immersing the user in a soundscape like no other. Support for the LDAC codec delivers high-resolution sound with a wide range, and support is also provided for the AAC and SBC codecs.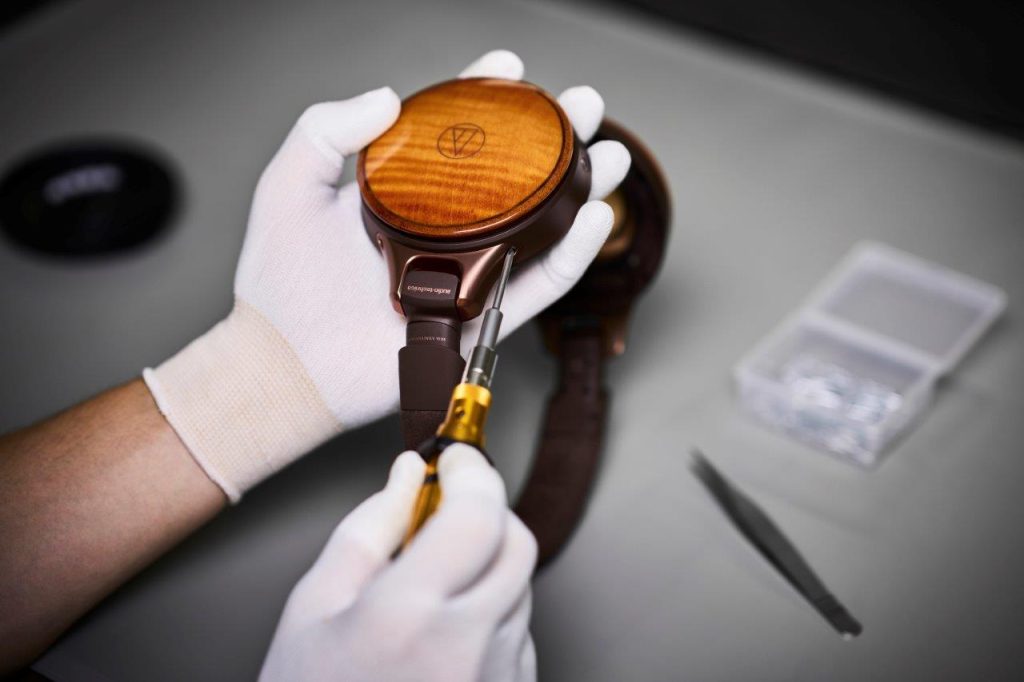 The maker adds that for the first time ever, the ATH-WB2022 introduces a genuinely independent left-right balance, with separate batteries for each channel. Audio-Technica hope to deliver next-level sound separation that isn't encumbered by sound interference or cross talk. A pair of audiophile-grade ESS DAC ES9038Q2M digital-to-analogue converters further enhance the acoustics beyond levels often expected from wireless headphones.
Up to nine hours of Hi-Fi audio is available from a single charge, while a USB connection can be used to continue listening even if the batteries run down. After five minutes without being connected to a device, the power will automatically turn off to save battery life.
The ATH-WB2022's internals are matched by an eye-catching design. The use of wooden panels gives a distinctive look, but it also serves to absorb vibrations for a stronger listening experience.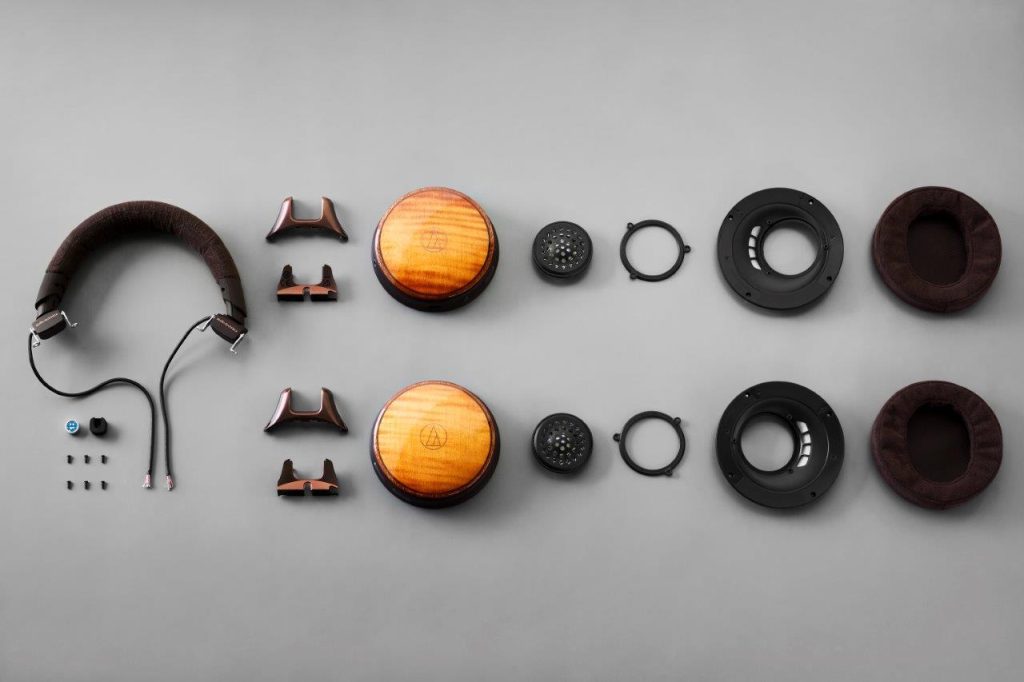 Pairing practical durability with fashionable aesthetics, synthetic textile material Alcantara is also used to provide a tactile experience. It offers a soft texture and elegant appearance, while being a sustainable alternative to traditional materials.
Each pair of ATH-WB2022 comes with a rugged case, made in collaboration with Zero Halliburton, which has its own history in transporting precious cargo – including moon rocks from Apollo 11.
Feature rundown
• Audio-Technica's first pair of wireless wooden headphones – developed to commemorate our 60th anniversary
• The housings, made from a combination of solid flame maple, walnut, and mahogany woods, have strong acoustic properties and absorb vibrations for a purer audio performance
• Housings have separate acoustic and electrical chambers to optimise the acoustic properties of the wood
• Specially designed 45mm HD driver, with high-performance magnetic circuit and DLC (diamond-like carbon) coated diaphragm, said to provide a rich, detailed listening experience
• Said to be first headphones in the world with a fully balanced audio output system – independent DACs, operational amplifiers, and batteries for left and right channels – for excellent channel separation
• Equipped with two (Lch/Rch) ESS DAC ES9038Q2M digital-to-analogue converters, prized by audiophiles for delivering truly immersive, high-resolution audio 
• Adopts Nisshinbo Micro Devices' flagship MUSES05 chips for operational amplifiers
• Supports 24-bit/96kHz high-resolution sound source playback via wireless or USB connection
• Compatible with high-quality LDAC and AAC codecs
• 10mm diameter condenser microphone ensures crystal-clear audio for calls
• Up to nine hours of continuous use on a full charge
• Multipoint pairing function allows you to stay connected to two Bluetooth devices at once
• Buttons built into the earcups provide easy control of music playback, volume, microphone muting, and voice assistant functions
• A-T Connect app gives you additional control: activate low latency mode, adjust and save EQ to the headphones, select one of four optimised volume levels, change codecs, and more
• Premium, sustainable Alcantara earpads and headband provide luxurious comfort in warm and cool environments
• Includes two 1.5m (4.9in) 6N-OFC audio-grade cables: a USB-C to USB-A cable, and a USB-C to USB-C cable
• Includes a sleek, robust carrying case made in partnership with Zero Halliburton
• Exclusive product: a limited number of units are available worldwide
The Audio-Technica ATH-WB2022 will be available next year. RRP £2599.99/ €3000 / $2700.