VIOLET has announced the launch of two new Core plugins, expanding their Works With list to include both FIBARO and HDANYWHERE. These systems can now be controlled from the company's easy to use wall mounted touch panel which is intended to replace a standard light switch.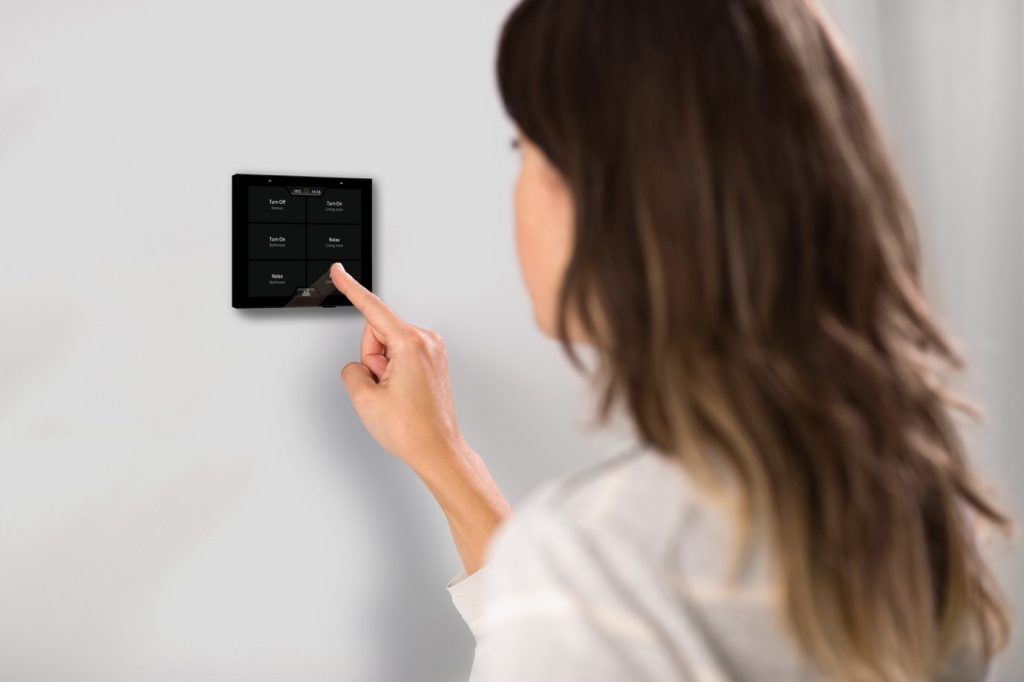 The so-called 'Core' plugins provide the core functionality to integrate with the systems alongside support for VIOLET's sleek 'Scenes Screen'. From this screen, users can trigger pre-set scenes or sequences in the integrated systems without the need to use their smart phone. This adds a layer of convenience to user's homes where smart phone control is not always as practical as many smart home product manufacturers seem to believe.
The company is expected to follow up these Core plugins with additional enhancements that more deeply integrate the partner systems together. VIOLET also recently launched their Tado plugin and alongside it their slick Climate screen, so this is something that could soon be extended to other integrations. In this case, most notably the FIBARO integration.
FIBARO smart home systems provide a comprehensive environment that adapts to the needs of the entire family.  With FIBARO's Home Centre 3, and their Lite variant, homeowners can harness the power of wireless Z-Wave (and recently Zigbee) devices in subsystems such as lighting, security, climate and more. Scenes within the FIBARO ecosystem are not just limited to lighting moods: users can trigger security modes; climate presets; and even activate a whole-home Holiday Mode. This means that VIOLET's integration with the system has some serious potential.
John de Regt, CEO of FIBARO Benelux, says "The new integration between VIOLET and FIBARO brings great benefits for the FIBARO PRO smart home system. It allows you to activate scenes in a very user-friendly way and makes them easily accessible. The interconnected solutions of VIOLET for Sonos, Philips Hue and Tado are a major advantage as well. This allows professionals and end-users to combine the control of their individual smart products."
HDANYWHERE on the other hand, have a range of products primarily focussed on video distribution, however they have recently been enhancing their offering with a cost effective and simple control solution for connected AV devices and even beyond into lighting. HDANYWHERE's sequences allow users to set predefined steps that recall certain scenarios, such as getting the big screen ready for the match. Being able to trigger these sequences from VIOLET is extremely powerful, especially alongside other integrations.
Whilst the BluOS plugin has Pro and soon a Lite version, the Rako, FIBARO, and HDANYWHERE plugins are currently Pro only, so you'll need to get in touch either with the relevant partner dealer or with VIOLET themselves who can help you out.
All of VIOLET's plugins can be added remotely alongside additional features which historically they have done quite frequently.
The full plugin list now includes:
– Sonos – Standard/Free
– Philips Hue – Standard/Free
– Tado – Premium
– Rako Core – Pro
– BluOS Pro – Pro
– BluOS Lite – Premium (coming soon)
– FIBARO Core – Pro
– HDANYWHERE Core – Pro
Ryan Ovens, founder & CEO at VIOLET, believes their approach with releasing plugins keeps the product accessible. "If we were to bundle everything together into the product, the entry price would be significantly higher to allow us to develop, support, and maintain the integrations", he says. "By breaking out integrations into plugins, end customers only have to pay for the software they need not an inflated price that covers all cases."