Facebook is finally ready to stamp its own brand name on a hardware product, and its first offering is dubbed Portal. Technically its first hardware offering is two separate products, with the Portal being joined by the Portal Plus, but both devices serve the same function; they're smart speakers designed to take on the likes of the Echo Show and Lenovo Smart Display.
Unlike the Echo Show and Lenovo Smart Display, Facebook's Portal and Portal Plus lack a smart digital assistant for controlling the smart home or answering questions. Instead, these devices have been specifically designed for facilitating video calling. Considering the Portal and Portal Plus cost $199 and $349 respectively, we're not sure its focus on video calling will be enough of a sell, but let's evaluate exactly what these two devices offer.
Facebook Portal & Portal Plus Hardware
The Facebook Portal isn't exactly ground-breaking when it comes to design. In fact, its design is very reminiscent of the Lenovo Smart Display, except it doesn't feature the funky wedge-shaped back and its speaker grille has been relocated to the bottom of the device. Unfortunately, this isn't as crisp as the 10in Lenovo Smart Display either, as Facebook has equipped its 10in model with a 720p screen, a slight downgrade from the Full HD display found on Lenovo's offering.
Fortunately, for those looking for something a little more exciting, Facebook is also offering the Portal Plus. This is a completely unique smart display with a design that will stand out no matter where it's placed. That's because the ginormous 15.6in display towers over the 10in Portal, and its quirky swivel-based design allows it to be used in either portrait or landscape.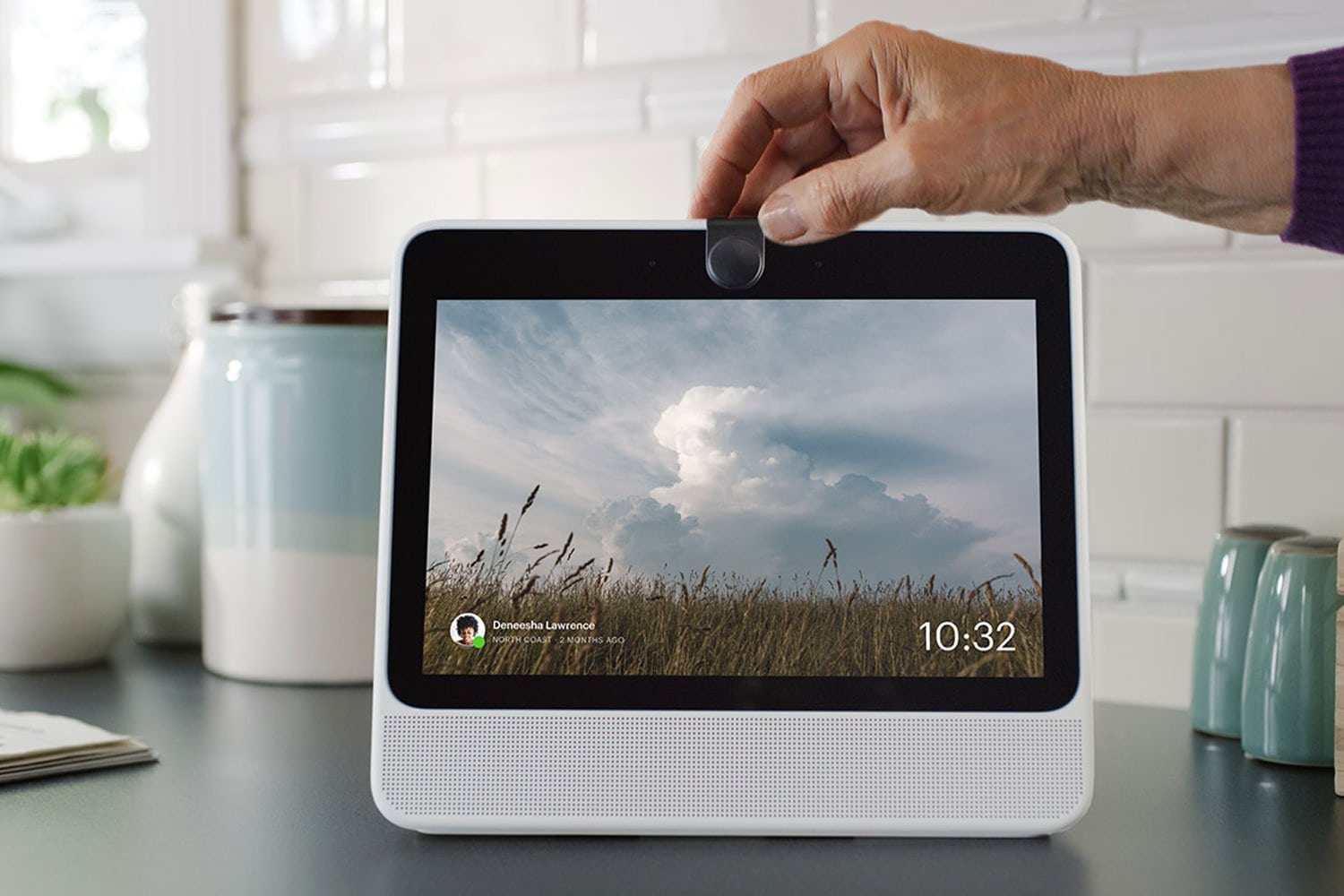 Both devices house two speakers and a camera, although the Portal Plus has an integrated subwoofer and its speakers should be noticeably louder. While those cameras and microphones could be the best in any smart display, many users may feel uneasy about allowing a Facebook-built device with cameras and microphones into their homes. After all, since the Cambridge Analytica scandal, just 27% of Americans agree that Facebook would protect their privacy.
Thankfully Facebook has thought about its trust deficit already. That's why both the Portal and Portal Plus were built with privacy in mind, shipping with a camera cover and a physical off switch that can disable both camera and microphone. This off switch isn't just a button to communicate with the software either, oh no. Facebook has designed it to completely cut the circuit between the camera/microphone and the rest of the device. That means even if the device were to be hacked, the hackers wouldn't be able to activate the more invasive features.
Facebook Portal and Portal Plus Ecosystem
As the Facebook Portal and Portal Plus have both been designed for video calling, the software that powers them isn't exactly elaborate. There's very little that can be controlled through the screen, and short of support for Spotify and Newsy, there's little app support. Thankfully there is one familiar feature that users may have used before – and that's Alexa voice control.
When Facebook was first rumoured to be making a smart hardware product, it was also speculated that it was developing its own voice assistant. Given the fact that Amazon is currently dominating the field, with even Google struggling to compete, Facebook reportedly gave up on its voice assistant efforts earlier this year and instead has opted to add Alexa support to the Portal and Portal Plus. In fact, Facebook isn't even stopping at Alexa – with its taking the Sonos approach to voice control and offering an open platform. While Google Assistant isn't available at launch, Facebook has teased that it could be added at a later date, and there's even an 'Assistants' section in the settings, suggesting more are coming.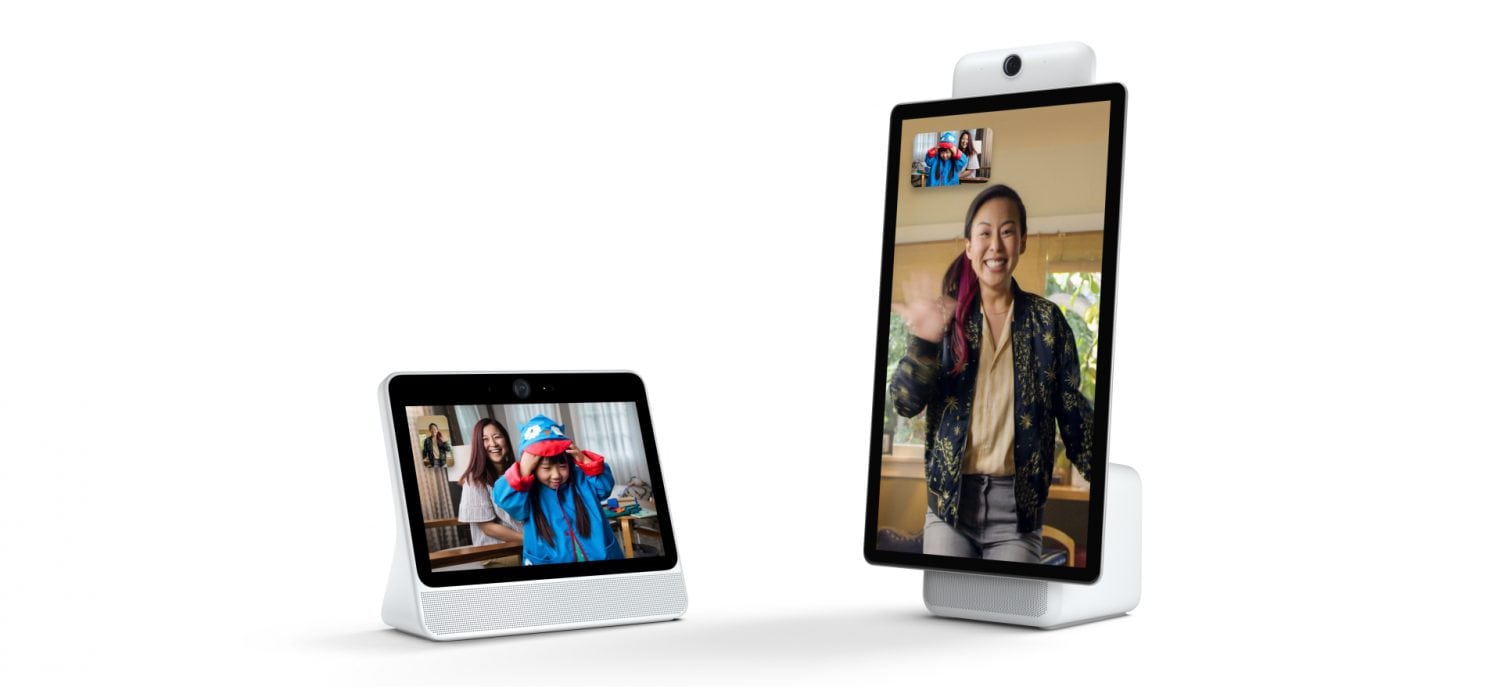 Alexa isn't really anything radically different on the Portal and Portal Plus, but it can initiate video calls. Those video calls aren't just Portal to Portal, however, as the video calling functionality leverages Facebook Messenger – meaning anyone with the Facebook Messenger app can receive or make calls to someone who owns a Portal. Unfortunately, while the video calling may use Facebook Messenger, it's not possible to view any other messages from the service – not even video messages.
That's where it comes to the most bizarre omission from the Portal and Portal Plus – the lack of support for many of Facebook's most popular services. While photos from the user's friends will display when the device is not in use, there's no way of accessing the Facebook Feed, WhatsApp, or Instagram from the device. That could change in the future, but right now it seems that Facebook wants to solely concentrate on the device's video calling abilities. That's even evident from the fact that a developer's program will not be available at launch – meaning more third-party apps are unlikely to appear anytime soon.
Thankfully, the Portal and Portal Plus may have nailed its video calling functionality. Its face recognition features allow the camera to track the user as they move around the room and if there's more than one person in the room, the camera will use its wide angle to ensure everyone is in shot. In fact, this is one video calling system that requires no input whatsoever – all that the user needs to do is talk and let the Portal and Portal Plus do the rest.
Facebook Portal and Portal Plus Price & Release Date
Both the Portal and Portal Plus will be available starting in November, with pricing set at $199 and $349, respectively. The 10in model is cheaper than the Echo Show, which costs $230, but there are some noticeable limitations on the Portal compared to Amazon's offering.
If we were to choose one to buy, it'd definitely be the Portal Plus. While the $349 price is not exactly affordable for a video calling-centric device, its unique design and larger form factor certainly make it more compelling.