Lithe Audio has announced the launch of its WiSA Certified Pro Series Wi-Fi Ceiling Speakers, aimed firmly at the custom installation and Atmos installation markets. The Pro Series is a high-spec wireless installation speaker solution that delivers high-quality audio coupled with an unrivalled feature set, says the maker. Available from April 2021, the speakers are priced from £599.99 for a pair.
The Lithe Audio Pro Series in-ceiling speakers deliver features such as WiSA integration for Dolby Atmos systems, PoE power delivery for convenience of installation and control, full wireless connectivity – AirPlay 2, Chromecast, Spotify Connect – and voice control via Google and Amazon Alexa.
Amit Ravat, Co-Founder and Director of Lithe Audio explains, "We have been building this product for two-years basing our approach on what has been successful with our other speakers and listening hard to the wants and needs of the custom installation community, which included bringing the wireless operability of WiSA technology into the fold.
"Since attending numerous industry events, shows and CEDIA Tech Forums, we have created a product that delivers what the market is demanding – it's our most high performance and feature rich creation yet."
"The Pro Series will make it much easier for installers to meet the challenges they face day to day enabling a wider number of projects – either new build, renovation or retro fit – to receive the high-quality audio, ease of control and installation speed they deserve. With integrated amplification – each speaker has a 60W RMS class D amplifier – and the option to power the speaker via the PoE module, connecting to an existing lighting circuit or conventional plug point, we believe this is the most agile high-performance in-ceiling speaker available."
Cutting edge performance and flexibility
The Lithe Audio Pro Series makes its performance and integration abilities possible by including the latest chip sets for PoE++ and the growing category of WiSA compatibility ushering in a new era of convenience in delivering Dolby Atmos home cinema systems. With no need to run speaker cables, just the provision of power, WiSA technology means a full Dolby Atmos system can be achieved quickly and conveniently when combined with Dolby Atmos decoding transmitters, opening the full immersive audio experience to more rooms and more customers.
The WiSA platform transmits 24bits at 48kHz/96kHz, twice the quality of a CD, offering near zero latency (less than 1/10th the latency of a Bluetooth device) eliminating any potential lip-syncing issues. All the speakers in a WiSA system are certified to be synchronised within 1/1,000,000 of a second even when using all eight channels and the system also automatically recognises audio configurations from 2.0 to 7.1 and 5.1.2 for ease of set up.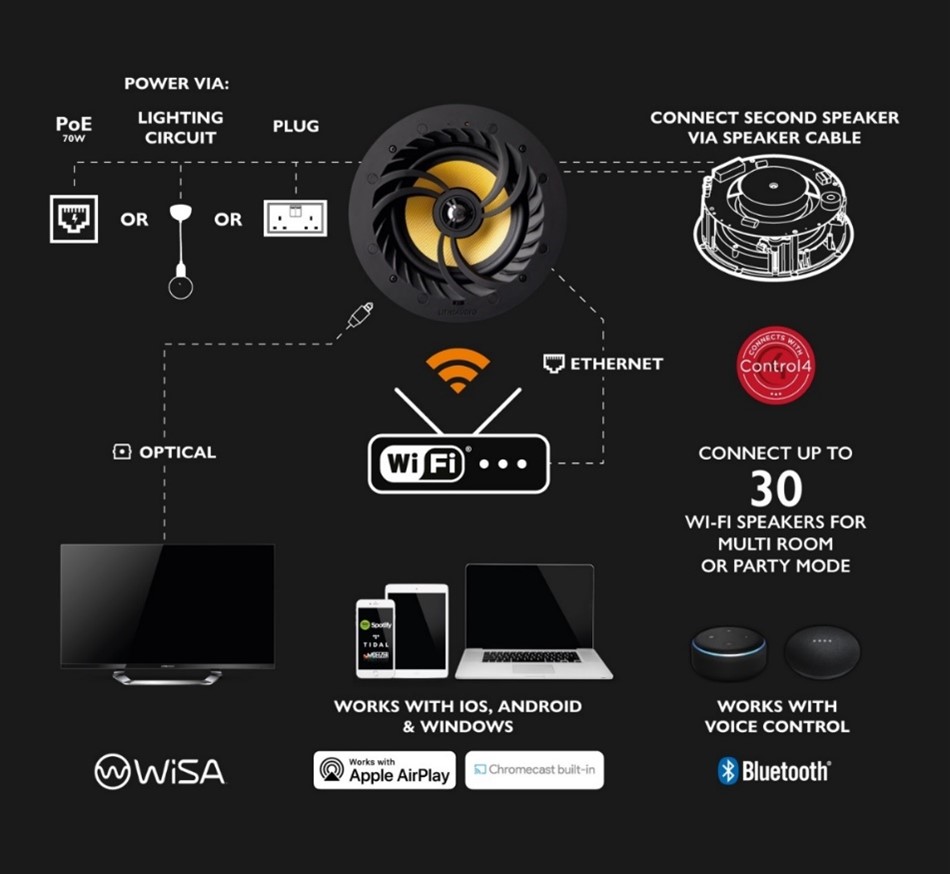 "We are thrilled about the launch of Lithe Audio's Pro Series Wi-Fi ceiling speaker, as it ushers in a new standard of innovation for the custom install market given its integrated WiSA technology, " says Tony Ostrom, President of WiSA. "As the home entertainment centre becomes more advanced with each new product launch, we're proud to stand behind Association members who prioritise quality and innovation."
As more end users look to engage with higher quality content from the expanding world of high resolution streamed audio or viewing platforms, the Pro Series is well placed to partner modern delivery and playback systems, as well as more traditional or legacy systems, says the speaker's creator. An extensive set of wireless connectivity and control options awaits each user, including AirPlay2, Google ChromeCast, Alexa, Bluetooth, Spotify Connect as well as Airable Which delivers such as Radio, Podcasts, Tidal, Deezer, Amazon Music and Sound Machine service for commercial audio.
The speaker's Wi-Fi connectivity operates over both 5GHz and 2.4GHz increasing convenience, compatibility and reliability. When powered directly from network cabling infrastructure via PoE++, the Pro Series uses the latest standard (IEEE 802.3bt) to deliver up 60W of power to each speaker via an PoE injector (sold separately). The Pro Series also has drivers for compatibility with home automation platforms Control4, Fibaro and Loxone enabling the speakers to become part of a fully automated home system.
Other important features include Ethernet in and out connections, optical input as well as the ability to deliver audio in high resolution 192kHz /24 bits to match the increase in quality being rolled out over today's streaming platforms.
The Lithe Audio Pro series is not just fully loaded with lots of features, it's ready for tomorrow's as well.  All the speakers can also be updated with firmware and software additions over the network via the Lithe Audio app delivered directly to the large on-board memory of each speaker. The Pro Series is sustainable and created as a long-term investment for each customer, whatever the priorities of each project.
Built for the installer
This quick to install in-ceiling speaker has the specifications to fully back-up its performance promises delivering a very attractive system in its own right, as well as a solution when a traditional wired approach might be desired but is not possible.
The speaker specification includes power at 60W RMS (2x30W), impedance of 8 Ohms, additional passive speaker output, a 6.5in woven cone woofer, a 0.75in titanium cone tweeter, a frequency response of 55Hz – 20kHz, DC24V / 2.5A power supply and dimensions of 230 x 110mm (W x D).