Venerable home theatre loudspeaker brand Atlantic Technology has announced the launch of its latest in-ceiling loudspeaker line, AZURE. A step-up from its IC Series, AZURE is comprised of three 6.5 and two 8in 2-way loudspeakers that incorporate the latest in acoustic designs and drivers from the company. All AZURE models are timbre-matched to Atlantic Technology's extensive range of in-room and in-wall speakers thereby providing fresh integration options where high-performance sound for music or movies is the goal. With the launch of the 5 AZURE speakers atop the 8 IC Series the company now offers 13 premium architectural solutions in total. The new models are shipping now.

AZURE's woofers utilize Atlantic Technology's new lightweight low resonance formed fiberglass cones – the same material as found in its award-winning flagship 8600 and AT-3 H-PAS towers. The fiberglass provides superior uniformity, stiffness and speed with the cones designed in a new curved shape to reduce distortion from break-up resulting in improved midrange clarity. The woofers use high-temperature voice coils with a massive magnet structure and a vented pole piece along with butyl rubber surrounds to ensure audiophile performance. The woofer is contained in a new non-resonant enclosure design with a horn-shaped profile for wide uniform mid-range dispersion.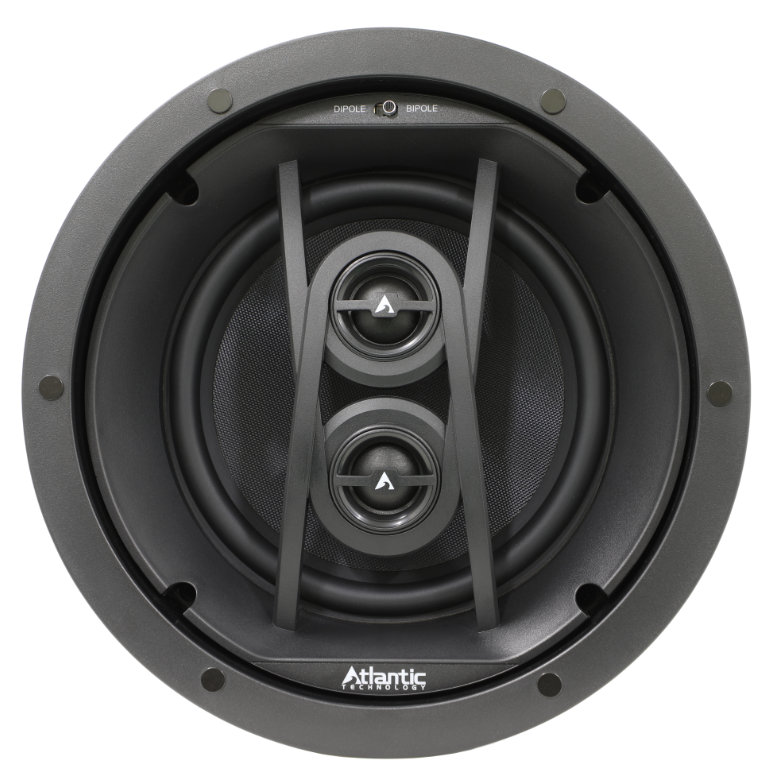 High frequencies are handled by the company's advanced proprietary, coated silk dome Low Resonance Tweeter (LRT), same as featured in many of Atlantic Technology's highly rated in-room and in-wall speakers. These wide dispersion tweeters utilize Ferrofluid cooling and super-efficient Neodymium magnets and have a lower cross-over point (than that of typical in-ceiling speakers) with a computer-optimized 2nd order network composed of precision audiophile grade components and a resettable polyswitch protection circuit. The tweeters are mounted on a new bridge designed to reduce interaction with the woofer and 30° orbital pivoting allows installers to optimize sound to the listening area.
AZURE AZ600 6.5in: Step-up from entry-level IC Series IC-6.1 S includes new acoustically optimized horn, fiberglass woofers, more advanced crossover components and speaker terminals, greater power handling.

AZURE AZ610 6.5in and AZ810 8in: Step-ups to IC-6.2 and IC-8.2. Designed for more demanding sonic performance with step-up features as cited above plus front-mounted tweeter level controls to further optimize the speaker to surroundings.
AZURE AZ620 6.5in and AZ820 8in: Step-ups to IC-6.3 and IC-8.3. In addition to step-up features cited above these are Tri-mode dual-voice coil/dual tweeter ultra-thin bezel speakers and can be configured for conventional mono use, single-point stereo or dipole surround.
Installation-friendly features include ultra-thin bezel paintable magnetic grilles, secure quick-clamp mounting and heavy-duty gold-plated push-on terminals. Available are optional square thin bezel grilles, back boxes and pre-construction brackets. Both AZURE and IC Series integrate perfectly with the brand's in-wall subwoofers.

"Atlantic Technology is leveraging its 30-plus years of design and manufacturing experience with the creation of the AZURE line. Whether for music use or taking advantage of their timbre-matching to blend with other Atlantic Technology home theatre speakers, the series incorporates the latest in in-ceiling loudspeaker design to ensure the most exciting and accurate listening experiences," says Paul Muto, principal of Muto Communications – the PR and Business Development agency of record for Atlantic Technology.