In EI's latest review, our intrepid trade reviewer, Richard Stevenson, takes a deep dive into the Meridian DSP520.2 in-wall loudspeaker. Do they reach new heights?
Inspired by the design of the mighty M6 active floor standing loudspeakers, Meridian's DSP520.2 is a unique, fully active in-wall design leveraging the brand's extensive DSP expertise. Built into a sealed aluminium enclosure just 200mm wide and 100mm deep, the unusual driver compliment features an 85mm wide range unit for mid to high frequencies and a 140mm bass driver. The wide-range and long throw bass driver are powered by a pair of Meridians latest class D 2 x 100W DYNAMIC amps, developed especially for the architectural range. Both drivers offering a very wide dispersion pattern to maximise the listening sweet spot.
The DSP engine resolves the frequency response and time alignment across audio band, and offers a range of features and adjustments including Enhanced Bass Alignment and Centre Elevation to raise the perceived output height of DSP520.2s used below screens. Meridian's DSP has always had something of a legendary status in the audio industry and here it delivers stunning headline figures of bass to 50Hz and maximum SPL of 114dB at 1m. It also offers up-sampling, Meridian's apodising filter, FIFO buffering to reduce digital jitter and is High Resolution Audio and MQA capable.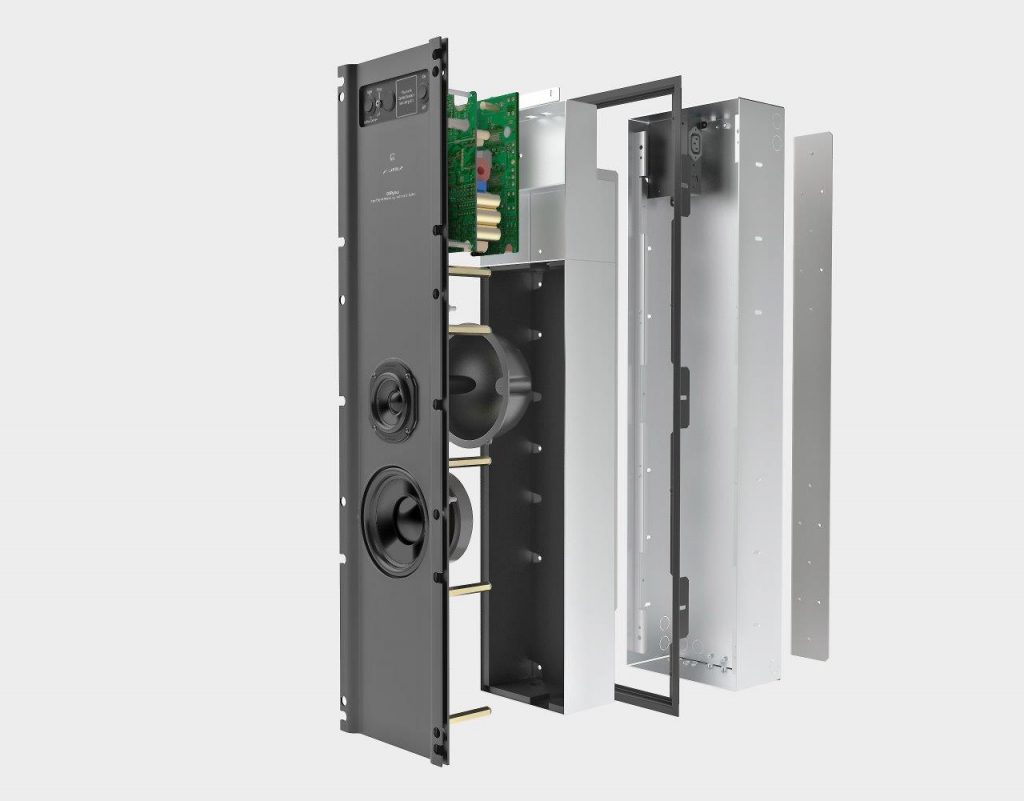 Continuing the unique theme, the two lone audio connections on the DSP520.2 are RJ45 sockets labelled SpeakerLink in and out. The input is connected directly to one of Meridian's digital pre-amps/zone controllers using an ethernet cable or Meridian's own thin/flat profile cables designed for the purpose. The output RJ45 enables daisy-chaining the same signal to other DSP520.2s. The cable only shunts the digital and control signals, eliminating the need and cost of running traditional speaker or analogue signal cables.
Despite also offering an RS232 jack and IR control input on the front panel, the system's downside is that you will need a Meridian zone controller to operate DSP520.2s thanks to the bespoke speaker connections and the speaker's DSP controls being housed in the controller app; Meridian IP Control.
The basic Meridian 218 two-channel controller we used for this review adds £800 (SRP) to the DSP520.2's already not inconsiderable cost of £2000 (SRP) per unit.
Installation
The DSP520.2 package includes an aluminium mounting frame, assortment of bolts, wire handle to aid lifting the speaker into place and a 4mm deep magnetic, paintable grille.
You also get a short IEC extension cable for linking up inside a Meridian wall box. Typically mounted left and right in a stereo configuration, selectable by a rocker switch on the baffle, it can also be set for use with a centre channel or soundbar using the L+R setting.
The supplied mounting frame gives plenty of fixing options including perpendicular tabs enabling it to be secured into a dedicated timber former or Meridian's RF500 wall box for maximum rigidity. Of note, the drivers are off-set to one end of the cabinet meaning horizontal centre channel installation will be either cosmetically centred or acoustically centred on the screen.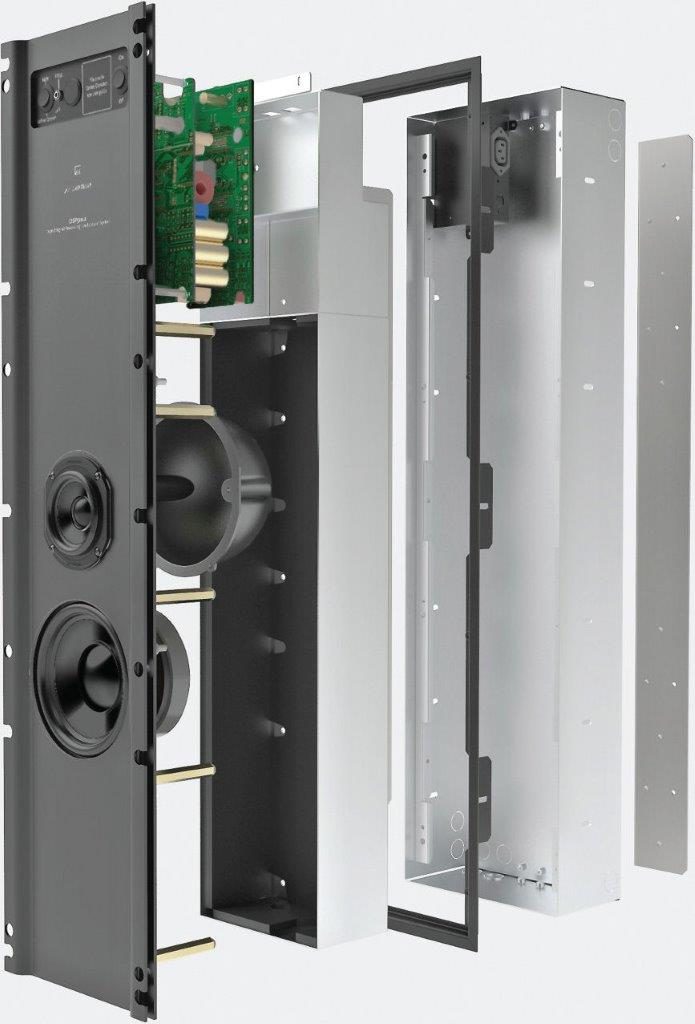 The main set up is handled through the Meridian IP Control app, which is only available on iOS. The app found our 218 controller in seconds and presents you with a key-pad based front end. The settings menu is on the controller's IP address, offering a raft of information and adjustments. The latter includes trims for the controller's analogue and digital inputs, bass, treble, phase and balance adjustment, Boundary Control and subwoofer mode.
Loudness and Meridian's Enhanced Bass Alignment can be toggled on or off. Configuration changes need to be saved before they are enabled in the controller, temporarily disabling output to silence if music is playing at the time. We installed a pair of DSP520.2's in stereo configuration with a Meridian 218 controller and used the digital output from a streamer running Tidal Masters as source.
Performance
Comprehensively raising the performance bar among in-wall loudspeakers that we have tested, the DSP520.2 is genuinely sensational. With most of the DSP controls set to default/off position, the sound is supremely open and revealing with an enviably wide soundstage and excellent dynamics; much more akin to a good freestanding cabinet speaker than an infinite baffle in-wall design. Sampling a range of music from Stormzy to Hayden, the Meridian created a hugely impressive sound with rare audiophile insight for an in-wall speaker.
Turn up the volume and the DSP520.2 goes from impressive to frankly amazing. How Meridian's DSP architecture manages to get such remarkably deep and tight bass out of a single 140mm driver in a compact sealed cabinet is something of a revelation.
Experimenting with Boundary Gain, Loudness and Enhanced Bass Alignment, we eventually settled on the default settings as the best even balance in our temporary install in a purpose-built false wall. Pushed really hard (over 100dB at listening position) the 520.2's LF response does begin to subtly fall back in the mix. The DSP clearly reduces power to the LF driver to stop it distorting at its physical limits.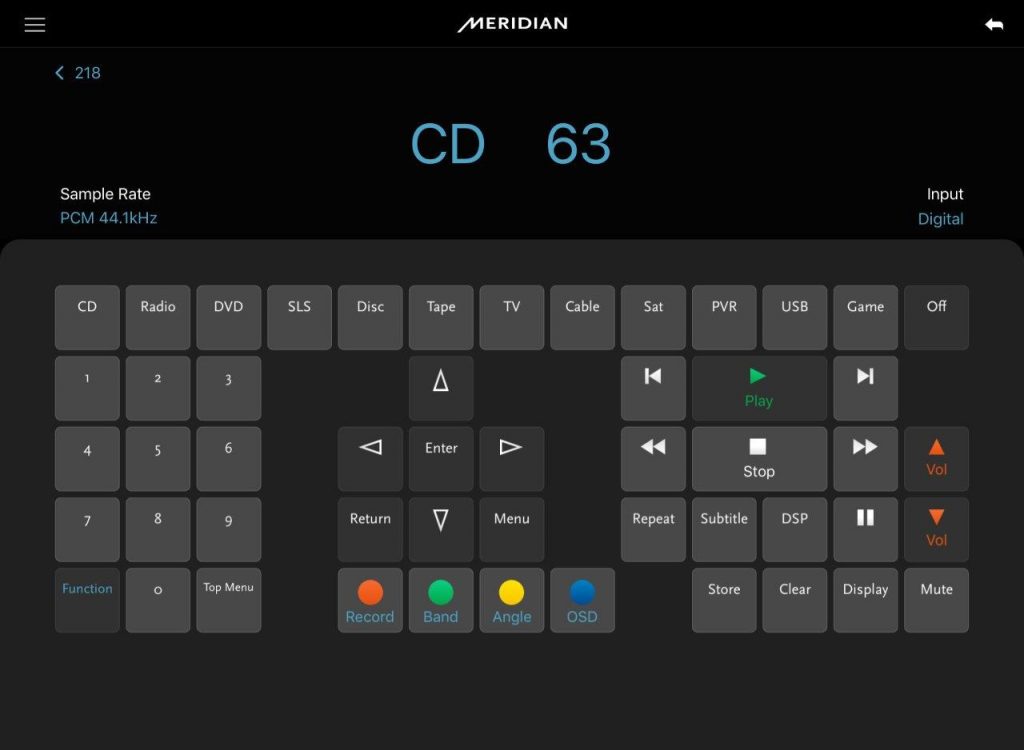 For high volume applications, adding a Meridian DSW DSP-controlled subwoofer would make for a very potent full-range system. Meridian's DSP520.2 is a unique in-wall loudspeaker proposition ideal for high-end installs where audio performance is paramount.
The active configuration is essential for Meridian's clever DSP to perform its best but requires Meridian controllers (rather than amps) in the rack and mains power to each speaker. The mounting configuration, connectivity and app control all take some getting used to but firmly installed and set up correctly with the Meridian IP Control app, the DSP520.2s is a truly remarkable high-performance in-wall loudspeaker.
This article first appeared in the pages of Essential Install Magazine. Subscribe here.