The McIntosh MCD12000: A new reference-level CD/SACD player with seven digital inputs plus solid-state and valve outputs.
McIntosh has unveiled its new flagship CD player the MCD12000 SACD/CD Player. The new disc-spinner effectively doubles as McIntosh's reference-level DAC, by enabling up to seven digital devices to benefit from its top-performance internal ESS digital-to-analogue convertors. It is Roon Tested, too.
The MCD12000 SACD/CD Player is based around two range-topping ESS SABRE PRO ES9038PRO 32-bit/8-channel DACs (one for each channel), each deploying ESS's patented HyperStream II architecture and Time Domain Jitter Eliminator technology.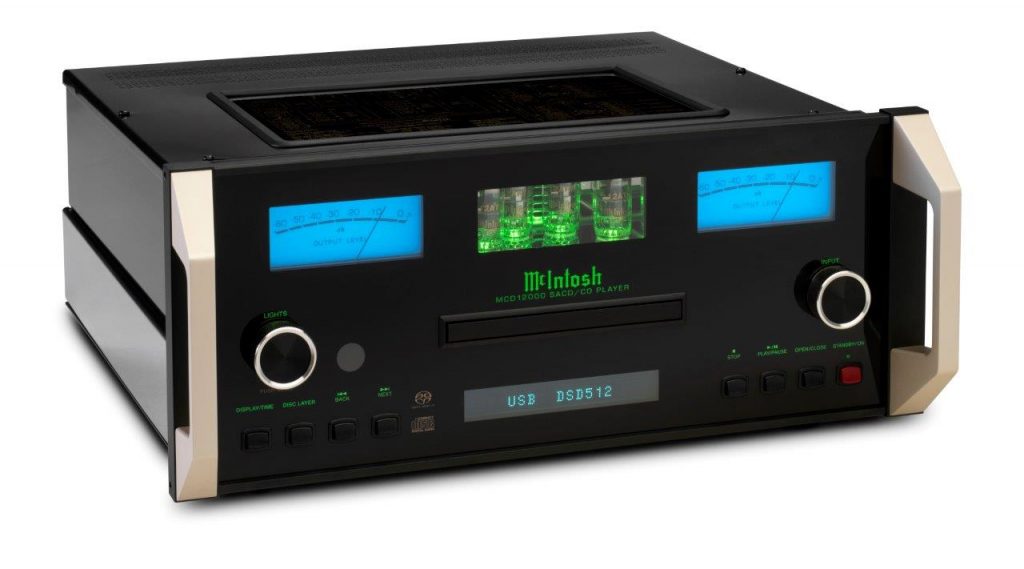 The seven digital inputs include two coaxial, two optical, USB Type-B, AES/EBU and one MCT (SACD) input. Both the coaxial and optical inputs support up to 24-bit/192 kHz data, with USB rising to 32-bit/384 kHz PCM, with DSD 512 and DXD 384 kHz playback, too.
Internally, separate digital and analogue power supplies keep the power and audio signals free from cross contamination, and a specially constructed R-Core power transformer is used to further minimise noise.
The outputs are driven by discrete amplifiers, or a blend of valves and discrete amplifiers. Solid state uses a discrete balanced op-amp and for the hybrid output, 12AT7 and 12AX7A valves are assigned to the left and right audio channels. In addition, coaxial and optical digital outputs offer further flexibility for use with external high-ends DACs etc.
The player's disc transport uses a high-precision die-cast aluminum tray that provides smooth and quiet disc handling, while an advanced digital servo provides fast, quiet and accurate operation.
Classic McIntosh styling is everywhere on the MCD12000: it boasts stainless steel with hairline-brushed black titanium, that matches the company's C12000 preamp, and the front of the unit features the brand's black glass panel, illuminated logo, control knobs and controls, moving meters, as well as custom machine-brushed aluminum handles.
The top of the unit includes a glass panel listing performance specs and a block diagram of the audio signal path. A pair of 60 dB output meters show the signal level from the output of each channel, too.
Pricing and availability
Shipping expected to begin this May (United States and Canada), and the rest of the world, shortly thereafter, £13,995.