Sky has announced the launch of Sky Glass, simplifying the way customers watch TV by integrating hardware, software and content. Sky Glass will be the only TV with 'Sky inside'.
For the first time users can get Sky TV over Wi-Fi, with no satellite dish, no box and no fuss says Sky. The streaming TV is available to buy in the UK from 18 October and will launch in Sky's other European markets from 2022.
The product is available in five colours and three sizes and offers Ultra HD and Quantum Dot technology producing over 1 billion colours and also has Dolby Atmos compatibility with built-in speakers and sub-woofer. Users can also use voice activation to control the product and the set is billed as world's first TV to be certified as a CarbonNeutral product.
Speaking at the launch, Dana Strong, Group Chief Executive, Sky said, "Sky Glass is the streaming TV with Sky inside, providing the total integration of hardware, software and content. Built on over 30 years of understanding what our customers want, this is a TV that only Sky could make. We believe this is the smartest TV available, and that customers will love it."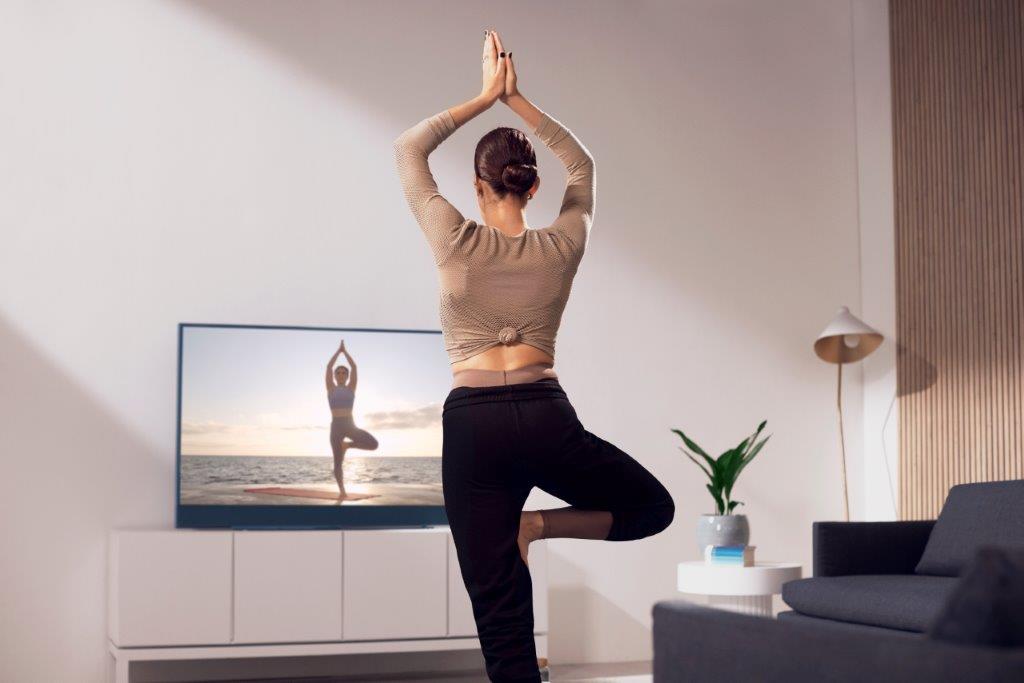 Redefining the TV market
Sky says it has always aimed to give people what they want before they know they want it, and to make things easy for customers. By taking this step, Sky will operate across the whole value chain, from content production, through to connectivity and aggregation, all coming together on the Sky Glass screen.
Sky partnered with Map Project Office, one of world's leading design agencies, to create the design. Sky Glass comes in a choice of three sizes (Small 43in, Medium 55in and Large 65in) and five colours. Choose from Ocean blue, Ceramic white, Racing green, Dusky pink, or Anthracite black, with matching remotes and customisable speaker fascias for extra personalisation. It has a mounting bracket cleverly integrated into the TV, or a sleek colour matched stand. With a single wire and just one plug, Sky Glass is designed to make clutter a thing of the past, while the woven acoustic mesh used to optimise sound performance and millimetre-perfect perforations help Sky Glass sound as good as it looks.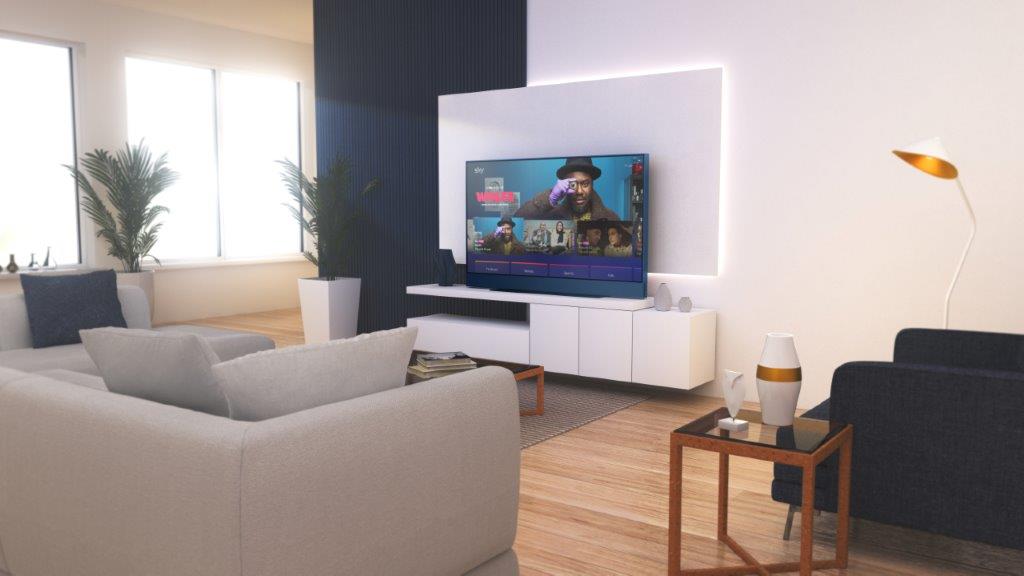 Spectacular screen and spine-tingling sound
With over a billion colours, a 4K Ultra HD Quantum Dot screen delivers crystal-clear picture, while the 10-bit HDR screen supports HLG, HDR10 and Dolby Vision to produce vibrant, more intense colour. Sky Glass knows what is being watched and optimises sound and picture, while Intelligent Zonal Technology works to bring darker darks and 'brights' that look brighter.
With far field voice and Glance Motion Technology, users can just say 'Hello Sky' or walk past to bring the streaming TV to life. A new home page makes it easier to find, watch and play favourite content from across Sky, BBC iPlayer, Netflix, Disney+, ITV Hub, All4, Spotify, Peloton and PlayWorks.
At the press of a single button, users can now create a personal Playlist of favourite shows, movies and more across apps and channels, live and on demand. The new plus button on the remote adds to a Playlist for users to stream.
Sustainably designed, it has low power features built in such as auto-switch-off and auto-adjusting screen brightness helping it to be more energy efficient. It is the only TV to come in recyclable packaging, free from single-use plastic and by using a TV with everything built in, electricity consumption is reduced by up to 50%i.
Sky Glass is made to be affordable. Users can buy a TV in a similar way to a phone by paying in one go or spread the cost with interest-free monthly payments. The set is available from as little as £13 per month, exclusively with Sky TV, starting from £26 for Sky Ultimate TV and for the first time HD is included as standard. That's £39 per month to get the 43in Sky Glass TV plus every episode of award-winning Sky Originals and Sky Exclusives, all your favourite channels and a fantastic line up you won't find on Freeview, as well as Netflix. For just £4 more a month you can increase the size of your TV to a 55in, or £8 more for a 65in. It comes with a full two-year warranty and a free delivery service that includes unboxing and packaging removal.
For those that enjoy watching Sky in multiple rooms in your house, the Whole Home pack puts Sky Glass inside any TV using the Sky Stream Puck for £10 a month.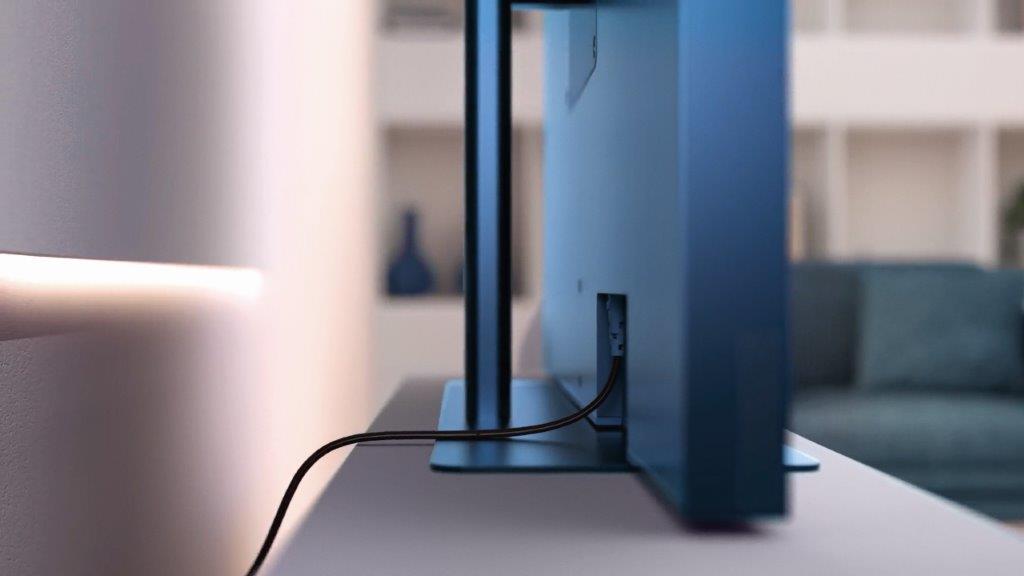 Coming soon…
Sky Glass has been built as a platform which can be deployed by other Telco and subscription television operators so they can bring the Sky Glass experience to their customers too. Sky today announces the Foxtel Group, Australia's leading subscription TV company as its first Sky Glass syndication partner. Sky Glass will launch in the Australian market as an element of the Foxtel Group's future roadmap for its Foxtel brand and will contain both Foxtel and third-party content. This is the first of many collaborations as Sky Glass is scaled across the globe.
Sky Glass will get even better in 2022, with the launch of a high spec 4K smart camera that works seamlessly with Sky Glass and will unlock a range of exciting new services for the whole family. It will transform how people chat, play games, workout and share entertainment at home, claims Sky.