KEF HAS expanded its architectural speakers range with two extreme home theatre models featuring new patent-pending technology.
KEF has extended its comprehensive range of architectural speakers with the ultra-high-performance three-way coaxial speaker Ci250RRM-THX and the high-output architectural subwoofer Ci250RRb-THX. As part of the KEF Extreme Home Theatre line-up, both models deliver the drama and emotional intensity of true theatre sound quality in large home theatres and living rooms, making them an excellent choice for the most discerning music and movie lovers, says the maker.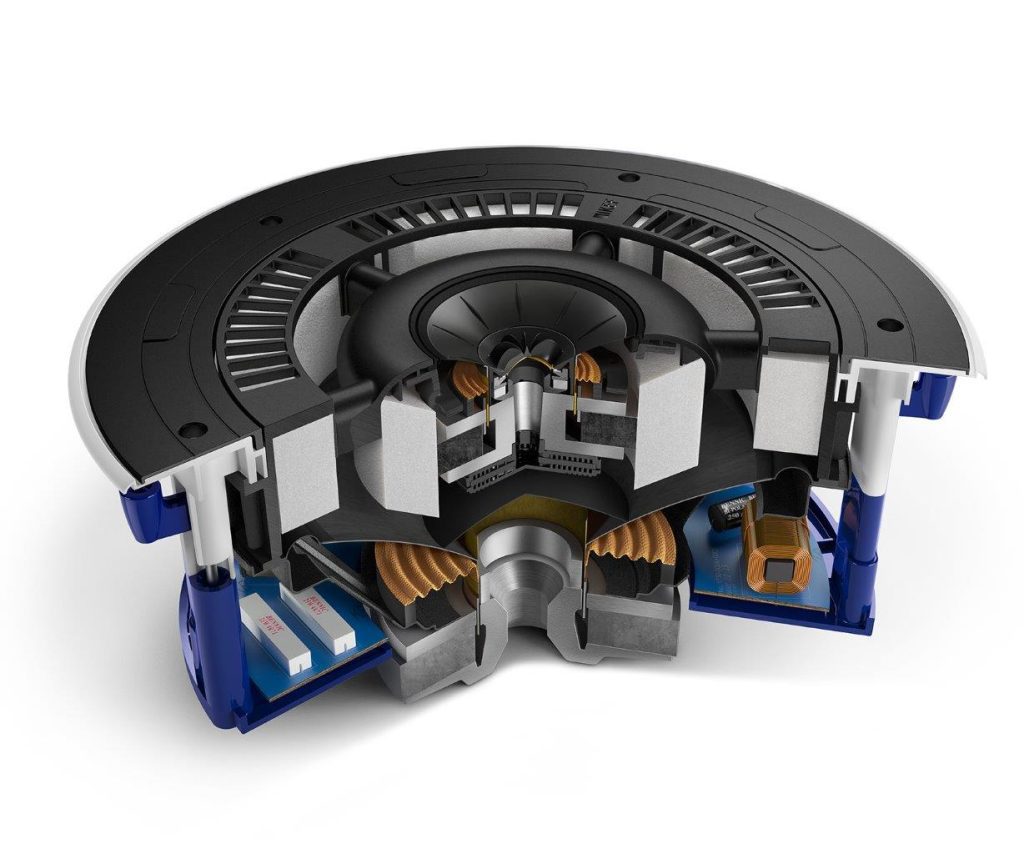 KEF's first architectural speaker with MAT
Styled as a revolutionary architectural speaker in the KEF Extreme Home Theatre line-up, Ci250RRM-THX is KEF's first three-way coaxial architectural speaker model with innovative technologies where the KEF engineering team in Maidstone, UK, has pushed the technological boundaries to create the best possible sound.
The patent-pending technology 'Cavity Radiation Control' has solved the midrange issues found in some three-way coaxial loudspeakers. Its unique open-backed midrange with acoustically absorptive foam design eliminates midrange distortion, up to 30dB midrange dip which is equivalent to 99.9% of reduced SPL. With Cavity Radiation Control, Ci250RRM-THX is able to deliver the highest midrange acoustic realism in the market to date.
Another innovation is the implementation of the 'Low Diffraction LF Aperture' in Ci250RRM-THX. It is a carefully profiled, smoothed housing design for the Uni-Q driver array with an outer acoustically absorptive foam ring that reduces resonance and diffraction. The result is exceptional MF/HF performance while preserving a tremendous bass output.
Ci250RRM-THX is also the first KEF architectural speaker with Metamaterial Absorption Technology (MAT). MAT is a highly complex maze-like structure that absorbs 99% of the unwanted sound from the rear of the tweeter, delivering a more crisp, natural treble performance. Additionally, the 100mm (4 in.) Uni-Q driver array in Ci250RRM-THX is the latest 12th generation, sharing many of the technologies found in the latest KEF Blade loudspeaker and the recently launched LS60 Wireless high-fidelity speaker system.
Featuring a 250mm (10 in.) bass driver, Ci250RRM-THX delivers deep, room-filling bass. As a THX Certified Ultra architectural speaker, Ci250RRM-THX is engineered to create the immersive, high-fidelity audio experience even in the largest rooms and home theatres.
The Extreme Architectural Subwoofer
Engineered to deliver accurate and powerful bass while remaining visually discreet, Ci250RRb-THX is the described as the perfect addition to any music or home theatre system. As part of the KEF Extreme Home Theatre line-up, Ci250RRb-THX delivers ultra-high performance with true theatre sound quality for large theatres and living rooms.
In order to create the greatest possible music and movie experience, a massive amount of power needs to be tempered with the finest of details. The extra-long-throw 250mm (10 in) bass driver with a massive 150oz magnet, when driven by the KEF's DSP-equipped KASA500 amplifier, delivers both in spades.
Ci250RRM-THX key features:
• 100mm (4 in.) 12th generation Uni-Q driver array with MAT for pure, detailed sound
• Patent-pending Cavity Radiation Control delivers smooth midrange performance
• Low Diffraction LF Aperture for exceptional MF/HF performance while preserving a tremendous bass output
• Impressive, room-filling bass down to 28Hz via the 250mm (10in) woofer with a massive 120oz magnet
• Max SPL of 111dB
• THX Certified Ultra
• Ultra-Thin Bezel for the slimmest visible rim around the speaker
• IP64 certified
Ci250RRb-THX key features:
• Accurate, deep bass down to 20Hz via the 250mm (10in) woofer with massive 150oz magnet
• Max SPL of 109dB
• THX Certified Ultra/ Select (depending on the configuration)
• Ultra-Thin Bezel for the slimmest visible rim around the speaker
• IP64 certified
• Must be used with the KEF KASA500 system amplifier to unlock THX performance (available as a separate item)
Ci250RRM-THX: £1,450 per piece – Available October 2023
Ci250RRb-THX: £1,100 per piece – Available October 2023