Totem's unique approach to design delivers a family of speakers perfect for the needs of installers. Martin Morecroft, MD of Redline UK distributor for the installation side of the brand, breaks down the range and performance options.
Redline is now providing access to the whole range of installer focused products from Canadian speaker brand, Totem.
Every Totem product is designed and manufactured under the inspirational lead of company president and chief engineer, Vince Bruzzese.
A true maverick in the world of audio, Totem produces speakers with soul, but also huge practical advantages.
From the beginning of the company, Vince wanted to create a sound all of his own that did not compromise on quality, but took a different approach to the large box speakers of 1970s and 1980s.
The result was that the company has become expert in producing very wide sound dispersion from compact enclosures. Even before installation speakers were a 'thing', Totem had perfected a way to deliver sound quality that would enable the creation of some of the best integrated speakers on the planet.
Spin forward to the present day, and Totem boasts a fulsome range of install products that take full advantage of all the special abilities the company has created so installers can specify the products knowing they are getting something really special.
Totem's ability to deliver wide sound dispersion is especially valuable in the UK as the wide range of housing stock and building materials and techniques encountered means speaker placement can be a challenge.
Imagine a floodlight filling a room with light as opposed to a flashlight illuminating just a small area; this is how Totem operates, offering quality audio to the whole room, not just a narrow 'sweet spot'.
For example, the Totem Kin Architectural disperse at an impressive 75°, almost twice the range of comparable speakers that take a more conventional design approach. Enjoying music together is a huge part of the modern way of listening.
In the past, those wanting good quality might have been characterised as enjoying content on their own in one 'special room', however today's listeners want to share and deliver the right sound-stage to the whole room and indeed the whole house.
Another powerful feature of Totem is the similar acoustic signature delivered right across the product lines. This means installers can mix and match, choosing exactly the right product for each placement and still ensure the audio integrity of the system is maintained.
Product Performance Curves
Installation Speakers – The KIN Architectural Range
KIN IC Slim
This is a pleasing all-rounder speaker with a strong balance of bass and highs in a very convenient shallow form factor for installation flexibility.
This family consists of three in-ceiling and two in-wall models, priced to compete with the mass market CI brands and are 25% slimmer than the KIN IC Architectural series. The range benefits from carbon fibre woofers and ceramic coated tweeters for high-performance.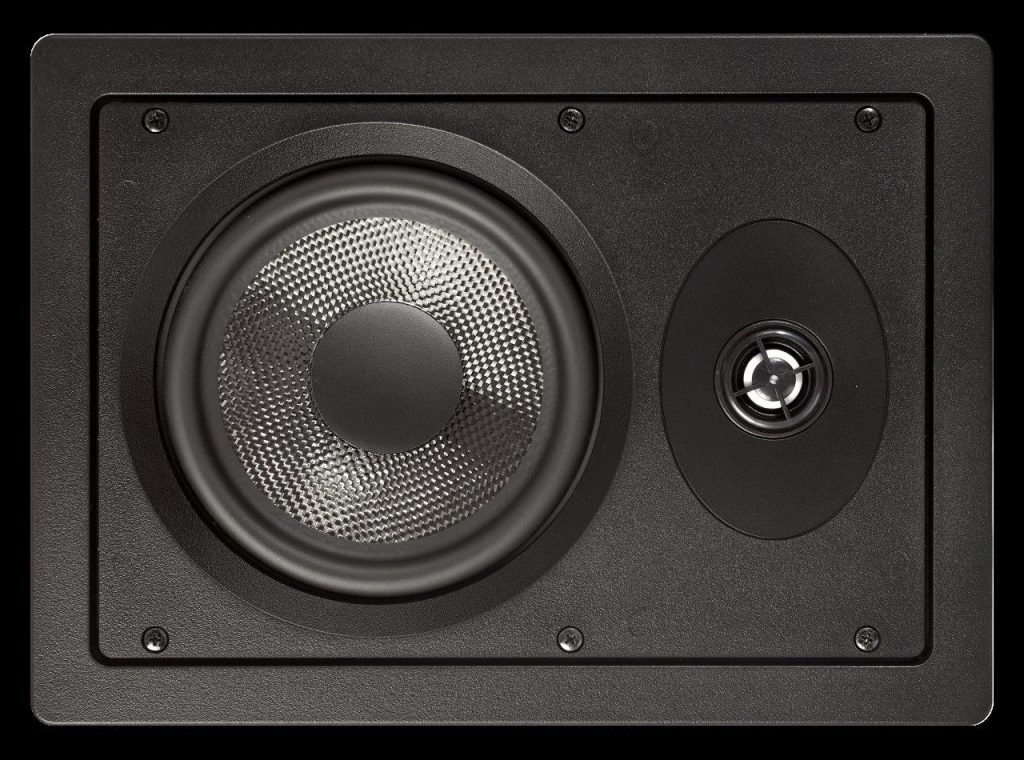 KIN IC
A more substantial proposition than its slimmer cousin, this speaker delivers deeper bass output with sure-footed authority. Able to produce a rich, textured, seamless soundstage, the KIN IC can maintain the desired levels even in the largest rooms.
KIN IC comes in two flavours. The IC61/81 features polypropylene woofers with the IC61 having a 0.75in high excursion soft dome tweeter. The larger IC81 has a 1in ceramic coated aluminium dome tweeter.
The premium IC82/62 and Stereo IC62ST enjoy phenolic honeycomb woven hybrid woofers with oversized components in cast baskets and hyper extension soft dome tweeters.
The entire range if installation speakers feature Totem's unique Low Volume Intelligibility Switch. When engaged, it fine tunes the output at low listening levels to improve the clarity of vocals and the richness of the bass response, both of which are normally compromised at low volume.
All KIN IC speakers offer the following options;
Acoustic Back Cans. These back boxes reduce sound in adjacent rooms by 24dB and also aid performance consistency in variable installation locations.
Colour coded preconstruction kits are equipped with joist brackets that allows speakers to be installed in a perfect line simply and flawlessly and multiple points to connect the wings guarantees that contact with drywall is always within access.
Square Grille Kits complete the line-up and permit cosmetic finishing touches to match fixtures, HVAC accessories, and suit personal design tastes.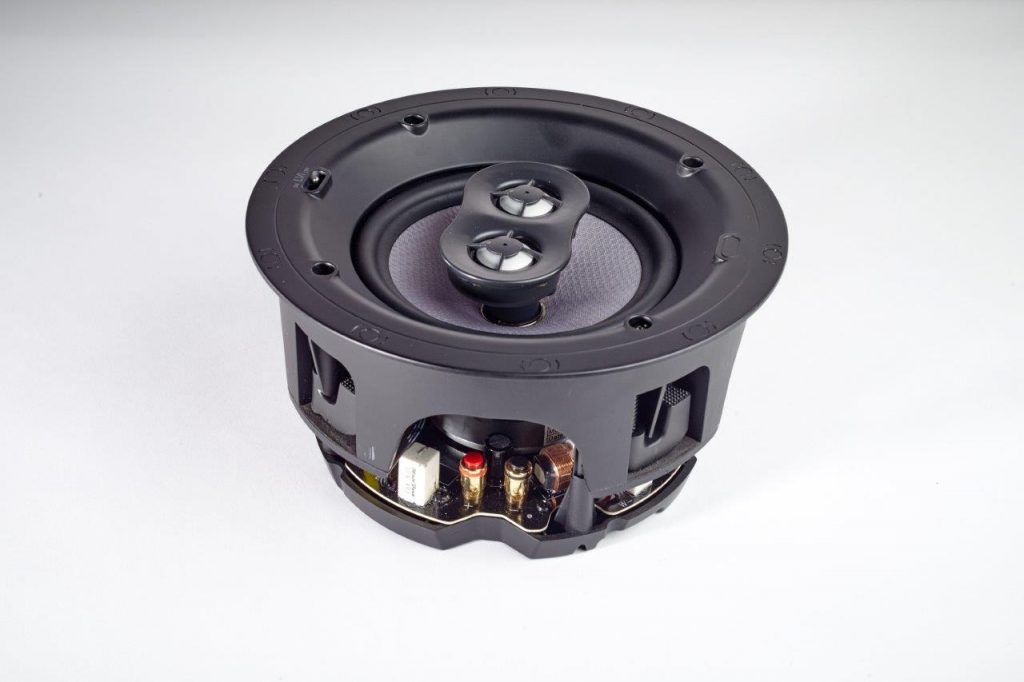 KIN In-Wall, KIN In-Ceiling Angled and Side/Centre
Topping the KIN range, these units bring greater precision and a deeper emotional connection to music. The crossover is of particularly high quality and is revolutionary with the absence of resistors.
Also featuring a ½ pound Litz OFC copper air core coil woofer inductor and PP foil capacitor with sterling silver leads in the tweeter and an integrated back box.
The design approach means these speakers can deliver performance that matches conventional stand-alone designs with strong dynamics and rhythm that most conventional architectural products cannot rival.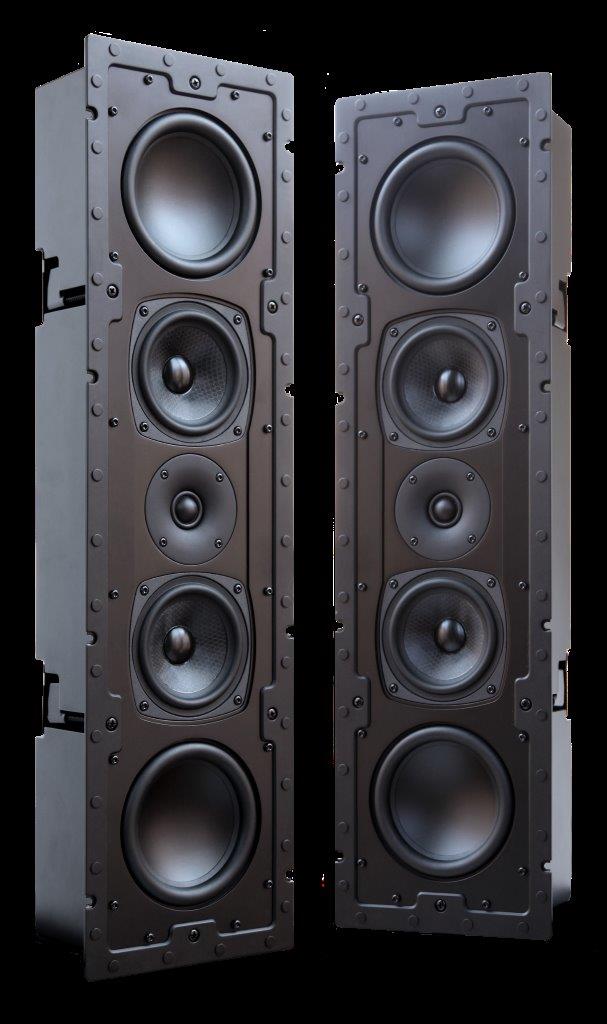 Tribe In-Wall, In-Ceiling Angled and Side/Centre
This flagship in-wall family has all the benefits of KIN Architectural, but with enhanced deeper bass, more natural highs, increased power handling and incredible presence in any listening environment.
Neodymium magnets permit shallow woofers with enormous power and the oval passive radiator has two surrounds that react at different frequencies, effectively acting as two radiators in one.
This tunes the bass stunningly low for a sealed enclosure. The product also benefits from a custom designed tweeter which allows a first order crossover, vital for phase linearity, and extends out to 25kHz for an open, airy quality.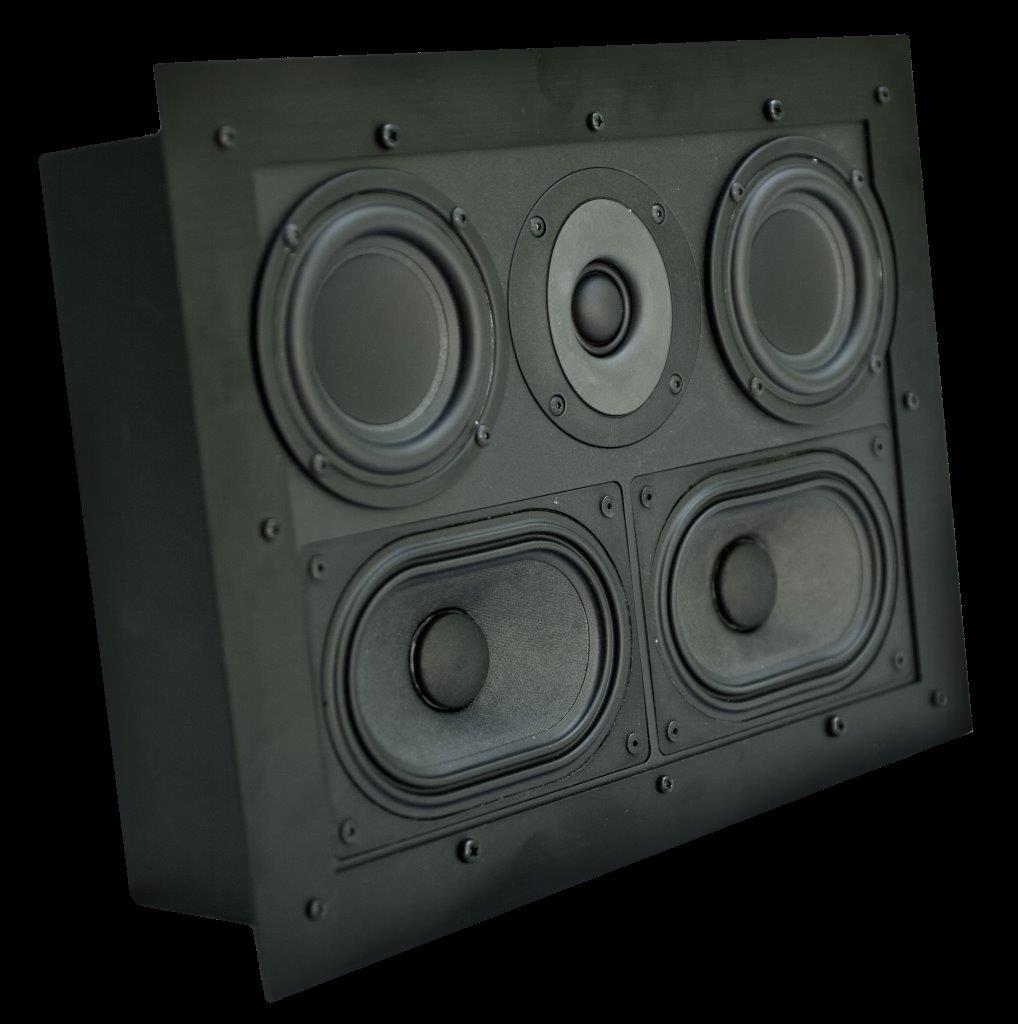 Tribe On-Wall
Installers can get all of the performance benefits of stand-alone floor-standing speakers, with none of the disadvantages in this conveniently sized, slim and good looking on-wall speaker.
With four on-wall model options (Tribe 1,11,111 and V) the range offers slim proportions and subtle good looks to match today's super slim wall-mounted TVs.
The cabinets are ported on the extremities to accommodate the required length for proper tuning. Multiple finish options mean any type of room design is covered.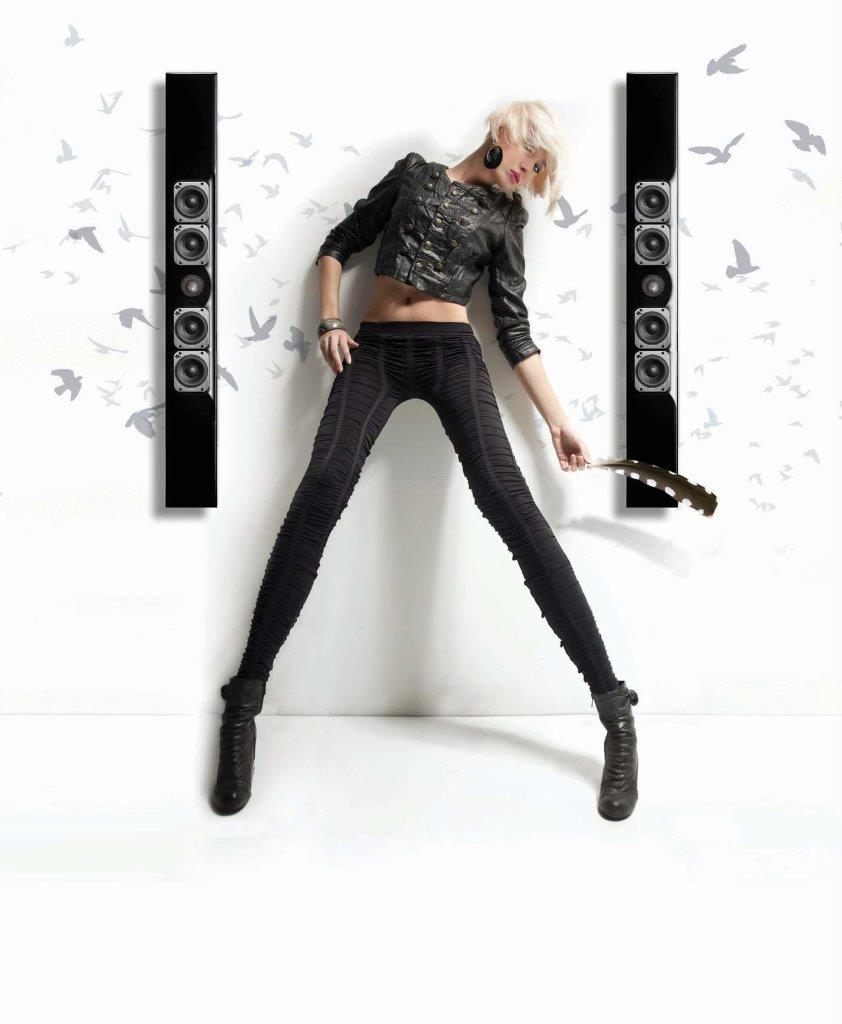 Tribe Solution Bars
The most recent addition to the family offers the 'best of both worlds' scenario, with strong aesthetics and audio performance to match. The passive design permits outboard amplifiers to be used for superior performance, so neither sound nor style is compromised.
Cosmetically matching flat screens, these versatile products can also be used to provide full range, dynamic sound for any room without the need for a subwoofer.
The Tribe Duo Solution Barfeatures a two-channel design in a sealed cabinet, while the Tribe Trio Solution Baris a three-channel LCR in a ported enclosure.
Both are sized to accommodate screens at 65in and larger. The low-profile design and included flush mount wall bracket make them a strong solution for on-wall installations.
Adhesive backed sound isolation feet are also provided should the product needed to be stood on furniture.

Tribe In-wall/On-wall subs
These cleverly designed subwoofers are highly flexible in their placement and fitting options. There is one in-room sub, the dual 8 that can be wall mounted or fitted with rubber feet to allow it to be discretely hidden within the fixtures or room furnishings.
There are two in -wall subs, dual 8 and dual 12. All models are matched with an outboard 500w amp/crossover module which can be free standing or racked.
Tribe subs are designed around long throw Carbon Kevlar drivers in a sealed enclosure format. They offer clean, deep and detailed bass.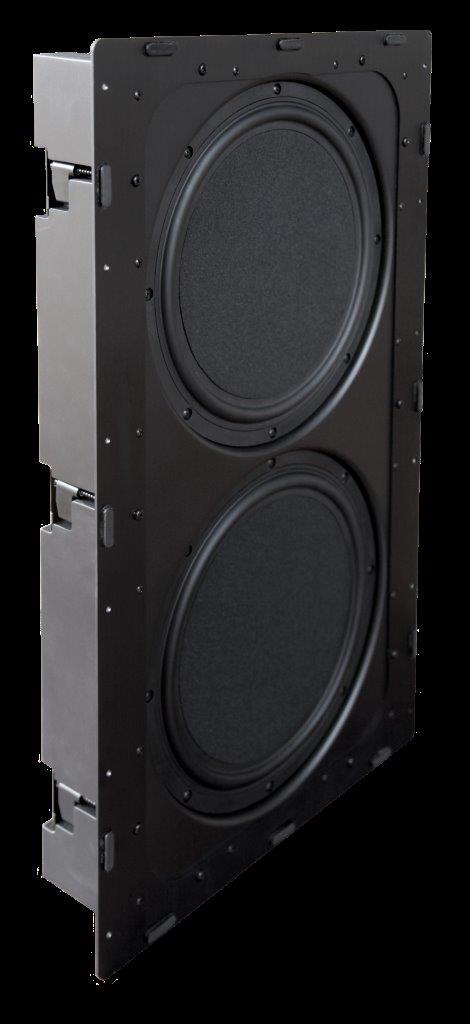 Get in touch with us to find out more about the options offered by Totem.