In the world of high-end AV, the KEF LS50 Wireless is an extremely popular option for audiophiles looking for a high-quality stereo system with little fuss. At £2,000 for a pair, it's not exactly the most affordable option for most consumers, however, and that's exactly why the company has returned with the LS50 Wireless' new baby brother – the KEF LSX.
Like KEF's LS50 Wireless, the LSX is an active stereo system that is as simple as plug and play. That means there's no need for an amplifier, and everything is built into the speakers themselves. While that means this is a speaker system predominantly designed for the consumer, it could also be a good add-on for a custom installation project – as the lack of wires makes it quick and easy to set up.
Having had a bit of time to play around with the speakers at a launch event, we can say that there isn't much that differs between the new KEF LSX and the LS50 Wireless. In fact, the new offering simply looks like a shrunken down version of its bigger brother. While it won't pack quite the same volume punch, KEF's head of acoustics, Dr Jack Oclee-Brown, admits that the LSX has been specifically designed for a range in which users will actually use the speakers. While we only had brief hands-on time with the speakers, it appears that these speakers achieve that exact goal – with clear quality audio that can fill a room, without deafening its occupants.
It's All About Streaming
Like the KEF LS50 Wireless, the LSX is once again leaning heavily on app-based control and streaming from a third-party device. That doesn't mean that there's a lack of physical inputs, with the LSX still featuring an optical audio port and 3.5mm jack on the back of the master unit. Although the chances are, most users are going to be streaming music to the LSX from a smartphone or tablet.
Thankfully, the LSX is more than capable of receiving that streamed audio, as it supports AirPlay 2, Bluetooth 4.2, Spotify Connect, and, of course, the KEF Stream app. That app is available for both Android and iOS, and features both Spotify and Tidal built-in. It also enables users to manage their speaker, whether it's changing the input, track or EQ settings.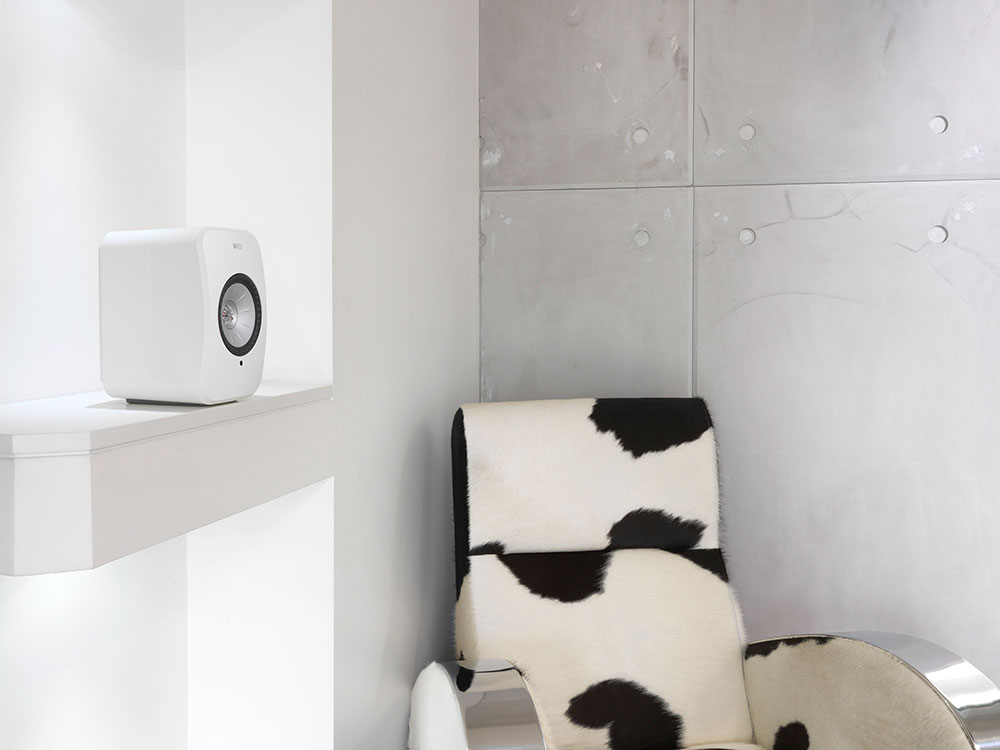 Speaking of those EQ settings, like all other speakers supporting the KEF Stream app, installers are able to access 'expert' settings for fine-tuning the speaker. This ensures that it sounds the very best in whatever environment it's in; unfortunately, there's no Trueplay tuning software here, a la Sonos.
While the KEF LSX is extremely capable when it comes to streaming audio, it's definitely a better purchase for those with an iPhone or iPad. KEF says that its research shows that the majority of those buying its speakers are iOS users, which is one of the reasons it supports AirPlay and not Google's Chromecast protocol. Thankfully, it's Airplay 2, which means these stereo speakers can form part of a multi-room audio system, so those wishing to mix and match KEF speakers with those from Sonos and Bang & Olufsen, now's your chance. Unfortunately, that AirPlay 2 streaming is not available at launch, as that's coming
The lack of Chromecast is definitely not a deal breaker for Android users; the existence of a 3.5mm jack on the back of the master unit means it's possible to plug-in a Chromecast Audio if they want it to be part of a Google-built multi-room system. Those not wanting to deal with that faff should still be more than happy with Bluetooth, Spotify Connect or the KEF Stream app.
Big Tech, Small Body
It's not just the streaming technology, app-based control and design that makes the KEF LSX a miniaturised version of the LS50 Wireless. That's because the technology used in this new stereo pair is also similar. As expected, the LSX features KEF's Uni-Q driver array, which the company says improves stereo imaging and does so across a much wider listening area. Combine that with the Music Integrity Engine, a collection of bespoke Digital Signal Processing algorithms that ensure accurate time alignment and phase coherence.
LSX sports four Class-D amplifiers, one for each of the drive units, alongside dedicated twin DACs that provide signal path of up to 96kHz/24bit (using the optional wired connection between the two speakers) or 48kHz/24bit in completely wireless operation.
KEF says that the LSX's curved cabinet was designed with extensive use of Finite Element Analysis, as well as featuring constrained layer damping as found in KEF's high-end audiophile products. Unfortunately, there is one disadvantage to this curved cabinet – and that's the ports at the back. Given this is a high-end speaker, one would expect the ports to line-up, but given the lack of a curved PCB inside the unit, these ports aren't exactly flush. It's only a minor point but could annoy perfectionists.
Which Design Fits?
KEF has once again collaborated with a leading designer to create the look of the LSX. This time it's the turn of Hong Kong-based Michael Young, who has won numerous Red Dot awards. Despite the collaboration, you shouldn't expect a design too different from the LS50 Wireless, at least that's the case for the gloss white model.
Those looking for a distinctive looking speaker will definitely find that in the KEF LSX, as there are four models that are clad in a luxury fabric from Danish textile manufacturer Kvadrat. Personally, we're not the biggest fans of the blue, maroon or olive colours, and that's largely due to the fabric, but the black model definitely looks a lot more elegant.
Price & Release Date
The KEF LSX stereo speaker system is available from November exclusively at Selfridges. Retail pricing has been set for £1,000 for a pair – half the price of the LS50 Wireless.