Trusted British manufacturer, Hamilton Litestat, will be showcasing its smart lighting control and audio technology with a full working demonstration, which also incorporates blind control and wireless switching of outdoor applications.
Sign up for EI Live! 2019 here
There will also be a selection of complementary designed control plates and general wiring accessories – for that coordinated look – as well as a sneak peek at what's to come from the manufacturer in the coming months.
On show will be Hamilton's plug-and-play Smart Lighting Control and Audio solutions, which fall within the Professional 'Easy' category, so they don't require specialist tools or software and can be seamlessly integrated for a powerful and cost-effective lighting and sound package.
The manufacturer says they are perfect for straight forward lighting and audio control requirements that can be activated via pre-programmed plates or the Hamilton App.
Additionally, Hamilton's installer software gives access to additional levels of system functionality for applications where more flexibility is needed.
"EI Live! provides us with the perfect opportunity to speak with professional electricians who are embracing smart controls and seeing the value of these for their business proposition," says Gavin Williams, Head of Marketing at Hamilton. "Our plug-and-play smart control systems are proven solutions and we'll be demonstrating the capabilities of the products, with our team on hand to discuss how the solutions can be used for projects of varying complexity. The show is a great way to reach professional electricians, as well as experienced custom installers who are now considering Hamilton's cost-effective solutions for less complex installations."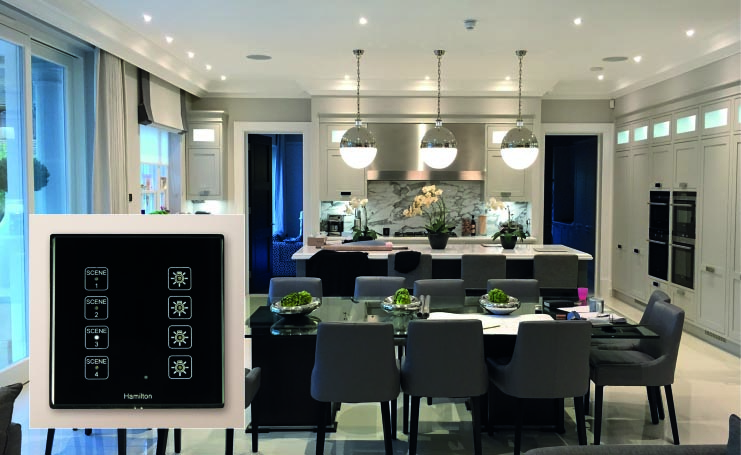 Hamilton is a member of CEDIA, the international trade organisation for home technology.
As a company it is commitment to providing quality products as well as education and training in smart controls, which has generated considerable interest, including the oversubscription of its free training courses.
It's also contributed to Hamilton being named 'Best Manufacturer 2018' in the Voltimum Smart Awards at the end of last year.
Alongside its Smart Lighting and Audio solutions, Hamilton will also give EI Live! visitors a first glance at its new range of wireless control products.
The company believes with consumers increasingly interested in smart home technology, wireless lighting control is set to grow in popularity. Visit Hamilton – Stand No. 56, situated in front of the main Technical Theatre – to find out more about this on-trend solution.