LP:ME, a brand-new recording complex in Dubai, has equipped all nine of its studios with PMC monitor speakers so that it can deliver the ultimate in sound quality to its customer base – and ultimately to listeners at home playing back the studio's output.
As the musical home for regional and international artists from the Middle East and north Africa, LP:ME has been operating as a studio for 25 years, starting with tape recording and a single room. Over the last two years the company has acquired and transformed a 30th floor in Dubai's prestigious Jumeirah Lake Towers, making it one of the highest studio facilities in the world. It now offers three main recording studios, including one flagship space purely for stereo production and two full Dolby certified Atmos studios. There are also six producer rooms and an in-house video production studio.
Underlining the position of PMC as the speaker manufacturer of choice for the most discerning professional music makers, every room is equipped with PMC speakers. LP:ME's CEO Daniel Romanovskyi, in conjunction with Eddy Jazra, Head of the facility's Audio Department specified PMC and worked closely with Kevin Boujikian, as Project Director and PMC partner for UAE.
"The goal was to meet world class standards by integrating the very best equipment," Kevin says. "Daniel wanted to create one of the most exclusive and best studios in the MENA region, and I was very excited to be part of it."
LP:ME's stereo room is equipped with PMC's flagship QB1-XBDA monitors and two PMC BST subwoofers paired with a 48-channel mixing console. This set up is only found in a handful of other facilities around the globe, including Netflix and Interscope studios.
"It's more than just a stereo room, it's an experience," says Eddy. "The sonic image is so clear that you could spend hours in that room without fatigue. We have also added a pair of PMC 6 active studio monitors for contrast and for nearfield work."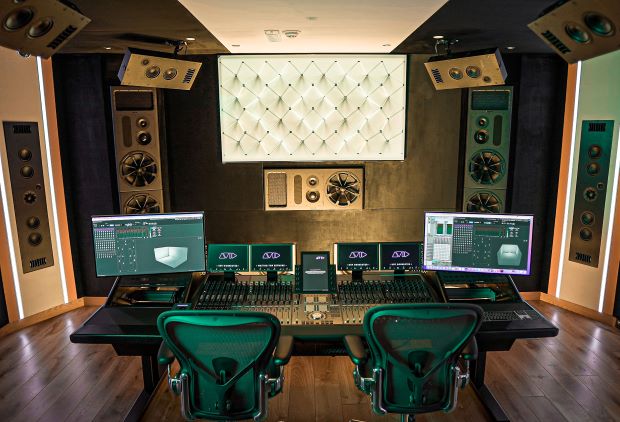 Focusing on the burgeoning immersive audio market, LP:ME has two Dolby Atmos suites. The largest room has an 11.1.6 speaker set up consisting of three PMC BB6 XBD-A monitors for LCR, eight ci140s for rear and sides, six ci65s for the ceiling hung overheads and a pair of PMC BST subwoofers for low end reproduction. The second room has a 9.1.4 configuration with three PMC MB3 XBD-As, 10 ci65s and four PMC8-2 subwoofers.
The facility's six producer rooms also have PMC monitoring – PMC6 in most rooms and IB1S-A in the largest room. That makes a total 58 PMC speakers in one studio complex.
Maurice Patist, PMC's Head of Sales, Pro Global Studio Products, played a key part in commissioning the PMC monitoring systems, particularly in the two Atmos rooms.
"The attention to detail and absolute desire to do it properly allowed us to create the right combination of proper room design, acoustics and PMC monitoring systems to maximise the performance of the control rooms," he says. "The result is two incredible performing Dolby Atmos mix studios and an equally exceptional stereo control room, all of which deliver all the performance and gear an engineer could wish for."
Daniel adds, "I am proud that we have managed to defy all the odds and build what is arguably one of the best sounding studios in the world."