EI spoke with Dr Thorsten Müller, Head of Global Product Group Building and Home Automation Solutions at ABB, to discover what the company's plans are in the smart building/smart home sector.
At the 2019 IFA show, ABB announced a major push into the smart home/building sector, so EI was keen to speak with the principals and find out what the company has planned next. We began by looking at the home, a sector that has obviously had its relationship to the commercial world changed by Covid-19 and the rise of working from home.
Thorsten argues that, "Working from home will vary a lot around the world, but it is obvious that many more companies will be supporting their workers at home. Perhaps the 'office' will become a place for meetings and creativity and people's homes the space to work on other tasks that don't require interaction."
Regardless of the degree that this change happens to, ABB believes that workers will spend more time at home. This could trigger increased spend from users themselves and from companies looking to provide the equipment their workers need.
This is not the only consequence of people being at home more, Thorsten explains, "Being at home has definitely increased people's interest in the smart home. People want to make their homes more efficient and pleasant to be in at all times of the day. It is a definite growing trend. With a KNX backbone and our Free@Home as well as Free@Home Flex, we can offer a broad range of options to cater to these people. The current focus for ABB is delivering control of blinds, lights, heating, air conditioning, door communication and security.
"We have worked hard to simplify our offering, reducing the number of wall controls needed – in some cases to just one. Our whole approach is based on offering easy to install, easy to use, plug and play systems."
Other improvements in the company's offering include compatibility with DALI lighting and the launch of ABB-secure@home.
This alarm system protects against burglary and theft as well as damage from other sources of danger such as fire or water. This product is, of course, fully compatible with the company's whole-home automation platform, ABB-free@home.
Free@Home Flex is a simplified system designed to deliver smart home control of a single room. However, users will be able to build upon this, room-by-room, to encompass their full whole house when the system is updated in the near future. This system will come fully online later this year.
Thorsten also underlined the company's improvements to the ABB-free@home Next app, which gives homeowners control of their smart home solutions from a mobile device. The latest version provides greater speed and a more intuitive interface. The app also enables users to configure the system with options such as daily routines, timers, scenes and filters for each room, all with just one click.
The company has also launched a weather station solution for MDU projects and a home appliance connection that interfaces with products from Bosch, Gaggenau, Neff and Miele. For added convenience, ABB-free@home now works with 'Hey Google' so users can voice control their connected devices.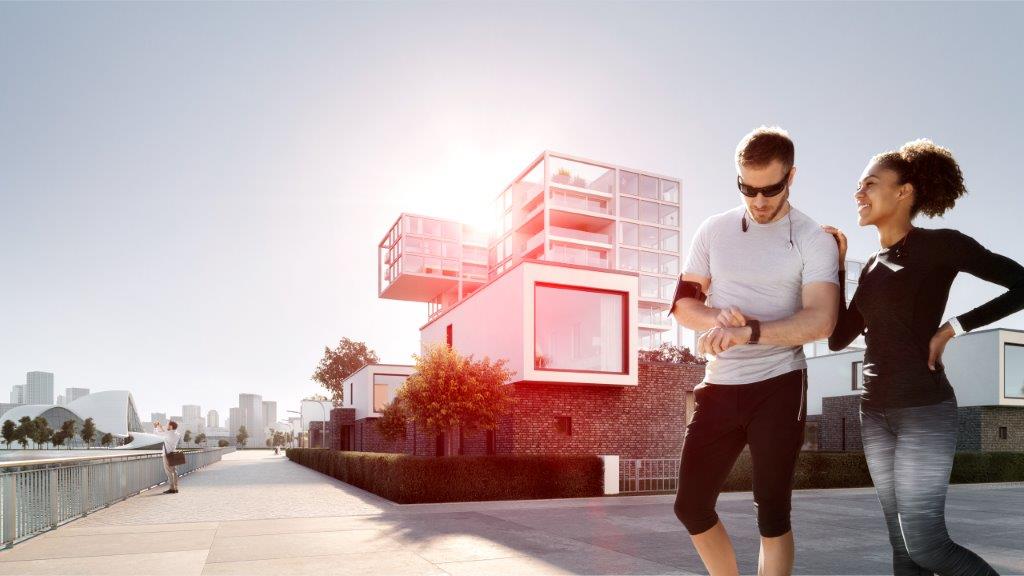 The commercial world
ABB supplies many different products into the commercial build environment. Estimates suggest that up to 60% of CO2 emissions come from buildings, so ABB is keen to make buildings more efficient. Thorsten explains that ABB's approach here is to offer a holistic approach to intelligent workspaces. The company aims to provide the tools to create highly efficient energy-saving buildings in the new build and retrofit sectors. They are doing so by releasing products such as intelligent and automatic lighting, security systems, air-conditioning, heating and movement detection.
ABB is looking to achieve ambitious efficiency goals by leveraging the HVAC control expertise brought in last year with the purchase of Ireland-based global operator Cylon. The company also seeks to offer increasing amounts of remote control and system assessment to off-site managers to make it simple to manage multiple buildings. Dovetailed into ABB's existing control options, the company now offers new build and retrofit solutions to deal with every aspect of a building's control and efficiency.
When taking on his new role, one of the first things that Thorsten insisted on was that ABB opened up its APIs. This initiative has also seen the company use its open API approach to introduce compatibility with third-party players such as Microsoft, Amazon, Google and Apple. A further benefit of the Cylon acquisition has been the ability to offer cloud-based energy analytic tools so companies can gain real insight into the areas where they can achieve improvements and save money.
Thorsten underlines that by integrating the company's systems HVAC, lighting, room and shading control, the building can intelligently adjust to factors such as weather conditions and occupancy levels. It can determine the appropriate conditions automatically using sensors and controls or can be adjusted manually using software like Microsoft Outlook or web-enabled smart devices. ABB emphasises that relatively small updates to HVAC in particular can offer big improvements in efficiency, particularly in larger buildings.
To underline its commitment in this area, the company underwent a dramatic reduction in its own emissions. As Thorsten explains, "Our 'Mission to Zero' initiative at our production plant in Luedenscheid was the proving ground for much of what we are now offering the market. We proved you could make a significant commercial site net carbon neutral. This mission is rolling out across many of our sites and the aim is to have completely carbon neutral operations by 2030."
As Thorsten sees it, beside energy efficiency there are three more key areas the company wants to deliver in for the commercial built environment: safety and security, health and well-being, and process efficiency.
One recent development in these areas is the company's increased focus on the humble emergency lighting fitting.
Thorsten says, "Because of their location, emergency exit fittings are perfectly placed to increase what they offer. For example, one potential use is to count people, not just for safety reasons, but also to know how many people are in the building for efficiency reasons. Our current portfolio of smart exit fittings also have abilities such as self-testing and reporting, cutting the number of people required to keep everything working."
As for health and well-being, particularly after the global experience with Covid-19, better, more efficient air filtering and circulation are a priority for many businesses. This again keys into ABB's offering to significantly improve HVAC and air circulation efficiency.
As for process efficiency, Thorsten underlines that the people inside a building are always the most valuable and expensive factor that any company must deal with. Making them more efficient in what they are doing can deliver some real low hanging fruit in terms of cutting costs and driving efficiency. ABB believes its holistic approach to BMS systems will deliver here too.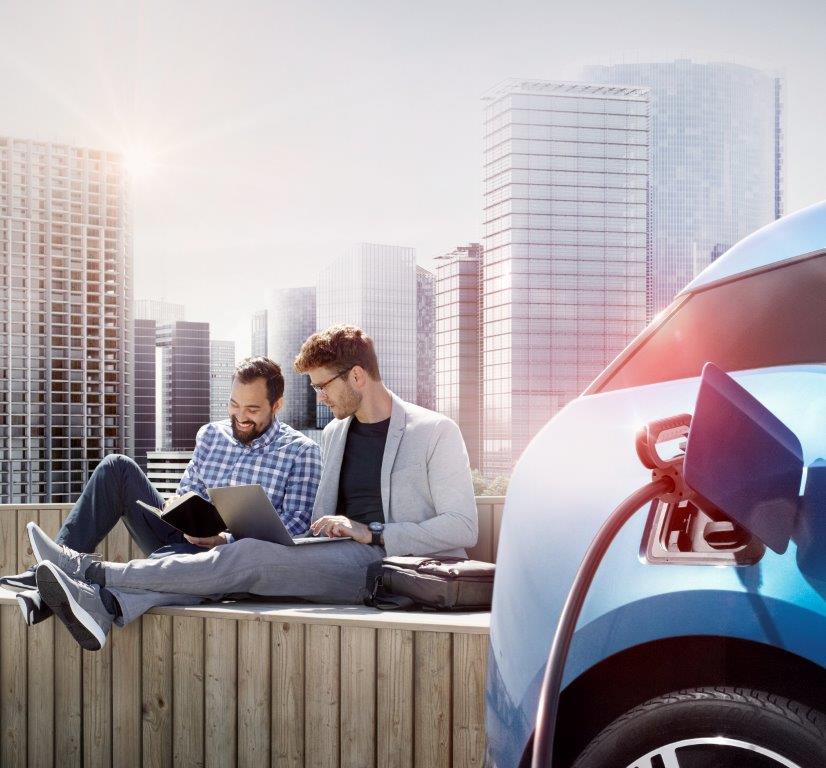 Opportunities
Thorsten has some thoughts on what areas might offer some opportunities in the next phase of the market. "We see EV charging at home and at work as a big opportunity. This practice is only going to grow in popularity, so creating smart ways to integrate this need into homes and buildings presents an opportunity. Legislation to make rental properties more efficient and hit given targets will also have an impact, and systems that can deliver there will be in demand. As we mentioned earlier, the home office has big potential and if people are spending longer periods at home, this expands opportunity out to the whole home as well."
Opportunities to work with the ABB portfolio begin with gaining an understanding of KNX. Thorsten recommends getting in touch with KNX UK to begin that process. However, the company has also worked hard on its own training platforms, including vastly increasing its webinar provision of late. ABB is also moving lots of its product documentation away from PDFs and webpages to short, instructive how-to videos. Thorsten points to the importance and usefulness of the Virtual Innovation Shows as an example. These were introduced partly because of Covid-19, but they have been a big success and the company will continue them beyond the pandemic.
Ease of install is something that comes up time and time again when speaking with ABB. Thorsten explains, "We see a big opportunity to make our systems as easy to fit as another type of electrical infrastructure going into a building. This has obvious benefits for everyone involved, but it will also help us target the retrofit market, which has huge potential. The percentage of existing homes and commercial buildings compared to new build is obviously a huge gap, and the industry should see this as a major goal for both sales and meeting environmental targets."