Any Port in a storm?
One of Sonos' most recent creations, the Sonos Port is designed to open up the Sonos experience to legacy AV and Hi-Fi equipment and give installers more flexibility; as they can deliver a Sonos zone, as well as increase the quality of the audio experienced.
The successor to the Sonos Connect, it's a part of the Sonos real estate that definitely needed an upgrade.
The idea is straightforward – connect the Port to a 'traditional' piece of music equipment and use the Sonos app to stream music, podcasts, audio-books, and internet radio on pretty much any amplified audio equipment.
Also on board is Apple AirPlay 2, meaning users can stream audio directly from their device, as well as ask Siri to play Apple Music.
Another function is the ability to listen to vinyl, CDs, and stored audio files on Sonos speakers using the product's line-in connection.
Also included is an upgraded digital-to-analogue converter and a built-in 12V trigger. Another installer-friendly function is the ability to turn off the product's indicator light, which is a useful feature for rooms where people are sensitive to intrusive light sources.
Voice control is also available if the product is connected to a smart speaker, such as Sonos One or Beam, as well as other equipment. ThePort is happy sitting on a shelf or stacked in an AV rack.
Sonos says the Port was designed specifically with the professional installer community in mind, so how does it stack up?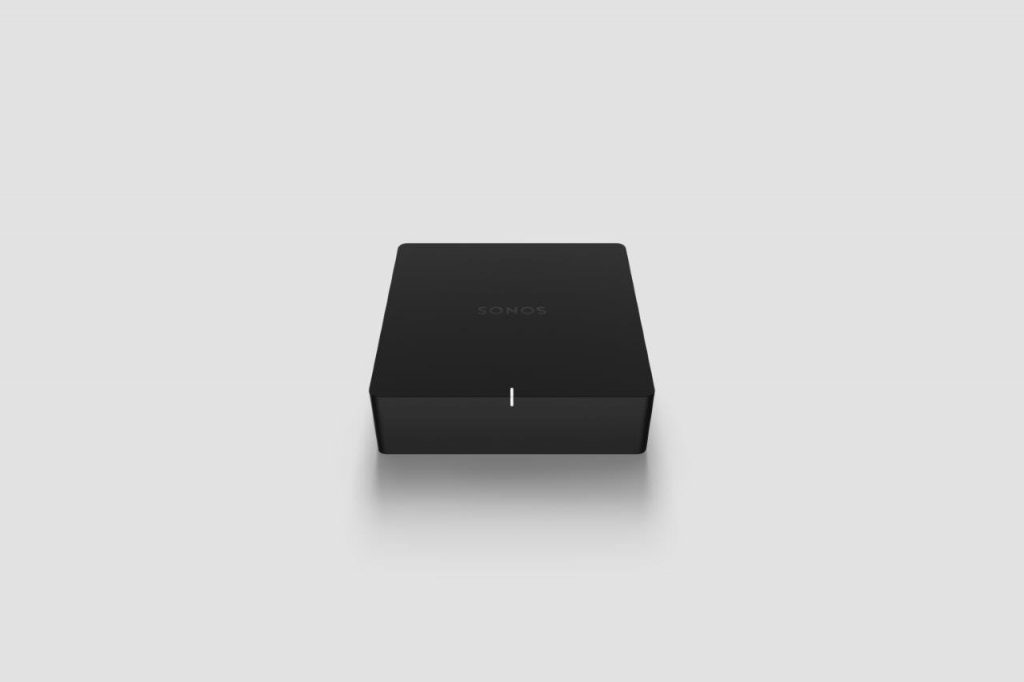 Performance
Right out of the box, the Port feels good and is hefty enough to feel like a 'proper' audio product, while its neutral matt black appearance means it won't stick out.
It's also small enough to be hidden away, and is designed to look like a smaller version of the Sonos Amp. Inclusion in a rack is possible, although on balance, unless it's crucial to the project, its visual appeal is sufficient enough and the extra effort probably wouldn't be warranted.
Ease of set up is key for this brand, and with the Port, we set it up in several different scenarios connected to different equipment using the different connection options and it did not drop the ball once.
Just connect to an amp or receiver using the included RCA cable or a compatible digital coaxial cable.
Power up in the normal way, open the app, add the Port from the list, connect to the building's Wi-Fi, add your streaming services and you should be ready to rock!
The most obvious function for the Port is bringing in more zones and more grunt to a Sonos system. Sonos speakers for the price do OK – perhaps a little more OK, with speakers like the Play:5 – but they are never going to be a match for a serious bit of Hi-Fi.
We achieved some seriously impressive results when we added the Port to EI's in-house system which comprises of a Lyngdorf TDAi 2170 Integrated Stereo Amplifier driving a Lyngdorf BW-2 sub and two Lyngdorf MH-2s.
There is the opportunity to bring in legacy CD collections or music stored on hard drives, and some people will want to do that.
However, despite having a large CD collection available, whilst playing with the Port, we never felt that tempted. It just felt like a step back, especially as access to a Tidal account delivers access to pretty much everything (apart from the rarest tracks from EI's CD or vinyl collection) and in better quality, as many of the legacy records and CDs have seen better days.
Perhaps connecting a record player (it needs to have a phono pre-amp) will be the most popular option of this type, as vinyl fans tend to be more attached to their discs, and the turntable that plays them, than CDs and CD players.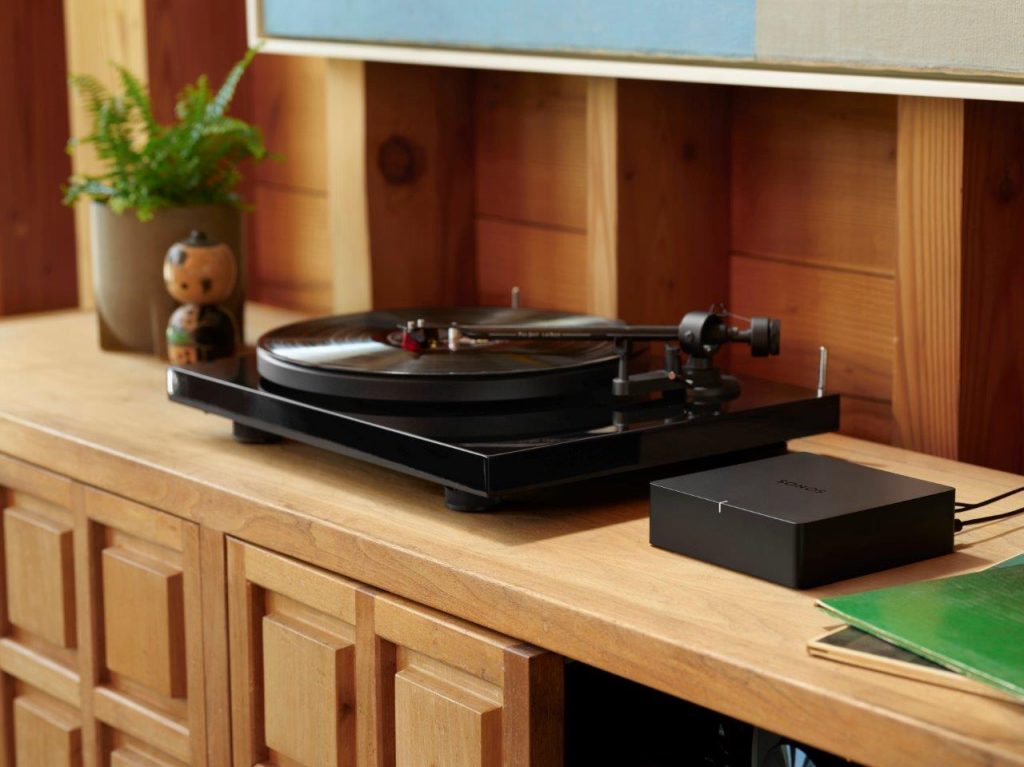 Both these options are achieved by using the included RCA cable to connect to the Port's line-in connection. You open the Sonos app and select 'line-in' under Browse, then start the turntable or press play on the CD player to start listening and control the audio via the Sonos app.
Other tricks you can try include steaming music from an iOS device by selecting Port in the AirPlay menu. Users can still change songs and adjust volume from within the Sonos app too.
The 12V trigger option works well waking up any connected amp on pressing play within the Sonos app, and it's also worth noting that the speed of switching between playback options and tracks happens at a decent speed. When connected to our Lyngdorf amp, changing playback was particularly slick and fuss-free.
More functionality
For wider integration, Sonos is highlighting its compatibility with the Control4 platform.
Unfortunately, we were not able to test this aspect of the product, but Sonos says it is certified by its Works with Sonos program, and that there is full access to all the Sonos functionality from within the Control4 environment, and so Sonos can be part of macro scenarios via Control4.
Another function worth noting is autoplay via the line-in connection. Go to Room settings in the app and select Port, and you then have the options to enable auto playing and automatic grouping when Port detects a line-in signal.
The port has an improved DAC over its predecessor, so there is a definitely an uptick in sound quality, particularly when the connected system has little ability of its own in boosting or EQing sound.
Many users report a particular improvement with better/deeper bass, and we noticed vocals were strong too; particularly female vocals operating in the mid to high range.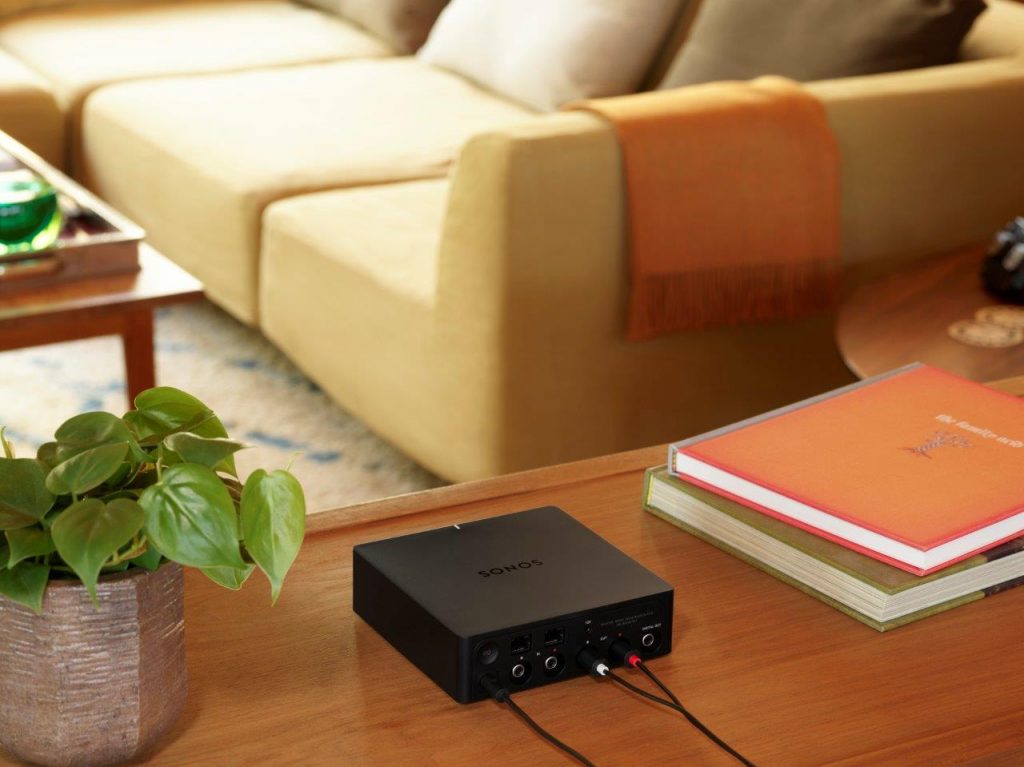 The Port has its own EQ settings for adjusting bass, treble, balance, or loudness. The usefulness of this function depends on what the Port is connected to.
Something without its own abilities in this area, like a turntable, benefits from a little more warmth and audio focus; however, if it's anything really serious, then you might as well use the EQ available in an AVR or amp, as these tend to trump what the Port can offer.
Other notable and useful features include a volume limiter within the app, which is handy if it's going into a teenager's room. You also have the option to control volume from within the app or externally.
If the Wi-Fi signal is weak, the ethernet port enables the product to be connected directly to a router. In this instance, the Wi-Fi on the Port can be turned off completely.
Some consumers have raised an eyebrow over the cost (currently £399 on the Sonos store). However, from an installer's point of view, this is less of an issue as the Port is all about the 'sell' offering more options for connection to superior equipment.
Set up right and with the right customers, the benefits are going to feel easily worth the price if it's a simple upgrade, and particularly worth it as part of a new multi-room system.
There are products out there that will get your legacy Hi-Fi online, and maybe even do it a bit better than Port, but this product has one big advantage: it's part of an echo system that is dominant in the market and provides an easy shorthand that consumers understand.
Also, the real key here is not to just connect legacy equipment; sell some meaty new AV too that can become part of larger Sonos system.
The port is also a great way of introducing younger customers, who have perhaps grown up with convenience as their king, to high-quality playback and convenience in one package.
In short, the Sonos Port is a very sure-footed addition to the Sonos universe. It's compact, reliable and genuinely does open up a whole new realm of possibilities for the Sonos user and installer. Well worth a look.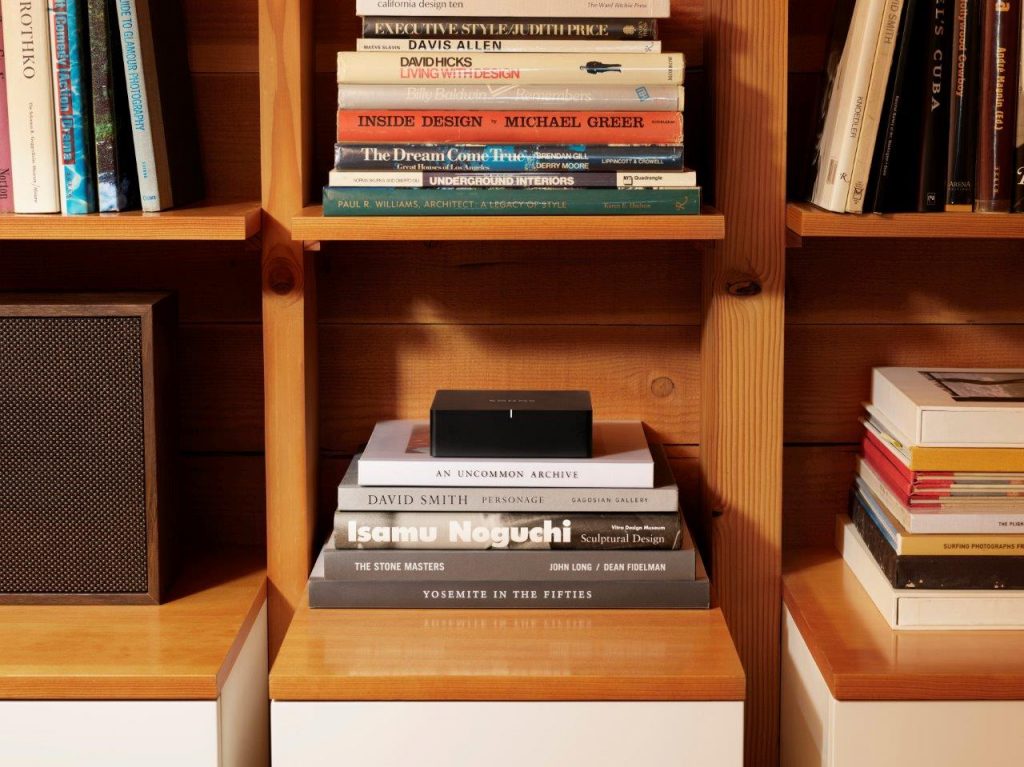 Technical specs
Physical
Dimensions – H x W x D 1.6 x 5.4 x 5.4 inches (41 x 138 x 138 mm)
Product Finish
Matte black
Weight
1.04 lbs (0.472 kg)
Light
LED indicates status.
Power and Networking Power Supply
Auto-switching 100-240 V, 50-60 Hz AC universal input.
Ethernet port
Two 10/100 Mbps Ethernet port. Wire directly to your router if Wi-Fi is unreliable.
Wireless Connectivity
Supports any 802.11 b/g, 2.4 GHz broadcast-capable router.
Apple AirPlay 2
Works with AirPlay 2 on Apple devices iOS 11.4 and later.
System requirements
Amplified audio equipment with analogue or digital audio inputs, or an audio source with audio output.