You can get a smart oven, smart vacuum cleaner and smart mirror, but arguably the most important device in your house that should be given the 'smart' treatment is your home security system. After all, what's the use of a simple alarm if it relies on your neighbours calling the police, or if you live in the middle of nowhere, simply just annoying the burglar?
Thankfully, a plethora of smart security systems have entered the market in the last few years, although very few products are actually available in the UK. Want the Nest Secure or Ring Alarm? Sadly, you're out of luck. There is a sign of hope, however, as US firm SimpliSafe has finally brought its DIY home security solution to our shores, and, spoiler alert, it may just be the best option Brits have to secure their home.
What Is SimpliSafe?
SimpliSafe is a home security system that doesn't require professional installation. It's sold in a variety of special bundles that offer everything from basic protection to a secure bubble that can match Fort Knox. Those bundles are rather affordable, ranging in price from the starter collection, which has an RRP of £279, all the way up to the Bamburgh collection for £454. Included within the Bamburgh bundle is everything from a glass break sensor to a panic button, while the starter kit simply includes the keypad, a single motion sensor and entry sensor, an HD video camera, and the alarm itself.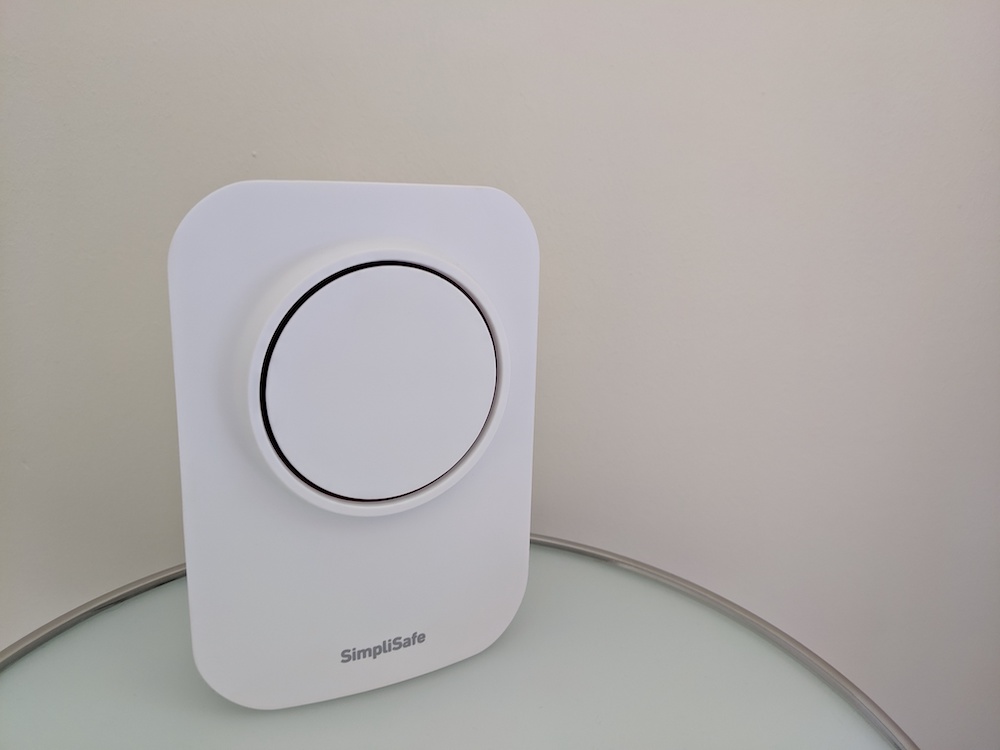 While it may seem restrictive to sell its products in bundles, SimpliSafe is offering consumers an easy way to get started, and if needs be, expand the system to fit their needs at a later date. For those who already know what system they want, the company does offer a build your own package, where you can specify everything to your home's exact needs. Whatever option you go for, SimpliSafe offers a full 60-day moneyback guarantee, and it'll even pick up the tab for return shipping.
Design
Home security is hardly ever meant to be the sexiest product category in the smart home sector, but that hasn't stopped SimpliSafe from crafting an incredibly elegant line-up of products.
Arguably the star of SimpliSafe's line-up is the base station itself. Given that this is the device that will be most on show, it's certainly a relief that it doesn't stick out like a sore thumb. In fact, the base station has been specifically designed to blend into the background, and is available in either obsidian black or cloud white. The narrow, cylindrical device comes equipped with a subtle ring near the base to show you the alarm's status; if this ring is illuminated with a solid blue light, your alarm is armed in either home or away mode. If there's no light, then your system is disarmed.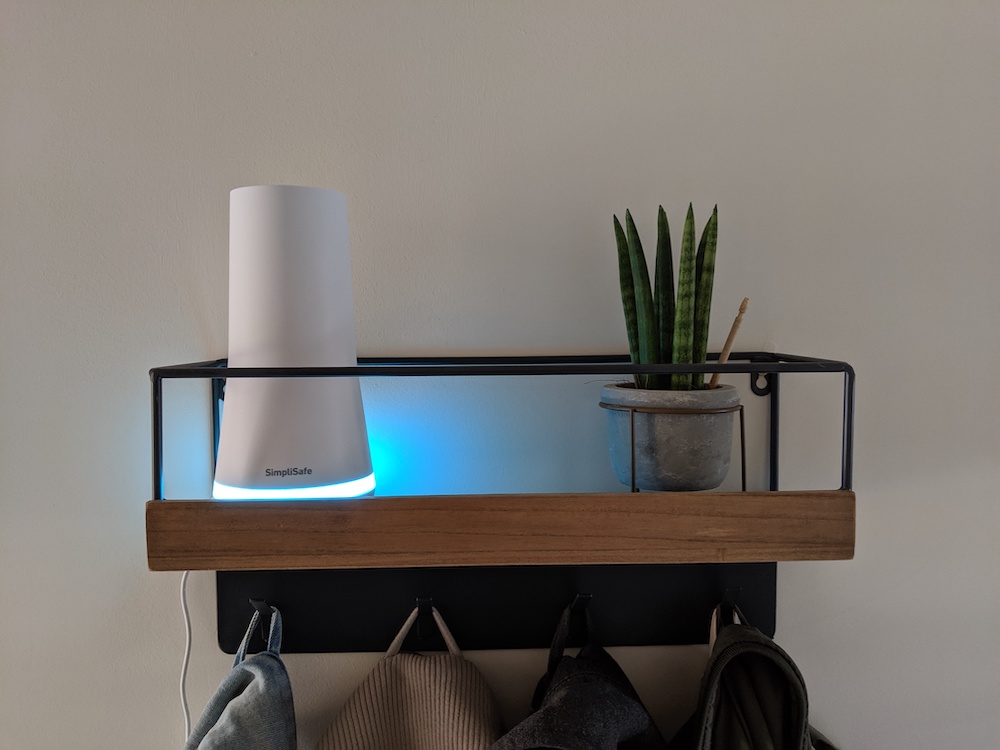 Unlike the Nest Secure and Ring Alarm, the base station is something you're not going to really have to interact with. In fact, its primary function is providing the alarm sound, so you're best off placing this away from pets, and in a room where it would alert you or your neighbours. Instead, the device that you will interact with is the keypad, and this is arguably my favourite thing about SimpliSafe.
While the SimpliSafe base station requires mains power, the keypad does not. Instead it takes simple AA batteries and can be placed wherever is most convenient. That's incredibly useful given mains power isn't always available near your main entry point, while this is also the device you use to set up all the others, and its portability makes that a piece of cake.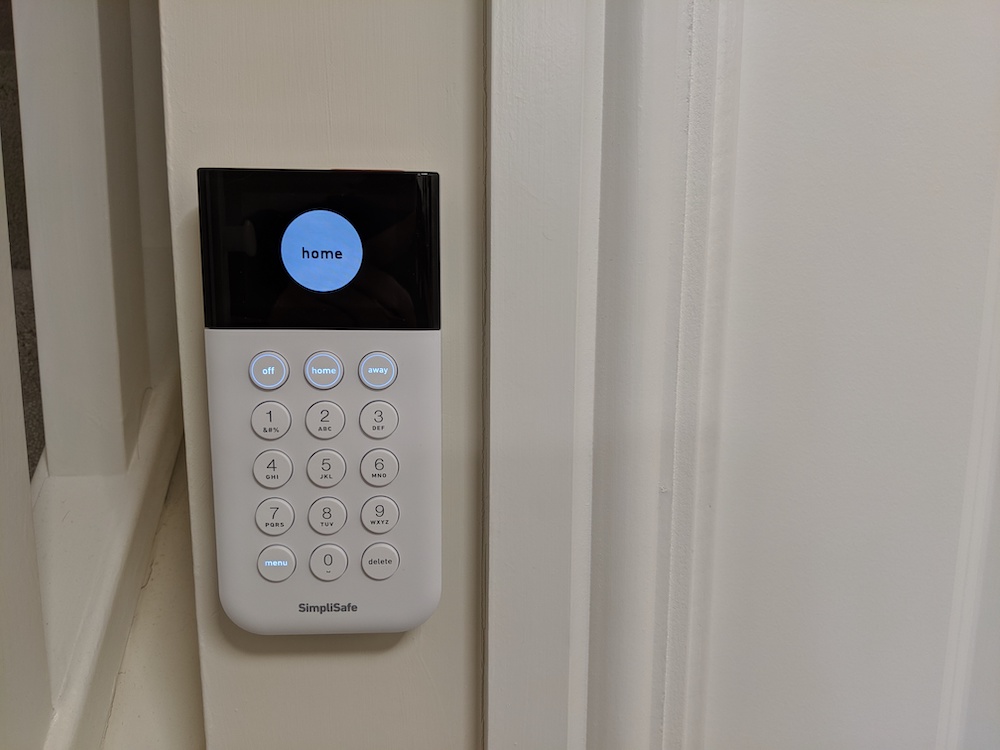 The other devices in the SimpliSafe line-up are pretty much what you would expect, they're unobtrusive and functional. The sensors are all relatively small, while the HD camera is rather basic. In fact, it's the only product that you could argue looks rather bland, especially when compared to other indoor cameras on the market, although I did like the fact that there was an automatic shutter covering the lens. On the opposite end of the spectrum, I fell in love with the keyfob for its simple design and premium-feeling materials.
If there was to be one area of criticism for the design of the SimpliSafe system, it would be regarding the sticky backs that the sensors ship with. These appear to be fine on first installation, but I had one of the entry sensors fall off the door and it caused the alarm to trigger. More on that later.
How Easy Is It To Install?
There's a reason SimpliSafe is called what it is, as installing it is super simple. Once you've plugged the base station in, it'll light up to tell you it's ready to go. Then it's just a matter of turning on the keypad and setting up your master PIN. From there, the keypad will guide you in the set-up of all your other home security devices, which can be done by pressing the small 'test' button on each sensor. You're able to give each sensor its own unique name, which is useful for knowing which device triggered the alarm.
After everything is set-up, you just need to click done, and that's it. It really is that simple. I was able to set everything up in less than 30 minutes, and was even able to give the alarm a test, and believe me it's more than loud enough – especially when you get the extra 105dB siren.
While the initial set-up was an easy process, it wasn't immediately clear how to connect the system to the smartphone app. In fact, it took trial and error before I managed to figure it out – and it turns out you need to input your credit card details before setting up the system. That's because the smart features of the SimpliSafe system require a subscription, although that may not be immediately obvious. Thankfully, you'll get a one-month free trial to decide whether or not it's worth the cost.
Smart Features
Let's get this out of the way quickly, SimpliSafe lacks many of the smart features that readers of Essential Install would like to see. Namely, it isn't compatible with most third-party home automation systems; there's no Crestron, Control4, Savant, HomeKit, or even IFTTT support. For me, that's a huge disappointment as I would have liked to have been able to hook up the Away mode on the SimpliSafe with my numerous other devices – which includes Arlo and Nest security cameras.
Thankfully, SimpliSafe is not completely devoid of smart home functionality and if you control your home using either Amazon's Alexa or the Google Assistant, you'll actually find it rather well equipped. You can ask either assistant to arm the alarm, although there's no disarming right now – for obvious reasons. The system is also compatible with Nest, although now that Google has shuttered Works With Nest, that won't stick around for very long.
There are other areas where SimpliSafe is extremely smart, especially considering some of its competition. Using the SimpliSafe app you're able to check in on the SimpliCam cameras, while you're also able to arm and disarm remotely as needed. What's more, if you need to add custom PINs or change your security system's settings, that can also all be done in the app.
All those features have a downside, and one that you'll have to weigh up. For me, the ability to remotely manage my alarm is invaluable – but also one I expect to be included free of charge. The Nest Secure in the US can be completely managed from the Nest app without needing to pay a subscription charge, but SimpliSafe makes it a requirement. It would have been better to see the subscription charged based on additional features – such as monitoring and cellular connectivity, rather than bundling everything together with remote control functionality.
In terms of subscription costs, SimpliSafe offers two levels – Pro and Pro Premium. The Pro plan gets you the 24/7 monitoring and cellular connectivity, while the most expensive Pro Premium adds the smart features, alongside text alerts, 24/7 cloud video recording, and even police dispatch. Yes, you read that right – SimpliSafe offers police dispatch. That's something you won't get with the majority of home security systems in the UK.
Given the price of £12.99 for the Pro plan and £19.99 for Pro Premium, I'm not sure whether the 'smart' features are worth the extra cost. Both are affordable, but, as I've said before, I would rather lose cellular connectivity and monitoring, and be able to manage my own alarm remotely; alas that's not possible here. For that reason alone, I'd opt for the Pro Premium plan, or opt for the Nest Secure when it finally arrives in the UK. Those who do opt for a subscription plan don't need to worry about being locked in for a minimum contract, so that's also a bonus.
Is It A Good Security System?
Whether it's a smart alarm or a standard alarm, the most important thing about any security system is that it actually keeps your property secure and that you feel safe at all times. At no point during my review of SimpliSafe did I feel unsafe. The system features audible alerts upon a change of status and the LED surrounding the base station gives you peace of mind at a glance. The system can even make a sound every time an entry sensor is triggered, even if the system is disarmed – giving you the confidence that the system is always working.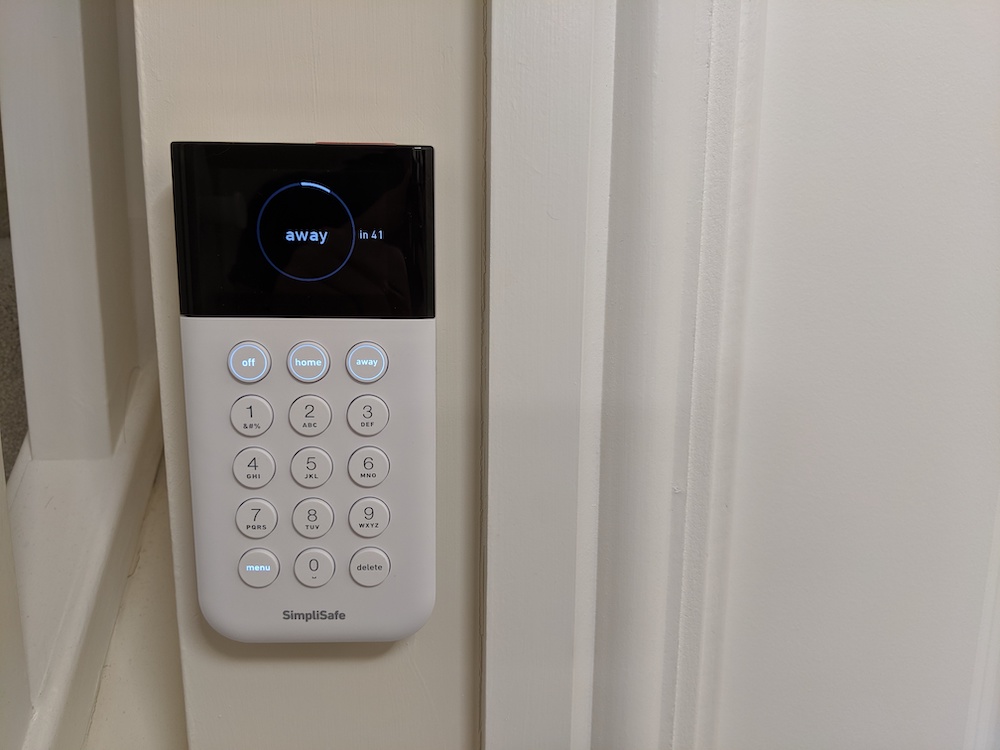 To further reinforce my point that the system actually keeps you secure, during the course of my review the alarm actually triggered. Unfortunately, it triggered after midnight and woke up my neighbours, but it was at this point that I got to see the monitoring in action. I received a phone call from SimpliSafe's partners, Securitas, which I somehow missed. This then went through to subsequent keyholders, who happened to also miss the call. I guess I need to get better keyholders?
Thankfully, within the SimpliSafe app you're able to activate visual confirmation using the HD cameras. That means those monitoring the alarm will be able to see the live stream of the cameras and verify if there's been a break-in. Activating this feature is what allows the police to be called out and reduces the chances of a false alarm. Given there wasn't actually a break-in, no police were called out, but we did have a security officer from Securitas turn up to look around (as you can see from the video below).
I'm really pleased by the visual confirmation feature, although it only works with the SimpliCam. Considering in the UK we only have the indoor cameras available, it would be nice if you could link third-party cameras to the system. I have several Nest cameras dotted around the outside of my house and that could provide a better blanket coverage of any potential break-in.
Thankfully, this call-out was a false alarm, although it's one that shouldn't have happened. My front door sensor had become unstuck during the heatwave that has been battering the UK over the last few days. I've seen reports in the past about the sticky material on the SimpliSafe not being adequate, and I would echo those concerns.
How Does SimpliSafe Compare?
SimpliSafe offers 24/7 monitoring, police response and a number of smart home features, and that's something that is quite hard to come by in the UK. The closest competition is ADT Smart Home, which has both a higher upfront cost, as well as a higher monthly subscription fee.
If aesthetics is important, the ADT Smart Home system doesn't even come close to SimpliSafe in terms of design. Admittedly, I prefer the look of ADT's camera, and it also works outside unlike the SimpliCam, but its keypad is winning no design awards anytime soon. Coupled with the fact that even the disappointing integrations supported by SimpliSafe outstrip those offered by ADT, and you'll see why we're big fans of the SimpliSafe system.
One area where both SimpliSafe and ADT are matched are in their app designs, and that's not really a good thing. Both apps need more work, and in SimpliSafe's case it's a shame that the app design lets down the aesthetically pleasing hardware. It did improve during the course of my review, thanks to a few software updates, but I still don't think it holds a candle to the design of the Nest app, for example.
Is It Worth Buying?
Without a doubt SimpliSafe is the best option available to Brits who want a simple security system that won't break the bank. There are areas that I wasn't completely enamoured by it, namely the lack of compatibility with home automation systems, the forced subscription for any smart home features, and the included sticky back causing a false trigger at just after midnight was a little bit of an annoyance. However, there's a lot to love here. It's simple, it's aesthetically pleasing and it offers police response – which isn't exactly a ubiquitous feature on alarms.
Do I think you should buy it? Well, it depends. If you want professional monitoring and simple set-up, then yes. I think you simply couldn't go wrong with SimpliSafe. If you're someone who prefers monitoring your own home security, then SimpliSafe probably isn't for you. Instead, maybe use a combination of Nest security cameras, wait for the Nest Secure, or opt for something like Somfy.
Verdict
Easy set-up
24/7 monitoring with police response
Modern design
Alexa and Google Assistant support
Requires subscription for all smart features
Included sticky back not strong enough
Limited smart home capabilities