Surrey Hills Home Cinemas uses DbM's high-performance range to deliver home cinema and AV excellence.
With its latest installation, Guildford-based integrator, Surrey Hills Home Cinemas has created an exceptional cinematic experience within a beautifully renovated contemporary home in Wimbledon Village. Built on the audio power and finesse of Meridian Audio's Digital Signal Processing (DSP) loudspeakers in a High-Power Array (HPA), a Meridian patented technology, this home cinema also benefits from the picture brilliance of Barco's Digital Cinema Initiatives (DCI) compliant Freya+ 4K laser projector, a Display Technologies auto-masking screen, CAT-S acoustic treatment and a Trinnov Altitude 32 processor, all supplied by DbM.
Having longed for their own premium quality home cinema for 40 years, the client took the opportunity to build this dream room in a newly formed basement space on the property. Surrey Hills Home Cinemas were briefed to construct a cinema where the family could indulge their passion for action movies but equally find a comfortable place where they could relax and lose themselves in classical music performance.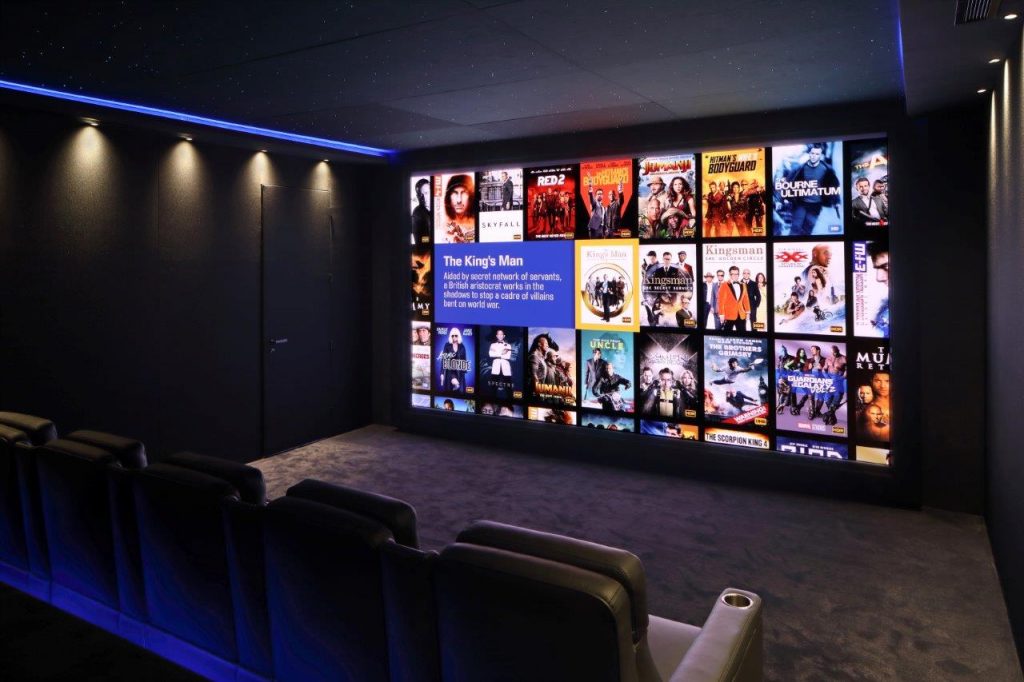 "This was our chance to build the ultimate home cinema and listening room for a client who'd always yearned for a magical, immersive experience," says Elliot Hicks from Surrey Hill Home Cinemas. "We knew the space would be used to enjoy a wide variety of content and needed to be able to perform to the highest standard, whether the family were watching Spielberg's 'Raiders of the Lost Ark' or listening to a Chopin piano recital. Whatever the selection, our job was to place them at the heart of the experience with the best seats in the house."
Audio performance was obviously key to meeting the client's expectations and, after listening to competing brands in a range of demos, the client selected Meridian. The team at Surrey Hills Home Cinemas then designed an environment where every component was specified and every detail considered to ensure the very best sound and video quality. The result is an incredible 11.8.8 HPA immersive 3D cinema powered by the latest Meridian DSP loudspeaker technology.
Eight DSP750 digital active architectural in-wall loudspeakers pack a significant audio punch along each side and from rear channels while a further nine DSP750s power the Left, Centre and Right HPA performance. Three Meridian Audio DSP730 digital active architectural in-wall loudspeakers were installed for the front left, centre and right height channels with an additional five DSP730s fitted to deliver in the overhead channels. Eight Meridian DSW600 digital active in-wall subwoofers give unbelievable depth, bass and resonance exclusively in the low-frequency effect (LFE) channel.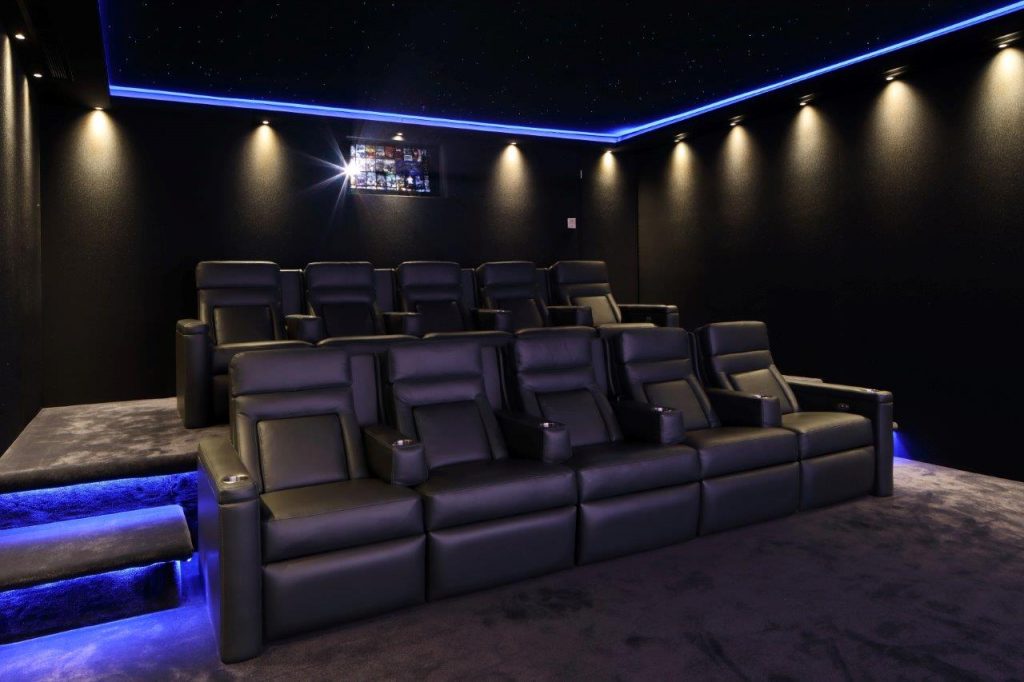 The DSP750s and DSP730s combine power and fidelity to provide both discretion and outstanding reference quality audio. The DSP750 delivers a maximum output of 120dB and bass extension down to 30Hz while the DSP730 provides 115dB and bass extension down to 38Hz. The DSW600 can handle bass-heavy music and movie soundtracks, delivering incredible, immersive audio with ease and perfect timing down to 24Hz.
Meridian's HPA technology optimises the output and coverage of sound when Meridian architectural loudspeakers are arranged in this type of close-proximity array configuration. It ensures that high SPL targets can be achieved across the entire listening region, without distortion. The HPA configuration ensures minimal interference and spectral variation between speakers, resulting in an even response so that every listener in the room can experience Meridian's signature high resolution sound and fidelity. It also allowed the Surrey Hills Home Cinemas team to maintain the 100mm mounting depth while no extra equipment was required in the rack to support the additional channels.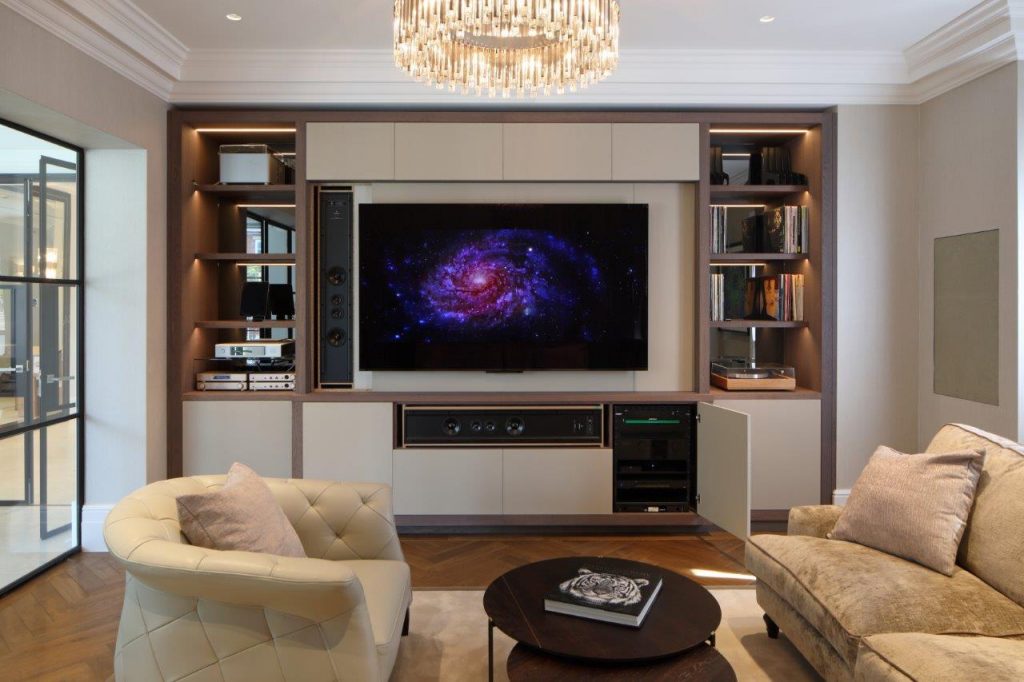 Bringing all this audio together are a Meridian Audio Digital Theatre 271 Controller which effortlessly integrate the loudspeakers to bring the authentic, natural and ultra-clear Meridian sound to life and a Trinnov Altitude 32 Processor, capable of handling Dolby Atmos, Auro 3D or DTS:X formats. Meanwhile, a Meridian 218 Zone Controller acts as an endpoint for Roon, the high-quality streaming service so the cinema can be used as a Hi-Res listening room.
Picture perfection
The exceptional picture is provided by a Barco Freya+ DCI projector, featuring the latest in native 4K DLP chipsets from Texas Instruments and the acclaimed Barco Alchemy ICMP (Integrated Cinema Media Processor). Installed on an XL Side Mirror Mount to save space in the cinema's rear projection and rack room, the Freya+ offers great contrast and a wider colour gamut at 13,500 ANSI Lumens. Surrey Hills Home Cinemas have fitted a Display Technologies Dynamic 2TB masking screen, measuring 4300mm wide and CAT-S sound diffusing and absorbing panels for acoustic treatment.
Elsewhere in the property, Meridian loudspeakers feature in eleven rooms, including a dedicated games room, gym and multiple living areas. Meridian DSP640.2 digital active in-wall loudspeakers provide left, centre and right audio either side of an 83" Sony OLED TV in the media room, combining with DSP320 in-ceiling speakers, another Meridian Digital Theatre 271 Controller and a Trinnov Altitude 16 Processor to deliver terrific surround sound impact. All loudspeakers connect with an easy-to-use Sonos whole-house audio system. In the study, a pair of Meridian DSP7200 floorstanding speakers, finished in piano black, provide authentic, high-quality sound of MQA recordings over Roon that's perfect again for the classical music lovers in the house.
Essential Kit List
2 x Digital Theatre 271 Controllers
9 x DSP750 for LCR HPA configuration (3 channels)
3 x DSP730 for front LCR height channels (3 channels)
8 x DSP750 for side and rear channels (8 channels)
5 x DSP730 for overhead channels (5 channels)
8 x DSW600 for LFE (8 channels)
1 x 218 for music listening via Roon
Trinnov Altitude 32 Processor
Barco Residential Freya+ DCI projector
Display Technologies Dynamic 2TB masking screen 4300mm wide, 1.78 ratio
XL Side Mirror Mount
CAT-S acoustic treatment
Kaleidescape Terra server
Panasonic UHD Player
Apple TV
Sky Q
Laserdisc
PS5 Playstation
Fortress Seating