JBL Synthesis Dolby Atmos surround system makes visitors a part of the movie at the Reference Sounds Experience Center.
In 2020, Reference Sounds – a Benelux distributor for a number of high-end audio manufacturers – began construction on its new Experience Center in Almere, the Netherlands. Designed to provide the company's dealers and other partners with the ultimate environment for experiencing its lineup of high-end audio products – while also showcasing its capabilities in delivering complete custom solutions – the showroom offers a variety of fully optimised rooms for stereo listening. Its crown jewel, however, is the Reference Sounds Cinema. Built in collaboration with Exult, the company's own interior builder, the six-seat home theater showcases Reference Sounds' expertise in acoustics and interior design, while highlighting the performance of JBL Synthesis cinema systems, which are at the core of the company's cinema portfolio. Here, visitors are treated to an immersive audio experience delivered by a JBL Synthesis 11.4.6 Dolby Atmos surround system.
Challenges
"Every good cinema is a tight collaboration between a number of elements — room dimensions, acoustics, visual aesthetics, viewing angles, and of course, well-engineered speakers and audio components that deliver the immersive sound that transports listeners into another dimension," says Michael Huigen, Founder of Reference Sounds. "Without sense-provoking sound, the visual spectacle of film is lost, so selecting the right audio equipment is vital. That's why Reference Sounds has been a proud distributor of JBL Synthesis for years. More than offering great products, the company provides perfectly coordinated systems that are instrumental in engineering the ultimate cinema.
"Not only do JBL Synthesis speakers provide well-controlled dispersion, but no other brand on the market so effortlessly reproduces the myriad of sounds in movies and soundtracks — from gunshots to flyovers. And there is really only one way to truly convey the power and immersive energy of JBL Synthesis systems to our dealers; they have to experience it for themselves in a home cinema. At the Reference Sounds Experience Center, they can do just that."
Solution
In the 21-channel theater, Reference Sounds is using three JBL 4349 2-way 12in Studio Monitor loudspeakers for the front right, left, and center channels. Eight SCL-4 2-way in-wall speakers are being used for the wides and surround channels, while six SCL-5 two-way in-ceiling speakers deliver the Dolby Atmos experience. For a seamless surround sound experience that covers the entire room, the SCL-4 and SCL-5 use the patented JBL 2409H 1in compression driver and 7in Advanced Aluminum Matrix cone woofers, while their High-Definition Imaging (HDI) horn ensures smooth dispersion. All speakers are hidden behind acoustic transparent fabric for a clean look.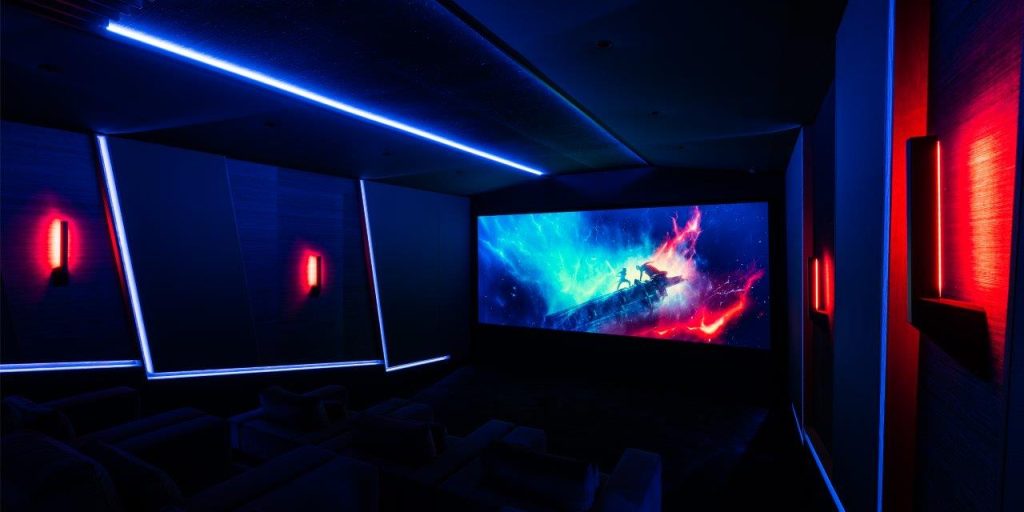 To deliver powerful bass, Reference Sounds is relying on four JBL Synthesis' SSW-2 dual 12in passive subwoofers, each placed on a special insulating platform in a different corner of the room. The system is completed by an SDP-75 immersive surround sound processor, three SDA-2200 Class G power amplifiers for the front channels, two SDA-7120 Class G power amplifiers for the surround and ceiling channels, and two SA4-D power amplifiers for the subwoofers. The company calibrated the surround system using the SDP-75's built-in room calibration function.
Results
"We are incredibly proud of the Reference Sounds Cinema, which is an absolute feat that merges technology, acoustics, and interior design into an enchanting audiovisual illusion," says Michael. "Everyone who's experienced it has been floored by the phenomenal audio performance. When you take a seat in the cinema, the sound doesn't just come from above, in front, or behind you — it actually happens to you. It's everywhere and delivers an emotional impact that truly makes you a part of the movie. This is a direct result of the quality of JBL Synthesis audio components, speaker placement, calibration, and room acoustics. Our Experience Center opened in 2021, and it's no surprise that the Reference Sounds Cinema has become the star of the show. It's proven to be a powerful tool in demonstrating to our dealers just what JBL Synthesis is capable of."
Essential Kit List
1 x JBL Synthesis SDP-75 immersive surround sound processor
3 x JBL Synthesis SDA-2200 Class G power amplifiers
2 x JBL Synthesis SDA-7120 7-channel Class G power amplifiers
4 x JBL Synthesis SSW-2 dual 12in passive subwoofers
2 x JBL SA4-D 4-channel power amplifier
3 x JBL 4349 2-way 12in Studio Monitor loudspeakers\
8 x JBL Synthesis SCL-4 2-way 7in-wall loudspeakers
6 x JBL Synthesis SCL-5 2-way 7in in-ceiling loudspeakers