The ability to control ambient and artificial light is one of the best and most effective ways to create a comfortable and efficient home environment. Here, Glen Krise, Managing Director at Megaman explores the benefits of smart lighting systems and the ways in which installers can get their customers excited about smart lighting technology.  
Lighting has long evolved from being merely a functional requirement of a home. Instead, it has become an interior design feature in its own right, helping to transform the look of a domestic space and as well as how it is used.
Smart home technology has had a huge impact on this, affecting both development within the lighting sector as well as many other household products. Whether it's smart door locks, heating systems or lighting that is required, the demand from consumers for smart technology is ever-increasing. Indeed, in 2019 an estimated £10.8 billion was spent on smart home devices or applications.
While smart lighting systems represent a great sales opportunity, before recommending a system to a customer, it is first important to be aware of the various misconceptions that can exist around them.
Some homeowners may be put off by the idea that installing smart lighting requires a significant amount of upheaval, such as a complete or partial domestic rewire or replacement of existing systems.
This is incorrect, for there are now smart lighting products available that can be easily retrofitted alongside an existing system. For example, dimming and mains switch modules can be easily wired behind pre-existing light switches to enable the control of a whole lighting system – without changing any existing bulbs or fixtures. Alternatively, for smaller scale applications there is also the option of using smart bulbs that fit into existing sockets for an easy smart conversion.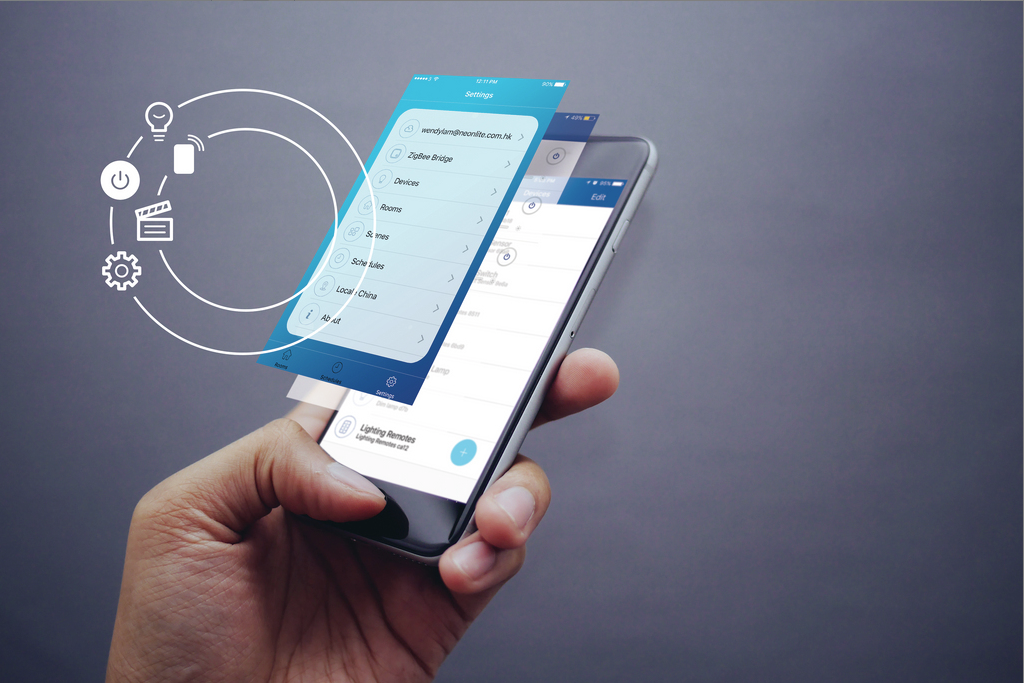 Another common misconception is that smart lighting systems are fairly limited, simply enabling the user to switch lights on and off using their smart phone or via voice command. In reality, that is not the case and there are instead a range of benefits and experiences that can be achieved by installing smart lighting within a home.
Customisation is one of the biggest selling points. As a modern consumer-based society, customisation of a product or service is very attractive to buyers who put value on an item that is unique to them. With smart lighting systems, such as Megaman's INGENIUM ZB, brightness and colour temperature can be wirelessly adjusted to suit the use and desired mood of an interior space. 
For example, bedroom lighting can be programmed to switch on in the morning, with gradual colour temperature and brightness adjustments, to help occupants wake up as an alternative to an alarm clock.
It is also possible to create and programme different lighting mood scenes for any occasion or desired ambience; such as a soft, warm light for a relaxed evening meal, a bright, natural light for a dressing room space or inter-changing coloured lighting for a family celebration. The possibilities are endless, allowing homeowners to transform and customise an interior space in countless different ways, depending on how they use it.
Another element of smart lighting systems that is worthwhile promoting to your customers is the energy efficiency benefits such a system can offer. It is estimated that lighting accounts for 15% of a typical household's electricity bill, making up a sizable portion of a homeowner's monthly outgoings. Used correctly, smart lighting systems can increase efficiency and offer real cost savings.
One way to do so, is through the use of occupancy sensors. These can allow a smart system to detect when an individual is present and automate the activation of lighting. Likewise, when a room is not in use, the lights can be set to automatically dim or switch off completely – preventing lights from being left on unnecessarily and saving energy as a result.
Recommending the installation of daylight sensors, particularly for larger rooms or spaces, is another way to prevent homeowners paying for unnecessary energy usage. These intelligent sensors automatically and continually adjust the connected lighting levels in accordance with the amount of natural daylight present, delivering significant energy savings as a result. Not only this, but it can also help to create a better, more comfortable environment, with the lighting always at the most appropriate level and ensuring the maximum use of natural light where possible. 

However, the integration of smart lighting systems like these is only possible where products have been designed with wide ranging compatibility. Realising the importance of this, leading manufacturers of smart and connected products in a range of different sectors are engineering systems that are compatible with several protocols and all major smart automation systems to help ensure seamless integration.
Without this cross-protocol compatibility, installers may find that it is not possible to get a customer's existing or new smart technology products to work together and integration is the key to a connected home.
The benefits that integrated smart lighting systems and products can bring to the home are clear. Not only is smart lighting far more convenient, allowing homeowners to control their lighting remotely, as well as pre-set various timings and modes, but it is also customisable, helping people to get more out of their interior spaces.
If that isn't enough to convince your customer, the potential energy savings should, as smart lighting systems can have a significant effect, not just on the energy efficiency and environmental credentials of a property, but also on a homeowner's monthly energy bills.