Our trusted trade focused reviewer, Richard Stevenson, takes on the challenge of assessing Denon's flagship AVC-A1H AVR.
It's been a while since we have seen a new flagship 'A1' AV amp from Denon, the last one appearing back in 2007. While the interim years have seen plenty of good mid-market AVRs from the brand, the new AVC-A1H is back to Denon's big, bold and boisterous best; massively powerful, packed with features, oozing with CI integration flexibility and sounding superb.
Tipping the scales over 32kg, thanks ostensibly to 11.5kg of a transformer, cast iron feet and chassis structure that could probably pass building regs, the headlines include 19 channel processing and 15 channels of amplification at a claimed 150Wpc full-range into 8ohms. That affords almost any combination of speaker array across up to three zones or the full 9.4.6 / 7.4.8 experience in a main room. Yes, that is four independent subwoofer channels with individual EQ as part of the on-board Audyssey MultEQ-XT32 room EQ system, which itself can be upgraded to the full-range Audyssey Mult-EQ-X for a $199 licence fee.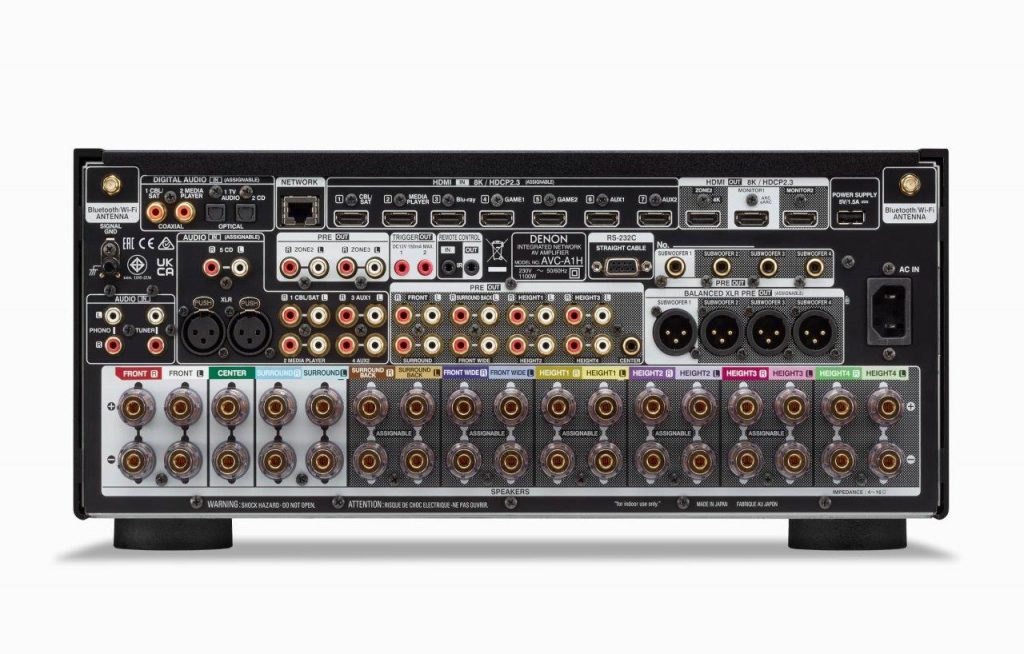 If Audyssey is not your EQ of choice, the AVC-A1H can also run Dirac Live as an alternative. This is offered from Dirac in limited and full bandwidth versions to run on a PC, priced at $259 and $349 respectively. Either Audyssey or Dirac Live upgrade is a worthy investment in performance, and equally useful that both systems allow you to easily demonstrate the room EQ curves and graphs to customers.
In addition to a very nice, all-metal back-lit remote, control integration is about as flexible as it gets offering bi-directional command over IP, RS232 or web UI. The command list is extensive, enabling fairly straightforward integration with the likes of AMX, Control4, Crestron etc. There is a password-protected "Advanced Setup" menu that provides CI-friendly setup options remotely via the web UI. At time of this review, Dirac control over remote interface was yet to be added but it is firmly on the road map. For US installations only, the AVC-A1H can also incorporate Josh.ai voice control.
The feature list is extensive, covering 8K and 4K/120 video inputs with 8K upscaling with the latest spec HDMI terminals throughout. Alongside you get Dolby Atmos, DTS-X Pro, IMAX, Auro 3D and 360 Reality Audio sound processing, and both AirPlay2 and Denon's HEOS high-res audio music streaming platforms are on-board.
Connectivity is a function of the real estate of the back panel and may not be ideally suited to systems trying to integrate legacy devices. While seven HDMI inputs and three out will handle a lot of modern sources distributed to three zones, component and composite connections video have got the chop, there is no analogue multi-channel input and, unusually, no front-mounted inputs.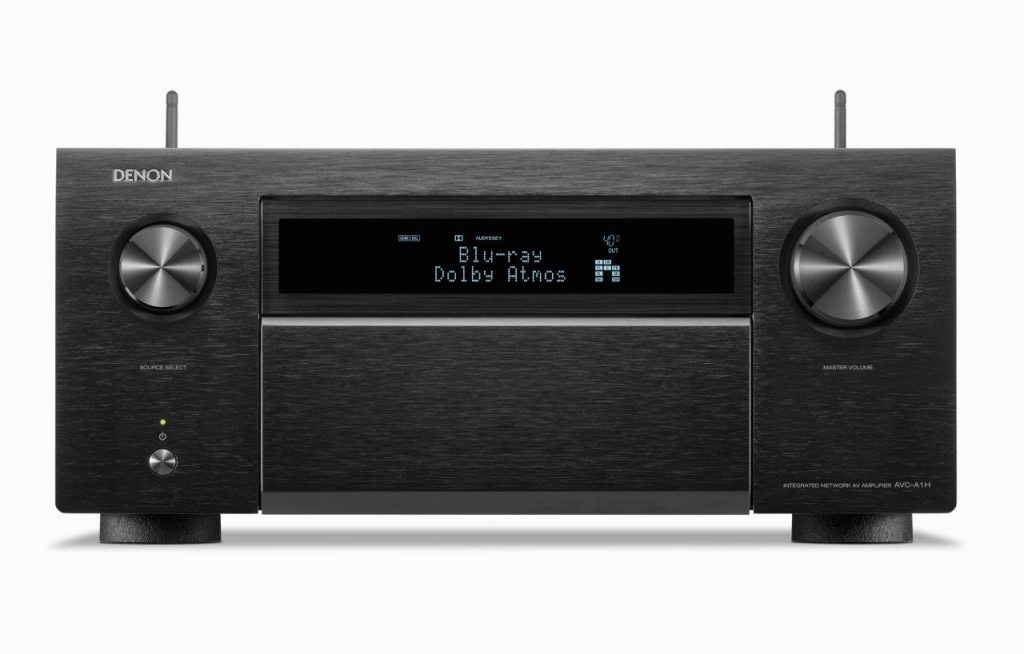 Build quality is outstanding throughout, from the overall solidity to the gold-plated connections and Denon's own very high-spec binding posts and a host of internal audio engineering delights that could make a 2000-word article in their own right. The freestanding format will require a substantially strong rack shelf and space for adequate ventilation and the amps are Class A/B and get very toasty when driven hard in normal (non-Eco) mode. Six fans run along the underside of the chassis, engaging when things get really hot, so a vented shelf and low rack position may be a wise idea if you don't have any rack cooling specified for the installation.
Interestingly, the machine's dual WiFi/Bluetooth antennas will increase the height clearance required by a few centimetres, but I found they worked just as well facing down behind the panel if you have a strong WiFi signal.
Set-up using the standard remote control and GUI, on-board Audyssey MultEQXT-32 and the supplied mic with its nifty cardboard stand is delightfully logical and blissfully speedy. A full eight-setting position sweep takes about 20-minutes, with a couple of minutes of processing time on top. Channel balances and speaker distances were spot on. Running MultEQ-X or Dirac Live will take a while longer to run the software on a laptop, do the sweeps and then upload the data from the laptop to the AVC-A1H over the network.
Results
The result is one of the fastest, most dynamic and most engaging multi-channel sounds I have heard in my 7.1.4 Dali Phantom/B&W DB1D system. Dialogue is incredibly crisp and intelligible through the AT screen that can often confound EQ systems, and the resolution of individual detail across the object-based audio formats is frankly breathtaking. Ramp up the volume and that enormous power supply ever sounds overwhelmed, with the SPL swelling with sumptuous smoothness.
Switching back to my own Marantz AVP-8805a processor and MM8807 power amps was night-and-day, with the Maranzt set-up sounding rather too warm and cuddly, and a bit pedestrian by comparison. Dammit. The Denon has an urgency and precision in its sound that is wholly addictive irrespective of the content you play, handling daytime TV and Top Gun Maverick with suitably gauged aplomb. I'd say it had a small penchant for big blockbusters and big explosions, but as almost every Denon AVR I have ever reviewed over the last three decades liked a 'bit of action' – I'd have been very disappointed if the AVC-A1H didn't!
A week of Netflix, Prime, Disney and Blu-rays with the Denon and the only conclusion can be that the nearly 16-year gap between Denon's last A1 and the new AVC-A1H has been very much worth the wait. If the install project can accommodate the size, weight and cooling requirements, the AVC-A1H is a class-leading integrated AV amplifier.