CAVD are delighted to announce that they will now represent Theory Audio Design (Theory) in the UK. The California-based manufacturer produces high-powered integrated audio systems that are receiving rave reviews worldwide. Based around streamlined soundbars, multi-use loudspeakers, subwoofers, and soon to be announced architectural products – all powered by compact amplified loudspeaker controllers, Theory achieves a level of performance far beyond the systems' discreet footprint.
The solution is perfect for delivering an immersive multi-channel experience in a media room. Especially those with a large format TV display or video wall, and where space is at a premium.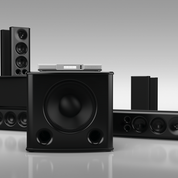 The current Theory product line includes three soundbars designed to complement 65in, 75in and 85in TV screens. All models are armed with hi-tech carbon fibre woofers and compression HF drivers and can deliver up to an impressive 124dB. These specifications will effortlessly meet any high SPL targets in a typical residential space.
Other products in the line-up include a multi-use surface-mount loudspeaker, 12in and 15in in-room subwoofers, and, the secret sauce of every Theory system, the ALC-1809 Amplified Loudspeaker Controller. In the second half of 2021, Theory will introduce an entire line of architectural loudspeakers and subwoofers ideal for residential and commercial surround sound and distributed audio applications.
Jamie Pullen of CAVD says "We cannot wait to show our integrators what this sound system can do. When I saw and heard Theory at the CEDIA Expo it was the most exciting product I had experienced in a long time, and still is."
"We introduced Theory in 2020 on a simple promise: to deliver the best performance available in every product category we enter. Early market and reviewer feedback confirms that we are delivering on that promise, and we are thrilled to partner with CAVD to further our success within the UK," comments Paul Hales, President and Product Designer for Theory Audio Design and sister brand, Pro Audio Technology (PRO).