With its new AX PRO wireless security system, industry-leader Hikvision delivers a comprehensive, cutting-edge suite of smart technology products that is easily installed, flexibly managed and truly scalable by design.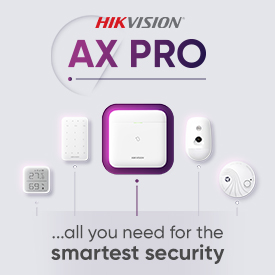 AX PRO is based around a central hub panel which wirelessly connects and controls an extensive range of security products, including PIR and PIRCAM detectors, and water, smoke, window, and door sensors and more. CCTV, intercom and access control systems can also be integrated with AX PRO's hub panel and managed via software or Hik-ProConnect.
All components feature the latest long-range wireless technology and incorporate leading security protocols to ensure high performance and system safety.
AX PRO offers users and installers multiple system management options, including control via the Hik-Connect mobile app, and the capability to link directly to an Alarm Receiving Centre for full professional security monitoring and response.
Impressive features
AX PRO boasts numerous impressive features, including Hikvision Tri-X Technology, IVaaS (Intruder Verification as a Service), app compatibility and a slick design.
Each feature has been developed with both the installer and user in mind, making installation a breeze, while functionality and the user interface is reliable and straightforward.
AX PRO supports up to 96 wireless devices and features a wireless range of up to 2km, making it fully adaptive for almost any premises, and configurable to face any installation challenge.
Alongside the panel, Hikvision has also developed an extensive range of detectors and peripherals to tailor the system to all installation requirements.
Multiple wireless detection options
The range includes a variety of detectors and sensors to cater for every setting, such as combined PIR and Breakglass, and Dual Technology, as well as panic buttons and door contacts. Whatever the need, there's a wireless detection option.
This even includes the Wireless PIR-Camera Detector (PIRCAM), which delivers a 12-metre detection range, infrared LED Illumination for night vision capabilities, internal memory buffer for snapshots and an 800m long-distance wireless protocol range. There is even a ColorVu PIRCAM model now available which can provide full colour images in complete darkness.
Integrate for automation
With AX PRO, Hikvision introduces the Relay Module and Wall Switch, allowing any desired automation options to be added to the system. By expanding the system's capabilities beyond security, installations now have greater flexibility to deliver the systems that customers desire.
Direct control is possible via keyfob, wireless keypad and the Hik-Connect app. Users can also configure automation schedules.
Peripherals for every purpose
Built with practicality in mind, Hikvision has created a wide range of peripherals to both maximise user safety and assist with day-to-day activities. Devices include static and portable panic button options to keep occupants safe, while the wireless keypad or ergonomic keyfob provide multiple control options.
AX PRO is fully compatible with Hik-ProConnect, which delivers full installer configuration and provides sensor and system health monitoring at any time. Installers can also configure AX PRO for monitoring by an ARC for full professional alarm response.
Ease of use, high performance
Hikvision UK & Ireland sales director Gary Harmer says AX PRO has been designed for both ease of use and high performance.
"The thinking behind AX PRO was that we wanted to harness the best of today's technology developments and utilise them in a stable, reliable system which would provide protection for homes, businesses and other premises," he says.
"AX PRO offers proven wireless stability, a wide range of world-class products, and ease-of-use for both installers and end users. Because the system is wireless, it can be easily configured and adapted to any application, protecting people and property, preventing intrusion, and sending relevant images and video clips to the user's app or their Alarm Receiving Centre.
"Installers are also able to integrate CCTV, access and intercoms with AX PRO to create a truly powerful security 360-degree security offering."