Focal presents the Littora line of speaker drivers for yachts and spaces located in coastal and wet environments. Fitting discreetly into walls and ceilings, both indoors and outdoors, these products deliver a high sound quality outdoors, while blending into their surroundings, says the maker.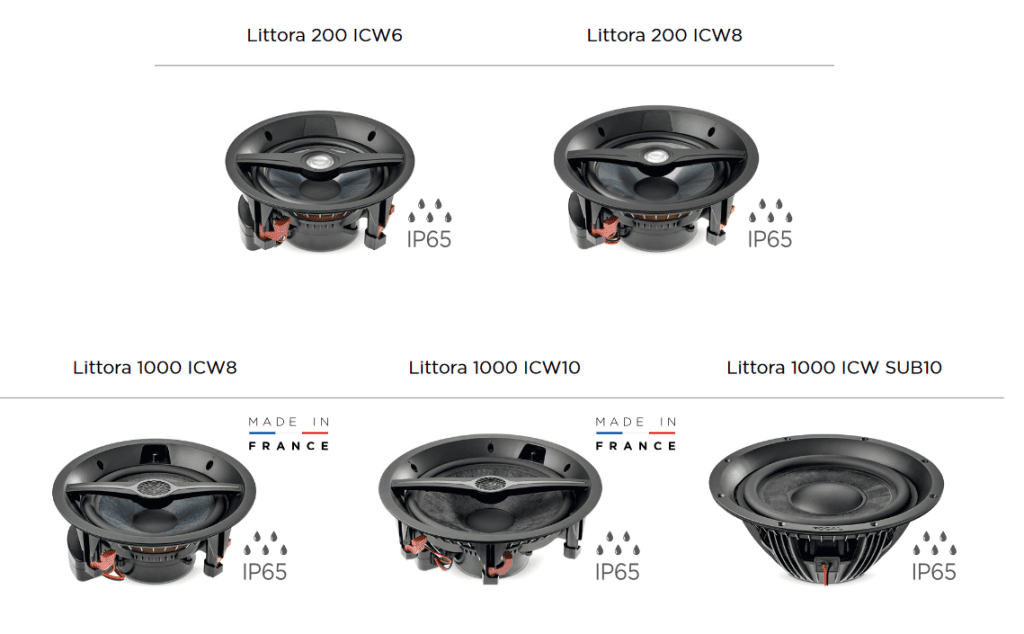 The sound of French Riviera
In addition to its complete offering for indoor sound, Focal is now adding a solution that brings sound to yachts and any premises located in a coastal environment or wet spaces – in other words, any spaces subject to specific outdoor conditions (humidity, sea spray, salt and wind). In addition to its products, Focal says it offers real expertise and advice on the configuration and placement of speaker drivers, acoustic testing measurements, on-site sound design and sound tuning.
Littora 1000 and Littora 200
The Littora range includes two series of in-wall and in-ceiling speaker drivers: Littora 1000 and Littora 200. The first is the flagship series. Inspired by the Utopia line of in-wall/in-ceiling products, its two speaker drivers 1000 ICW8 and ICW10 offer outstanding outdoor sound claims the company. Lending themselves as well to use for high-quality listening sessions, they are complemented by the 1000 ICW SUB10 subwoofer for what is billed as a powerful and captivating sound. Littora 200 is the second series – its 200 ICW6 and ICW8 speaker drivers combine compactness and performance, designed to deliver wide sound coverage. Three outdoor loudspeakers are the final additions to the Littora 200 series: OD Sat 5, OD Stone 8 and OD Sub 12 for enjoying Focal sound in outdoor settings such as gardens, terraces and poolsides.
Focal know-how and IP certifications
To meet the needs and respond to the constraints of marine and coastal environments, Focal engineers have developed the Fibre IP cone for the Littora 1000 series and the Iris IP cone for Littora 200, combining high quality with resistance. These new products have been created to blend performance, discretion and ease of integration, but also perfect resistance to all weathers. They benefit from IP65 certification, the international standard designating the levels of protection offered by a material against the ingress of solids and liquids. The range therefore boasts perfect waterproofing and resistance to outdoor elements.
Indoor/outdoor mode and accessories
For a custom system and listening experience, an angled bracket is provided as an accessory, with three sizes available (6in, 8in and 10in), enabling installers to determine the tilt of the speaker driver and play the sound in the direction of choice. It is also possible to adapt the sound of the speaker drivers by simply clicking on the button on the back, depending on whether they are to be used indoors or outdoors.