Pro-Ject Audio Systems, manufacturers of premium Hi-Fi turntables and electronics, has announced a new Artist Series special edition turntable collaboration with one of the world's most talked about bands.
After successful collaborations with The Beatles, The Rolling Stones and Parov Stelar, amongst others, the Austrian company are delighted to announce a new turntable design in partnership with Guns N' Roses.
The maker underlines that Guns N' Roses are a staple of the rock music scene. The company argues that if you grew up with their music or not, it's impossible to not feel their pure energy and emotion when you hear their instantly recognisable musical style.
The virtuosity and the honesty of their performances survives thanks to the industry-leading analogue recording and production techniques used at the time they released some of their most popular work. Everything in a classic GnR track sounds real, everything fits together, and everything sounds better than many modern recordings.
So, what better way to experience their iconic sound in the modern era than with an award-winning turntable that's designed in their honour? A real Hi-Fi talking point for many a client.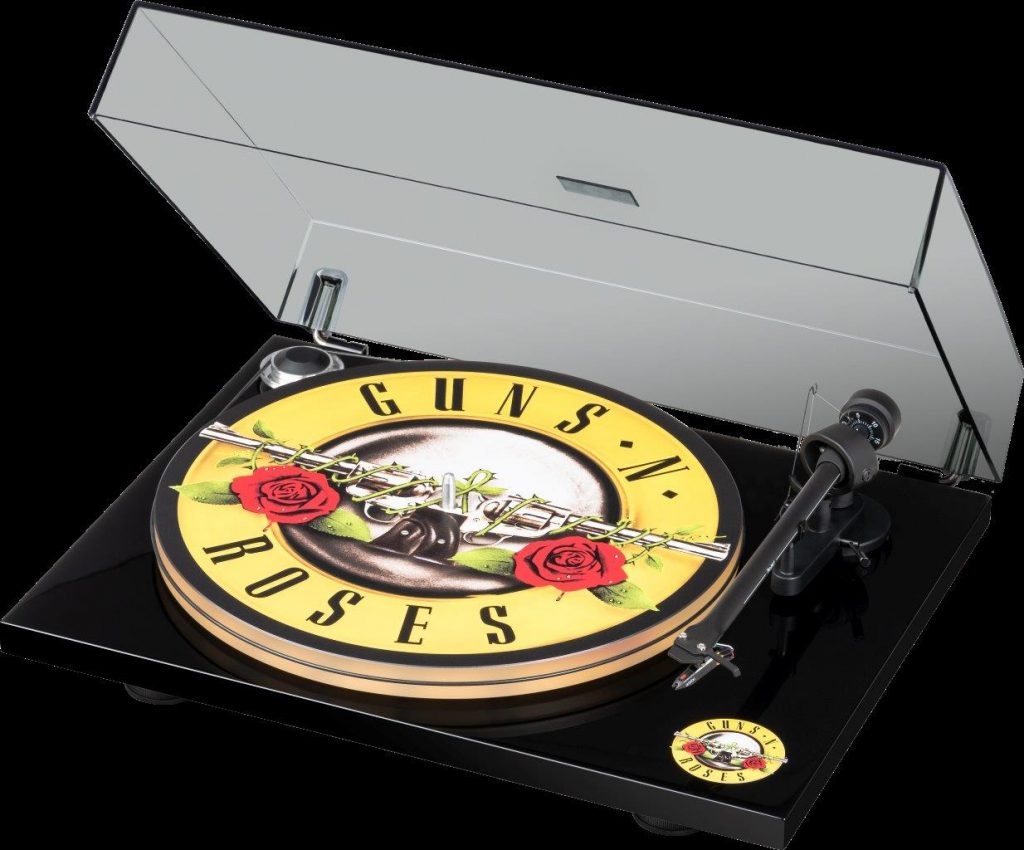 The Guns N' Roses Record Player is based on the popular Pro-Ject Essential III A turntable. With audiophile components throughout – including the Ortofon OM 10 elliptical cartridge, the stable belt drive system topped with a precision diamond-cut aluminium pulley, and the 8.6in aluminium tonearm – the sound delivered is designed to put more expensive systems to shame.
But what makes the Guns N' Roses Record Player unique is its appearance. For the first time with one of their turntables, Pro-Ject have directly printed artwork onto the Acryl-IT E platter. Using a meticulous printing process, the instantly recognisable Guns N' Roses logo fills the entire 12in platter surface.
The end result is a yellow hue that glows above the gloss black MDF plinth, which itself features a small logo underneath the tonearm's rest position.
The Guns N' Roses Record Player is designed as a statement to collective love for the analogue music experience. Finished with a clear dust cover and terminated with high-quality Connect-IT E RCA cables, the turntable is immediately ready to connect to any Hi-Fi system with a phono stage connection. The player retails at £429.00 and is available to installers via distributor Henley Audio.
Henley Audio will be at EI Live! 2019, sign up here.